July 29, 2020
We are past the halfway mark on a year that shook not only financial markets, but our very civilization. Until the novel coronavirus pandemic struck, the US had been enjoying its longest uninterrupted stretch of expansion since at least 1854. Hand-in-hand with this, the stock market seemed unstoppable, clocking new high after new high – driven by Tech titans and the onslaught of digitalization – ushering in what was beginning to feel like a second Gilded Age. Then came the pandemic, which halted economic activity, called for mass quarantines and wiped out trillions of dollars of wealth. In the second half of the year the great challenge of stabilizing, rebuilding and reinforcing our economies will commence. But the post-Covid reality will not be a carbon copy of what it was. Change is abound and with it, comes new and exciting opportunities for investors with a long-term orientation.
Let's begin with a brief synopsis of the first half of 2020. From a macroeconomic perspective, it was dismal. We were plunged into the deepest recession since the Great Depression of the 1930s and governments and central banks had to quickly adopt "everything and the kitchen sink" policies to keep their economies afloat. In front of a simultaneous supply and demand shock, authorities were prompt to contain liquidity risks in order to avoid these morphing into solvency risks. On the monetary policy side, 31 central banks cut rates, while many injected liquidity and began buying large swathes of the bond market, even dipping toes into the realms of high-yield. Complementing this, the IMF estimates that global fiscal support now stands at over $10 trillion. With unprecedented stimulus and the easing of lockdown measures, economies are making real attempts at stabilisation and eco data is surprising on the upside.
M A C R O O U T L O O K
Thanks to the size and speed of stimulus measures, there are promising signs that the global economy has found a bottom. On a country-by-country basis, it seems the recovery is following a FIFO-style (first-in, first-out) path, with China leading the way, giving hope to other countries that this recession, the deepest in living memory, may also be the shortest. As mobility normalises and factory cogs begin turning again, constraints on the supply side have alleviated and several data points have surprised on the upside.
Manufacturing PMIs (confidence indicators based on purchasing managers' surveys), which are often considered a leading indicator, have started to recover from their nadir. In major regions such as the US, China (and more recently in the eurozone according to flash readings for July), these gauges have crossed back above 50 into expansionary territory, which bodes well for future growth (however, these are simply diffusion indices, measuring a change on a month-on-month basis, and not the absolute level of activity).
Manufacturing PMI

Service PMIs have shown even more strength, largely due to the fact that much of the activity in this sector can now be conducted online.
While the data is definitely moving in the right direction, we don't believe in a sudden, elasticated snap-back to previous growth levels. So deep was the recession, we expect that the road to recovery will be protracted, and also strewn with risks.
Our base case: A Tick-Shaped Recovery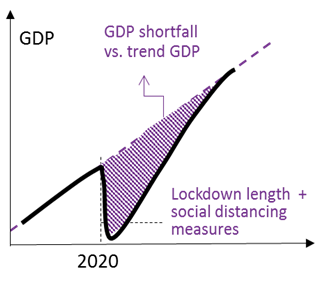 The IMF, for the first time in history, expects that all regions will experience negative growth this year. Nevertheless, China is already the outlier, with growth turning positive again. Its GDP rebounded by 11.5% in Q2, bringing growth in the first half to -1.6% yoy (vs. -2.4% yoy expected). Manufacturing in the "world's factory" is more or less back on track, and the recovery in the Chinese economy resounds loudly through commodity markets – it's thirst for iron ore (a key steelmaking ingredient) has allowed the metal to rise significantly this year, apace with the safe-haven, gold (which has reach new all-time high). However, Chinese consumers remain cautious (June Retail Sales were down 1.8% yoy).
In the next months, demand from all economic agents, will be crucial if we are to see a strong recovery take hold. Consumer confidence will be particularly critical given that consumer spending was the backbone of the economy prior to the crisis. We still wait to see how consumer spending patterns will look in the coming months: pent-up demand could cause a surge in consumption, or, consumers may show some inertia, especially if they don't feel financially secure. Recent Retail Sales data from the US and the Eurozone favours the "pent up demand" hypothesis. However, this pace of recovery may not be sustainable, and whether it is or is not, hinges upon sentiment.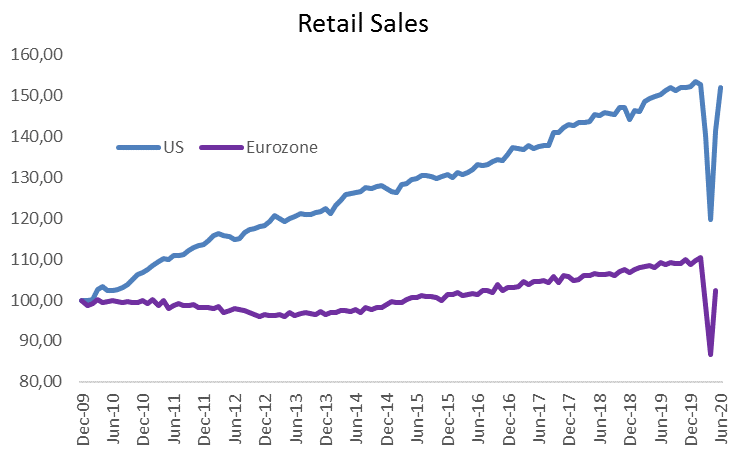 Consumer sentiment and the propensity to spend will be strongly influenced by their perceptions about the virus (fear) and their financial situation. The showstopping data point of this crisis, which we will recall for years to come, has been US jobless claims, with over 40 million Americans losing their jobs. As we entered the second half, the stress on labour markets seemed to be easing: The US economy created a record 4.8 million jobs in June, exceeding consensus estimates of 3.2 million while the unemployment rate eased to 11.1% from 13.3%. So far, unemployed Americans have had a financial life line from the government. Tens of millions of Americans who lost their jobs because of the pandemic have received an extra $600 in weekly federal unemployment benefits over the past few months, in addition to standard state pay outs. Without the extra $600 (set to end on July 31st), benefits will revert to the standard state amount, which averaged $378 per week in March and it has been said that many could fall off an "income cliff". A newly proposed $1 trillion fiscal stimulus plan unveiled by the Republicans would cut emergency unemployment benefits by two-thirds.
In the eurozone, employment schemes currently safeguard over 45 million jobs and the unemployment rate has hovered relatively close to March's record low of 7.1% (May's reading, the latest available at the time of print, was 7.4%). Obviously, the cost of such a program means it cannot run indefinitely and when support is withdrawn, millions of Europeans on employment protection schemes are at risk of losing their jobs. France, for example, has already unveiled plans to scale down furlough schemes in October. Around 7.8 million French workers were furloughed or had their hours cut as at the end of May. Fingers crossed that government stimulus measures are not akin to pumping air into a burst tyre.
On a more positive note, because this recession was man-made and because policy efforts have helped cushion the blow, we think that labour markets could recover quicker than in past crises – albeit with a very big "if" – that is if the virus is kept under wraps. And this doesn't just apply to the labour market – the pace of the restart in economic recovery depends on how successful countries are in suppressing the virus as they reopen.
So, while the macro rebound is thus far promising, we note that this is from a very low base and that we are still in the fragile phase of stabilisation. A full recovery will be measured in quarters, not months and major risks remain present which could stall activity once more.
Markets, on the other hand, seem to be looking past the current economic turmoil to a bright, post-pandemic future. Oddly, Q2 2020 was the best quarter for equity markets for the last 20 years: the S&P 500 delivered 20.5%, the Stoxx600 13.91% and the Nasdaq a stunning 30.95% (total return), with markets concerning themselves with the direction of the data rather than absolute levels. There seems to be an essence of complacency, especially while key risks are still at large. For us, there are three key factors to watch over the next months: epidemiological, political and policy, which we will now look at in more granularity.
Epidemiological Risk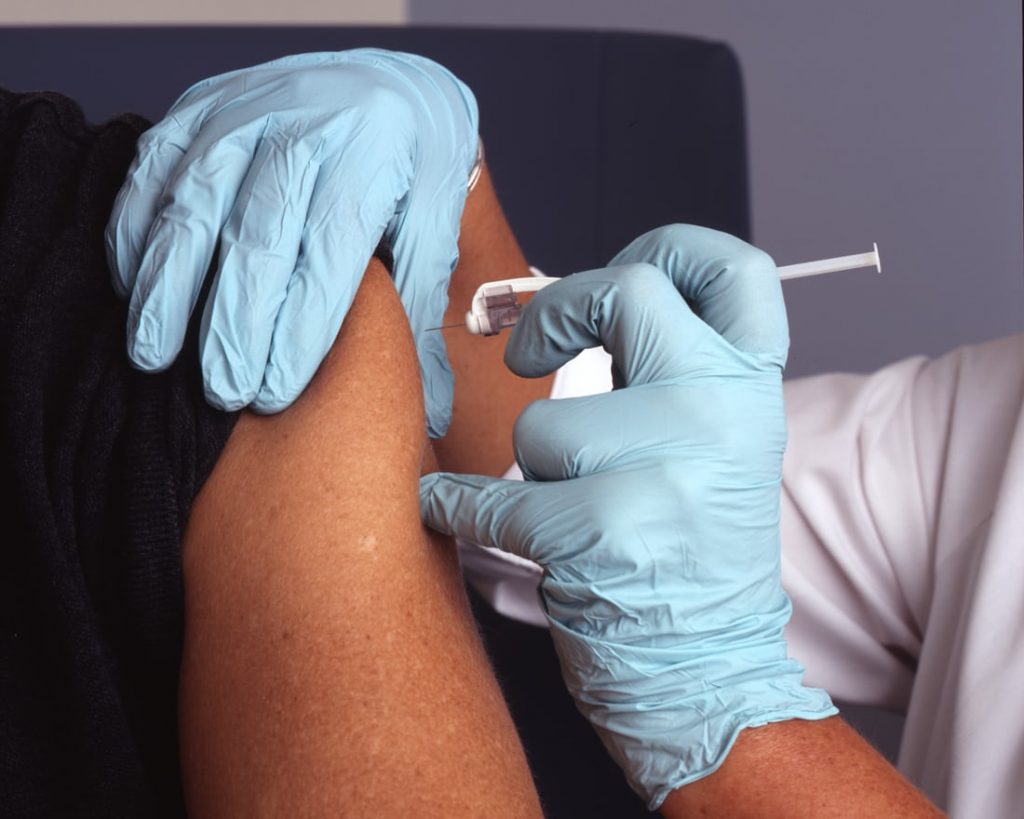 A second wave has already cropped up in certain US states such as Florida, and in localised clusters around the world. If governments have to enforce new quarantine measures, the economic impact would be crippling. Other emerging markets (LatAm and India) are still in the depths of the first wave. Social distancing will remain in place until a vaccine is developed, meaning various businesses will not return to full capacity and in turn, the global economy will continue to suffer. Vaccines normally require years of testing then additional time for production en masse. The quickest to go through the process end-to-end so far, was the vaccine for mumps which took four years. However, there is a heated race to secure a vaccine against the novel coronavirus, backed by significant government and private funding. Being optimistic, and as we all face a single common enemy, a wave of solutions is a decent possibility.
STAGES OF VACCINATION

More than 140 candidate vaccines are now being tracked by the World Health Organization and scientists hope to develop a vaccine within 12 to 18 months. Already three companies have reached Phase 3 of clinical trials:
The University of Oxford / AstraZeneca Vaccine generated the kind of antibody and T-cell (killer cell) response that researchers had hoped for. Phase 3 trials are being done in South Africa and Brazil. According to the director general of AstraZeneca, the company expects a vaccine to be available globally "at cost price" (c. 2.5 euros per unit) by year end.
Chinese company Sinovac is developing a vaccine based on inactivated Covid-19 particles. The vaccine has shown a promising safety profile in the early stages of testing and is now moving into Phase 3 trials in Brazil.
Moderna / NIAID Vaccine aims to trick the body into producing viral proteins itself. No vaccine of this type has ever been approved for an infectious disease, and Moderna (an American biotech firm) has never brought a product to market.
Daily news flow on vaccine progress is driving and will continue to drive sentiment.
POLTICAL RISK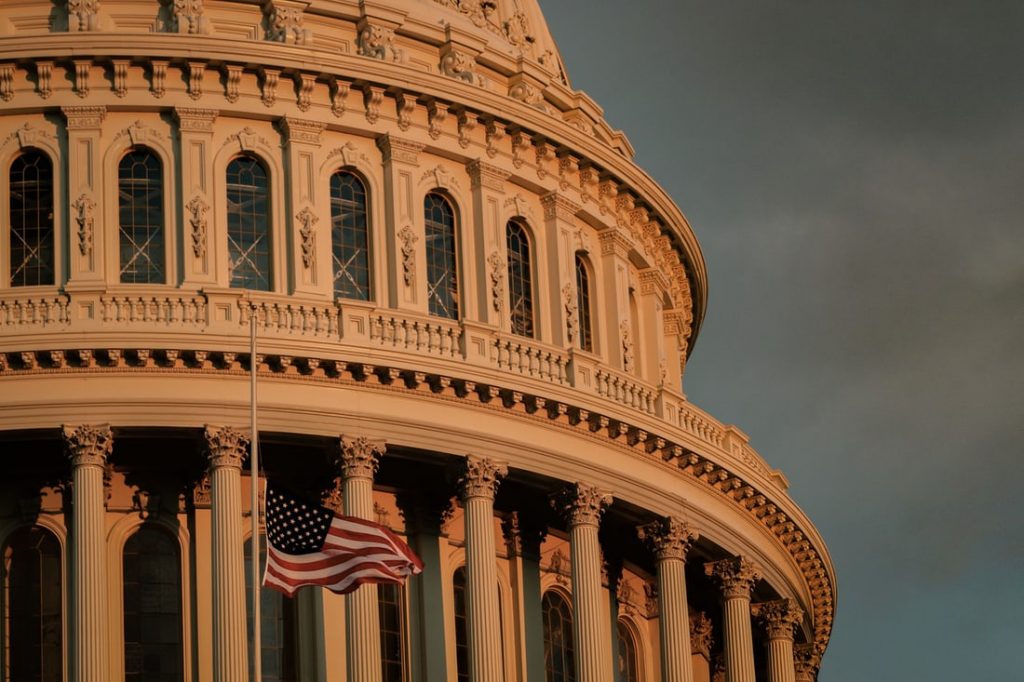 Let's not forget how markets were held hostage to trade before the pandemic. With the US elections less than 100 days away, the hawkish rhetoric towards China has been growing louder and could continue to do so in the second half. Most recently, President Trump withdrew Hong Kong's special economic status with the US and closed the Chinese consulate in Houston. In response, the US mission in Chengdu was shut down. Continued friction could lead to altered supply chains, reduced investment and further restrictions on technology. The latter is becoming a recurring theme, with the UK deciding to completely remove Huawei from its 5G networks by the end of 2027, while banning the purchase of any new 5G components from the company from 2021. For companies already heavily invested in the technology, this will provide serious headwinds.
The disruption that Covid-19 caused to supply chains and the subsequent, unplanned experiment in localisation seems to have accelerated the wider theme of de-globalisation.
Other political risks worth monitoring are the frictions between China and India, as well as trade tensions between the EU and the US. At a time when tax revenues might become highly sought after for governments who have seen deficits widen due to emergency packages, we could expect more noise in this space, especially with regard to the taxation of big tech. Nonetheless, the European General Court recently ruled that the Commission "did not succeed in showing to the requisite legal standard" that Apple had received tax advantages from Ireland, and ruled in favour of Apple. At the same time, the long-running Airbus/Boeing subsidy dispute is ongoing. After imposing tariffs of 15-25% on $7.5bn worth of European goods last year, the US is now dangling fresh tariffs over the EU.
In the US, in front of the November Presidential election, we should not be surprised to have candidates testing the water on different (potentially quite hawkish) trade stances to see what resonates with the electorate.
POLICY
Emergency fiscal measures to stop the economic bleeding were largely successful and more are in the pipeline. In the US, another stimulus package of at least USD 1 trillion looks to be on the cards, while in Europe, a fiscal package (EUR 750 bn comprising EUR 390 bn in non-repayable grants and EUR 360 bn in low-interest loans) has been approved by all member states.
While stimulus has been effective, certain programs which have served as a financial lifeline are approaching their expiry date. This is a risk we will be monitoring through the second half.
The good news is that central bank support seems firmly in place for the time being.
Most members of the Fed board expect that it will take at least three years before the economy will return to pre-pandemic levels. According its dot plot released in June, the US central bank will likely keep rates at current levels (0-0.25%), at least until the end of 2022 to support the economy, but, no detour into negative territory was indicated. Its bond-buying spree will likely continue at the current pace ($80bn in Treasuries and $40bn in Mortgage Backed Securities per month), while Fed Chair Jerome Powel has gone as far as contemplating explicit forward guidance and yield curve control.
In Europe, at its July meeting, the ECB did not make changes to its Asset Purchase Program (€20 bn per month and an additional €120 bn envelope) nor to its Pandemic Emergency Purchase Program (PEPP) worth €1,350 billion. With regard to the latter, the President, Christine Lagarde said that purchases had slowed but that "unless there are significant upside surprises we will use the entire PEPP envelope." The ECB commented on the "very high take-up" of funds under TLTRO III, which is designed to facilitate credit flows to businesses and households while delivering a significant dose of oxygen for banks profitability. Rates are set to remain frozen below zero until after QE (bond-buying) ends. The ECB's assessment of the economy said that despite a pick-up in economic activity beginning in May, risks remain tilted to the downside, warranting a continuation of policy support. Precautionary savings and income losses are weighing on private consumption while weak global growth is a drag on business investment.
Other countries have implemented revamped or brand-new purchase programs including, the UK, Australia, New Zealand, Canada, Sweden, Hungary, Poland, South Africa and India.
I N V E S T M E N T S T R A T E G Y
The outlook for the second half is still opaque, with risk factors threatening to flare up at any moment and a vaccine still unavailable. Alas, we believe defensive portfolio positioning is warranted. We have a neutral allocation to risk assets, keeping a combination of core government bonds and gold to cushion against volatility. The disconnect in between Wall Street and main Street is simply troubling.
FIXED INCOME
The current ultra-accommodative monetary policy is expected to be in place for the rest of the year (and probably beyond) and real bond yields should remain negative or very low for longer. We keep government bonds not for income purposes, but for ballast in times of market turbulence. We do however see long-term value in inflation-linked bonds. Central banks are focused on keeping rates low and might become loose on the inflation front. Breakevens are still trading cheap and a mild pick-up in inflation would lead to outperformance over nominal bonds. The US 5Y breakeven rate stands at 1.40% today, while the average realised inflation over 5 years has seldomly been lower, as shown in the below chart:
US Inflation vs. Breakeven Rate
In the current context, any quest for higher income does entail increased portfolio risk. IG investors, in their search for bonds, face fierce competition from central banks who are a major investor. With yields on traditional IG being very low again, investors aiming for yield are pushed once again out of their comfort zone. We see numerous EUR IG investors allocating a part of their IG portfolio towards US IG credit. The fact that the cost of USD hedging is close to 5-year lows is supportive of these flows. This trend is likely to continue for the coming months. Indeed there are risks in corporate debt: Movement restrictions have caused revenues to collapse, catalysing a wave of rating downgrades and a new generation of fallen angels (those that have fell into the ranks of high-yield), while, at the same time, policy support has kept zombie firms alive and nearly kicking (for now). We do keep an overweight in the IG space, but thorough analysis is required to separate the wheat from the chaff; focusing on names with sound fundamentals (high free cash flows, robust balance sheets).
We remain selective on high-yield for the time being, where defaults are already starting to creep up (rising to 6% over the past month) and where (in the US at least), there is a high concentration of companies with returns tethered to the oil price. We sit on the side-lines examining opportunities in emerging market debt (hard currency). With the pandemic still at large in many of these regions, we deemed it premature to buy in, but indeed valuations are compelling and flows remain supportive.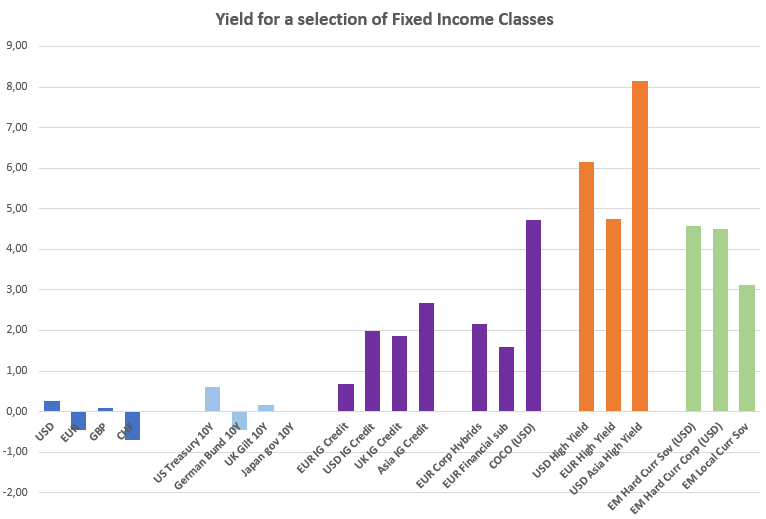 EQUITIES
As mentioned previously, with government bond yields set to be lower for even longer, investors need to accept more risk in search of return, meaning that equities, despite an expensive valuation, should not be ruled out completely (we keep a neutral stance). On the shorter term equities are supported by the steady improvement in economic numbers, which have bottomed out from the recession levels seen during the lockdown. Even though earnings expectations for 2020 have fallen of a cliff (earnings growth is expected to be around 30% lower than in 2019) the positive momentum could keep on moving markets – so long as no second wave of the pandemic materialises, economic numbers improve and more and more countries loosen lockdown restrictions. As this is not a recession caused by an economic downturn or imbalances (rather it is man-made on the back of the lockdown), investors are more optimistic with regard to the rebound of the economy and company earnings. From history we know that on average it takes 4 years before earnings return to pre-recession levels. Markets expect that we will be back around 2019 levels by next year already. This is largely supported by announced emergency packages far greater than those we saw in the aftermath of the Great Financial Crisis in 2008. The difference from previous recessions is that emergency packages this time around have less focus on tax relief and infrastructure spending and more on job security and loan guarantees to limit bankruptcies. Although these have a positive effect on the economies, they do not serve as a direct growth driver to company earnings (as does tax relief and spending).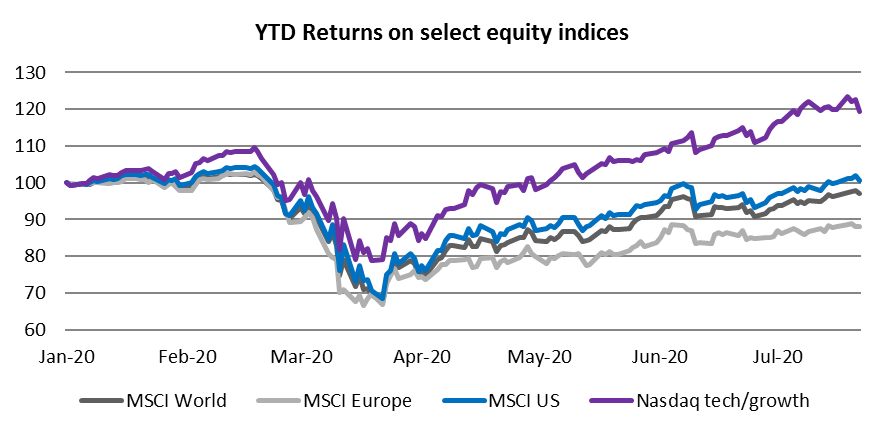 Fast-falling earnings expectations have made equity markets look expensive. That is not uncommon when economies are bottoming-out on the way out of a recession, but markets are more expensive than usual. Markets are roughly 20-25% more expensive now than they were in February, prior to the lockdown. At that time we argued that markets were becoming expensive on 2020 earnings expectations. As such, although economies are bottoming-out, 2021 expectations look aggressive. Additional risk stems from tensions between the US and China which have been mounting again, violent racial demonstrations in the US and worrying growth in the number of corona cases in the US. So, although markets are supported by the bottoming-out in the economy short-term, there are questions that need to be answered at some point in the second half of 2020. This also goes for company earnings that need to show significant improvement after Q2 numbers – Q2 is expected to be the worst quarter of the year with a very low bar set by analysts.

Q2 earnings season kicked off in July and stocks could receive a short-term boost from rising beat rates due to the fact that the bar set by analyst expectations is low. We are not holding our breath for any meaningful forward guidance with the pandemic still at large and investors have to wait for hopefully more meaningful Q3 numbers. Amid such high uncertainty, a broad-brushed approach to sector selection will not cut it and investors will have to be selective within sectors. Investors have to get into the nitty-gritty, combing through balance sheets and income statements to identify high quality names, unburdened by debt and with strong cash flows, across a range of sectors (within which there will be massive divergences between winners and losers). With yields lower for longer bond-proxies could also be worth a second look.
To try and future-proof portfolios as far as possible, investors should also be aware of trends such as digitalisation and sustainability that have been accelerated by Covid-19 and which are here to stay.
Digitalisation
At one point during the pandemic, one-third of the global population had restrictions on their movement. But indeed, we still had the world at our finger tips as workplaces, schools, universities, retailers and even museums quickly shifted operations into the digital realm to allow continuity. From here, it is unlikely that we take a U-turn. Big data, cloud computing, automation, AI, the Internet of Things will become integral facets of our new normal. Because of this, we believe Tech will remain as the dominant sector. However, we advocate a more nuanced approach than simply buying the headliner tech stocks. Value can be found in smaller players across various sectors that are rapidly digitalising their business models; insurers, payments firms, logistics companies among many more. Companies that resist technological transformation could find themselves antiquated pretty quickly. Seeking exposure to the theme of digitalisation could inadvertently drive a US bias in portfolios given that this is where most of the tech pioneers are located.
Sustainability
The three letters "ESG" that have been on investor minds for some time are increasingly gaining more traction. The pandemic has cast sustainable investing (i.e. the inclusion of environmental, social and governance (ESG) factors into analysis and decision making) further into the limelight. The health crisis has reminded us that we are at nature's mercy. Increasingly, we are faced with extreme weather conditions, whether it be this year's Siberian heatwave, new record temperatures in countries such as the UK, France, and Germany (which have some of the world's oldest weather records). Scientists, for years, have been calling for us to quit fossil fuels and switch to cleaner forms of energy. Now, as governments try to rebuild economies, we have a unique opportunity to do so the right way. The European Green Deal will see billions of euros pour into the energy transition while the ECB is flirting with the idea of divesting from "brown" bonds (i.e. those of polluting companies). While the environment has fallen south of the political agenda in the US for now, Presidential candidate Joe Biden (who is now leading in polls) has promised a $2tn green energy and infrastructure plan. The greening of the economy will touch every sector and present myriad opportunities for building companies to semiconductor firms and beyond.
Social issues including access to healthcare and social safety nets (the S in ESG) have also been amplified by the crisis. These will likely remain high priority and already concrete steps towards improving social policies have been taken, for example, in France, where health workers have been revered as heroes and given pay increases worth €8bn. President Macron has signalled that he wants to focus more on social justice in the last years of his term.
Throughout the pandemic, ESG indices have outperformed and fund flows into the space remain strong. It is intuitive: sustainable, resilient, well-run companies (i.e. the G for Governance in ESG) are more likely to outperform in the long run. Companies that do harm are riskier investments over the long term because they face a future of increasing consumer criticism, government regulation and financial penalties.
F I N A L W O R D S
Through the remainder of 2020, there will be an "all hands on deck" approach to rebuilding our economies, but there could still be some fall-out from the health crisis, causing setbacks and market volatility. Nonetheless, we do believe that investors should aim to be fully invested, albeit defensively. Even if it is tempting to wait for more clarity (epidemiologically and economically speaking), this could hinder the pursuit of long-term goals. Rather, we believe the time is nigh to begin rebalancing to achieve a diversified allocation with a prudent approach to risk. After the recent run in equities, this could mean crystallising some gains and putting the money back to work – potentially in companies benefitting from the long-term structural shifts towards sustainability and digitalization that we mention above. These themes will touch almost every sector and companies that find their niche in these areas look well-poised for the future.
While the majority of us this year will be prevented from taking summer vacations in far-flung locations, we can implement an exotic-sounding "palm tree" approach to portfolio construction: When a storm comes, a palm tree bends with the wind, it doesn't fight against it. Most other trees snap during the heavy winds because they are too rigid. When the terrain is so uncertain, investment agility is more crucial than ever. We continue monitoring the investment landscape, ready to adjust our base case and admit it if reality begins to veer off of the course we were expecting, adjusting our tactical allocation accordingly.
Author: Group Investment Office