November 07, 2019
The global slowdown is still in motion while recent macro releases seem to indicate some light at the end of the tunnel. It is widely documented that the manufacturing sector – which lies at the heart of globalised value chains – is a key source of weakness, a weakness which threatens to seep into other parts of the economy. Looking at manufacturing on a more granular level, the auto industry emerges as a key culprit, weighing on output.
As we noted in a three-part focus piece on this sector, car manufacturers face both short-term issues (rising trade barriers, emissions regulation, and fading Chinese tax breaks) as well as longer-term structural problems (technological disruptions, energy-transition challenges and changing consumer habits).
All of this has sent global vehicle sales into a steep decline. The Wall Street Journal has gone as far as to say that 'Peak Car' is holding back the world economy. Peak car is the proposition that motor vehicle distance travelled per capita, mainly in private vehicles, has peaked and will now decline in a sustained manner.
Indeed, the data suggests so. The IMF estimates that car sales fell by c.3% in 2018 while car production fell by around 2.4%. Its findings also suggest that about one-fifth of the slowdown in output last year (global growth slowed by 0.2% in 2018) can be attributed to the auto sector. What's more is that the industry's economic footprint is likely even bigger than is implied by the numbers if you consider the sector's extensive value-chains.
As can be seen from the chart below, the vehicle industry is a major consumer of raw materials and chemicals, it requires electronics and textiles, and a whole array of services from customer services to sales, to repairs and maintenance. Alas, the trajectory of the auto sector has implications for millions of jobs.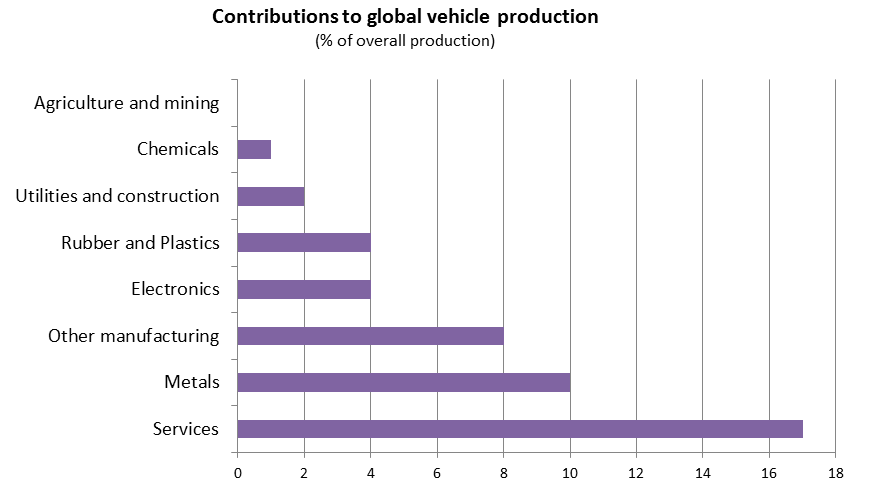 Next to trade and employment, an increasing amount of debt is also tied to the auto industry. In the US, Federal Reserve data shows higher financing costs and loan balances, longer loan horizons and rising delinquencies on auto loans. In China, rates on consumer loans have risen in recent years, as policymakers sought to quell excess credit growth. In Europe, while interest rates are very low, lenders are tightening conditions meaning that consumer loans for durable goods such as cars, making auto loans more difficult to obtain. All this, could put more pressure on auto sales and the unsold inventory and delinquent debt could potentially worsen well into next year.
There are other factors which are temporarily curbing auto purchases: Perpetual trade uncertainty (and the implications for growth) may be discouraging consumers from purchasing big ticket items like cars. This will become even more prevalent if labour markets around the world (which have held up well thus far) start to weaken. Some consumers are also adopting a wait-and-see attitude when it comes to buying a new car, especially with electric vehicles still teetering on the brink of becoming mainstream. For now, electric models, such as Teslas, carry too high a price tag for many consumers – a barrier to purchasing that should come down over time. Already, Volkswagen, following its ubiquitous Beetle (Coccinelle for our French readers) and Golf models, has embarked on the third major chapter of strategic importance for its brand – the electric ID.3. The ID.3 will start shipping to customers in mid-2020 and is expected to cost less than EUR 40,000. As other companies take a similar route, electric vehicles should become more accessible to more people.
Though we do not see it as the most likely scenario, the industry would face a reckoning should the decide on November 13th  to impose a 25% tariff on European auto imports. With supply chains criss-crossing borders, the industry is especially vulnerable to protectionist policy.
Some commentators have gone as far as to ask whether the ailing auto sector could play the role played by the housing sector in the lead up to the last recession. We think this is a step too far. While auto dealerships may have to slash prices to clear excess inventories, a potential decline in used car prices in 2020 is unlikely to make such a large dent on household wealth and spending than the downturn in house prices. With that said, we cannot ignore the pivotal role of the auto industry in the global economy, and indeed, those looking for clues about future growth trends should pay close attention to developments and data in this sector.
Consolidation still seems to be the most valid strategy for the sector. Recent merger talks between PSA and Fiat-Chrysler are a perfect illustration of the race to gain economies of scale, market access and technology synergies. But again, let's see if these tentative talks can overcome the hurdle of political national interests.
Author: Group Investment Office