December 09, 2019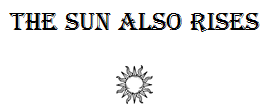 As 2019 progressed, clouds started to gather over the global economy and the outlook was starting to appear quite gloomy. It became popular to opine that a recession was on the horizon, especially after the temporary inversion of the US yield curve. However, with central banks adopting a more dovish stance, the risk of a no deal Brexit somewhat in the rear-view mirror and more constructive dialogue with regard to US-China trade, the outlook is looking a bit brighter.
Through 2020, our central scenario is for further extension of the cycle, a continuation of growth and perhaps even an acceleration.
This view is driven by the strength in private demand, with consumers being the Atlas holding up the global economy. We also see upside risk in terms of fiscal stimulus. Until now, in most places, central banks have been protagonists, single-handedly fostering growth. In 2020, we could see some national governments respond to the growing calls for them to step in as supporting actors. Finally, we note that inflation is in check, financial conditions are still generous and we are yet to see the signs of excess which normally precede a downturn.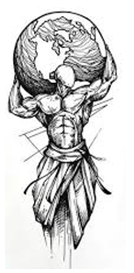 A manufacturing contraction combined with rising trade protectionism presented a challenging macro landscape in 2019 and global growth slowed considerably. All along, the manufacturing sector (which suffered the brunt of reduced investment and falling exports) has been the Achilles' heel while domestic consumption has been the saving grace. As we approach year-end, the latter remains robust, while for the former, the deterioration appears to have halted. Manufacturing PMIs which had fallen into contractionary territory below 50, have bottomed out, and in some places, predominantly emerging markets as well as in the US, have made early attempts at a rebound. This, as well as the fact that the effects of renewed central bank support are starting to be felt, paints a more reassuring picture heading into 2020. In all, our outlook is slightly more positive than that of the consensus.
Risks of consumer fatigue are perceived as exaggerated. From our lens, high savings rates, strong household balance-sheets, growing wages and the wealth effect stemming from 2019's exceptional stock market returns should support an even stronger propensity to consume, or at least stability at currently high levels.

The US
As it enters it's eleventh year of expansion, the US still has a lot of economic muscle left. The manufacturing PMI has remained above 50 (indicating expansion) and recently inched upwards, helped by recovering new export orders. Though industrial production disappointed towards the end of 2019, this was largely due to disruption in the auto sector. Globally, this sector is in a downturn which began with the onset of new emissions tests. On top of that, in the US, the numbers were further affected by the General Motors strike. While manufacturing is faring up, caution is becoming evident in the service sector with the PMI suggesting that new orders have stagnated while employment figures have declined.
With that said, overall the labour market is still strong with the unemployment rate at a half-century low. Even if companies have recently become more cautious on hiring, what is important is that they are not firing. In response to the slowdown, they have instead opted to reduce working hours, adopting a wait-and-see stance, without ruling out a continuation of the economic expansion. In turn, wage inflation is in check meaning that corporates continue to bask in a sweet spot. Consumers are driving the strength, emboldened by the strong labour market and healthy balance sheets. In Q3 (the most recent data point available), household outlays increased 2.9%. This represents solid growth, albeit slower than the 4.6% recorded early in the year. From our view, as we approach the later stages of the cycle, it is normal that consumption starts to moderate but for now, it still remains above-trend and could slow quite a bit further before presenting any cause for concern.
Europe
In Europe, the situation is now looking marginally better: we have avoided freefalling growth, but the danger to the economy has not yet been averted, and for the export-oriented economy much hangs on a US-China trade deal and a recovery in the auto sector. The bloc grew by 0.2% in the third quarter, surpassing expectations, with Germany managing to slink past recession with 0.1% growth.  The bloc's manufacturing PMI limped up to a 3-month high of 46.6 in November but the sector remains to be in a deep downturn. The silver lining is that foreign demand for Eurozone goods has steadied in recent months, indicating that a stabilisation in global growth more broadly, may be starting to feed through to the Eurozone economy. Galvanising this view, the bottoming out of PMI sub-components is constructive and should put a floor under manufacturing activity and contain further spill-over to services. We believe that if Europe can avoid recession in 2020, the world economy could enjoy a few more years of decent growth. In essence, our forecast is for the Eurozone economy bottoming rather blossoming (in the absence of fiscal stimulus). Furthermore, it should be noted that the private sector is in great shape in the Eurozone (the same is mostly true for the US) when looking at the surplus between income and spending or savings and investment.
China
Though Chinese economic growth continues its gradual deceleration, it is still on track to meet  Government growth targets. Private consumption and government spending serve as the economy's bedrock. At a first glance, debt dynamics pose some cause for concern, but it seems that a calibrated mix of fiscal and monetary policy is keeping risk contained. The government is actively channelling credit towards those sectors it wants to promote (innovation, for example). At the same time, credit extended in the shadow banking sector is shrinking at a relatively quick pace, which lends support to the view that deleveraging policies are working, though they are a case of short-term pain for long-term gain. Credit dynamics will remain on our radar, especially considering that a lot of dollar-denominated debt will come due in 2020. Fiscal policy is shining through in infrastructure spending, which accelerated in the third quarter. Overall, public investment accelerated, rising to 7.3% from 6.9%. In addition to increased spending, the government is being very proactive with policy: while the quota of 'special bond' issuance for 2019 has already been used, Beijing now plans to front-load some of the quota for 2020. In doing so, the government aims to accelerate the investment of the proceeds and to increase the spending capacity of local governments while incentivising them to comply with central government objectives.


They say that economic cycles don't die of old age – normally they are extinguished by central banks over-tightening. Looking to 2020, we don't fear a monetary policy accident. Compelled by softening macro data, 2019 was the year when central banks reverted back to easier monetary policies. The loose-policy party will rage on throughout next year… But what will be the consequences?

Over the longer term, we cannot ignore the fact that we are in the midst of an unprecedented monetary experiment, with the consequences unknown. Central banks are injecting a huge amount of liquidity into the global economy, which is indeed driving the fixed income market and public debt levels into uncharted territory. At the same time, equity valuations are being pushed up with more investors snapping them up in order to earn the dividend yield at a time when most bond yields are skirting zero or even negative.
We don't envisage that central banks will turn off the liquidity taps all of a sudden. Liquidity is everything and just as an example of this, if you look at the combined volume of Fed, ECB and BoJ assets, the figure has a strong correlation with the S&P 500 index. With major central banks expected to be on hold through 2020, the perceived floor that they have placed under risk assets should stay in place and we don't foresee any crash landing. There are less concerns about an overshoot in inflation (if any), while the macro outlook will have to markedly deteriorate for further rate cuts to be on the cards. In the emerging world, significant rate cuts may still come if deemed necessary, particularly in those countries with high real rates and negative output gaps (growth below long-term potential). Bubbles are a longer-term threat, which we will continue to monitor. The problem is that when the next downturn does arrive, monetary policy options are thin on the ground, especially in places like Japan and Europe, where rates are already negative in a desperate attempt to break down self-fulfilling low inflation expectations.

The Fed
After having cut rates three times this year (amounting to a 75 basis point reduction), as part of its 'mid-cycle adjustment', the US Federal Reserve (Fed) is now on a pause. Albeit, it has not closed the door to further cuts if incoming data suggests these are warranted. Futures prices imply that the market expects one more cut in 2020. Out of the spotlight, the Fed has been injecting billions of dollars into the repo market since September (the repo market underpins the whole US financial system, helping ensure banks have the liquidity to meet their daily operational needs and maintain sufficient reserves). While Jerome Powell, the Fed Chair, has said 'This is not QE. In no sense is this QE,' the Fed's balance sheet is once again expanding. Call it what you may.
In his latest speech, Powell outlined the central bank's general intentions for 2020. He noted that "the benefits of the long expansion are only now reaching many communities, and there is plenty of room to build on the impressive gains achieved so far." To nurture further growth next year, the Fed will focus on encouraging more prime age workers (those aged between 25 and 54) into the workforce thereby increasing workforce participation.
The ECB
The European Central Bank (ECB) is firing on all cylinders; delivering the promises made by departing Chairman Mario Draghi. At its September meeting, the ECB unveiled a bumper set of measures to try and coax growth upwards. It included: renewed QE (at a pace of EUR 20bn per month beginning in November, with no defined end-date), sweetened TLTRO conditions (making conditional loans to banks more favourable), a tiered-interest-rate deposit system (whereby a portion of bank deposits, currently set at six times their mandatory reserves, is exempt from the negative deposit rate), and an interest rate cut bringing the deposit rate to -0.5%.
In the first two weeks of November, it kicked of its Corporate Sector Purchase Programme (CSPP) with a bang, vacuuming up $2.5 billion worth of corporate bonds – more than anticipated by the market. The Chair, Christine Lagarde used her first speech as the President to appeal to European governments to boost innovation and growth with higher rates of public investment.
The PBOC
In China, monetary policy is acting as a strong support for economic activity and Beijing continues to fine-tune its pro-growth stance. However, the government is using its rich arsenal of tools strategically, eager not to re-ignite new debt bubbles as it tries to reign in shadow banking and deleverage the economy.
It faces some challenges with regard to inflation: while core inflation is slowing, overall inflation, including food, is accelerating sharply. This is largely due to the African Swine Fever which has wiped out vast numbers of pigs (this crisis is somewhat out of the reach of monetary policy, but cannot be totally ignored by the central bank).
In a monetary policy report released in November, the PBOC expressed that it would increase counter-cyclical measures to ward off downward pressure on the economy, while staying vigilant in managing inflation expectations. It reduced rates for 7-day reverse repurchase agreements (to 2.50%), injected of 180 billion yuan ($26 billion) into the financial system via open market operations and cut the 1-year and 5-year official Loan Prime Rate (LPR) – the cost of borrowing for corporates and home buyers – by 5bps to 4.15% and 4.80%, respectively.
If trade tensions worsen and downward pressures on the economy intensify, the PBoC has said that it has other measures at its disposal.
The BoJ
The Bank of Japan (BoJ) enters 2020 grappling with the fact that its ultra-loose monetary policy has led to a flattening yield curve. At its latest meeting on October 31st, it tweaked its forward guidance to include an explicit hint that it was willing to cut rates further into negative territory as it continues to pursue its 2% inflation target. The interest rate is currently  -0.1%, 10-year bond yields are capped at roughly 0% and purchases of government bonds run at a theoretical pace of ¥80tn ($736bn) a year.
…
While central banks have clearly helped buoy the world economy, they can't perform a monologue forever, and at some point, it seems that national governments will need to come out from the wings with fiscal stimulus to support their efforts. Already a chorus of policymakers have urged for this, including the incoming IMF Chair, Kristalina Georgieva who said in her inaugural speech: 'Now is the time for countries with room in their budgets to deploy or get ready to deploy fiscal firepower.'
Thus far, only a handful of countries have embarked on this. France is one example, following the gilet jaune protests. As is China (as discussed in the macro section), with the results still to trickle down into the macro numbers. More recently, Japan announced a fiscal package for next year. Worth more than 13 trillion yen ($121bn), it aims to overcome the risk of an economic slowdown, especially in the aftermath of the 2020 Tokyo Olympics. Germany has so far remained quite orthodox and its budget surplus was 1.7% of GDP in Q2. This is a result of Angela Merkel's 'balanced budget' approach called Schwarze Null (black zero) which rules out new borrowing. We believe that there is potential for some fiscal efforts out of Germany, albeit of a limited nature.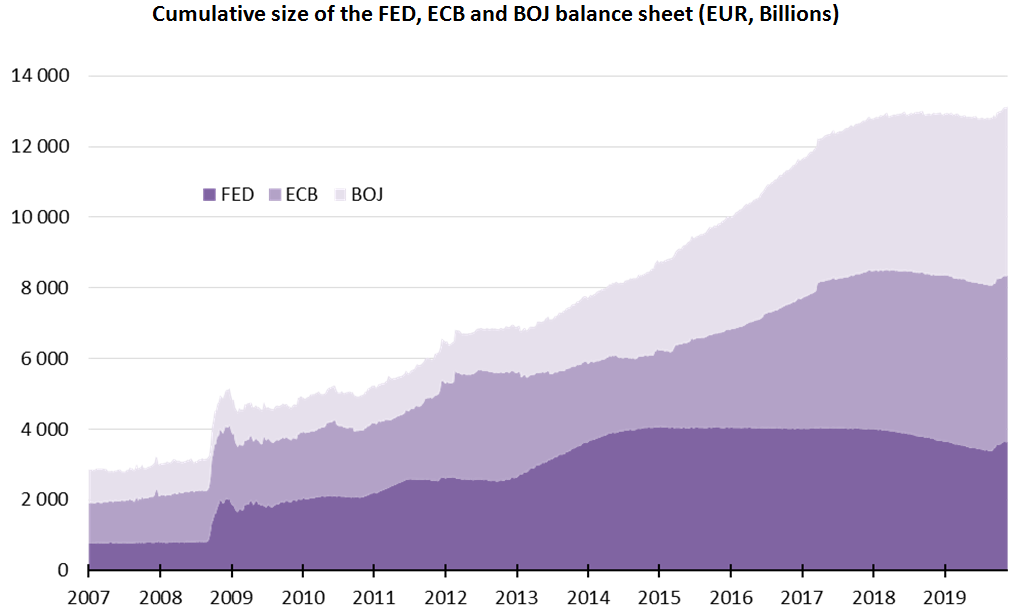 In 2019, trade has been the fulcrum of investor sentiment: if investors sensed some kind of a deal was on the horizon, the market was up. If things suddenly looked less certain, the market was down. The main issue is that trade policy is now often delivered via a 'bull in a China shop' style communication strategy, and obtuse tweets. This has created short-term volatility without affecting long-term market momentum – the trade dispute has roared on for the best part of 2 years, equity markets have managed to skip from new high to new high. We do think that trade will continue to direct sentiment through 2020, but note that markets are becoming somewhat immune to the noise.
As it stands, hopes are high that a Phase 1 trade deal can be agreed upon before December 15th, when new tariffs on Chinese goods are due to kick in. These hopes were fuelled by the recent assertion from US national security adviser Robert O'Brien that an initial trade agreement with China is still possible by the end of the year and the news that China has issued new guidelines which aim to better protect intellectual property. In the best case scenario, we may even see existing tariffs rolled back. This should yield wider benefits for the global economy and would also likely be the material change that could push up rates. However, the downside risk is that discussions break down resulting in more tariffs which could jeopardise the macro picture. Matters in Hong Kong indeed complicate negotiations, with President Trump having signed a new "Hong Kong Human Rights and Democracy Act" supporting protestors, much to Beijing's consternation.
No one can predict how things will turn out, but what we do believe is that trade tensions are here to stay – even if a Democrat wins the 2020 election. It seems that trade is a veneer, but behind the dispute is bigger concerns such as technological supremacy, economic leadership and political dominance.
On a more general basis, we are sceptical about recent suggestions that globalisation is dying. Though we have seen increased protectionism, this seems to be largely aimed at the two largest culprits when it comes to the US trade deficit – Chinese goods and European cars. Overall, broad-based protectionism would be too costly for companies. New levies may narrow the price gap between producing at home and abroad, but we don't believe it will narrow significantly enough to compel companies to relocate capabilities and processes that they have built up over decades.


2019 was peculiar in that all assets seemed to move in the same direction without any big divergences. In 2020, we believe that active managers will have more opportunity to shine. Already, amidst recent stress in the CCC-rated segment, strategies that were not benchmarked were rewarded, demonstrating the enduring relevance of active management.
We often get asked if bonds are in a bubble. Indeed they are very expensive, but it is hard to say something is a bubble until it bursts. Take Japan, its debt has remained at seemingly impossible levels for decades, yet those who have bet against it (in a trade known as the 'widow maker') have made huge losses. If fixed income is in bubble territory, we do not rule out a smooth normalisation of rates, allowing it to gently deflate, rather than pop. As an example, in Europe, the market sent a clear warning message in 2019 to say that things had gone too far. In August, one of the largest declines in yields of the post-crisis era played out sending the entire German yield curve into negative territory. However, an attempt to issue 30-year government debt at a negative yield was met with very little appetite in the market. This, along with some improvements on the macro front, triggered a healthy correction.
Since, we have seen a steady climb in rates in developed economies, catalysed by trade optimism and hopes that we have reached a bottom in macro data. Will this trend continue? Our experts believe that asymmetry is still alive, seeing a greater probability of higher rates by the end of next year than lower ones.
So, while cyclical factors should drive higher rates, structural factors will continue to contain the move, supporting a 'lower for longer' perspective on interest rates. Taking into consideration that inflation expectations are anchored by  demographic factors and the associated savings-glut, we should expect a modest upward trajectory for rates.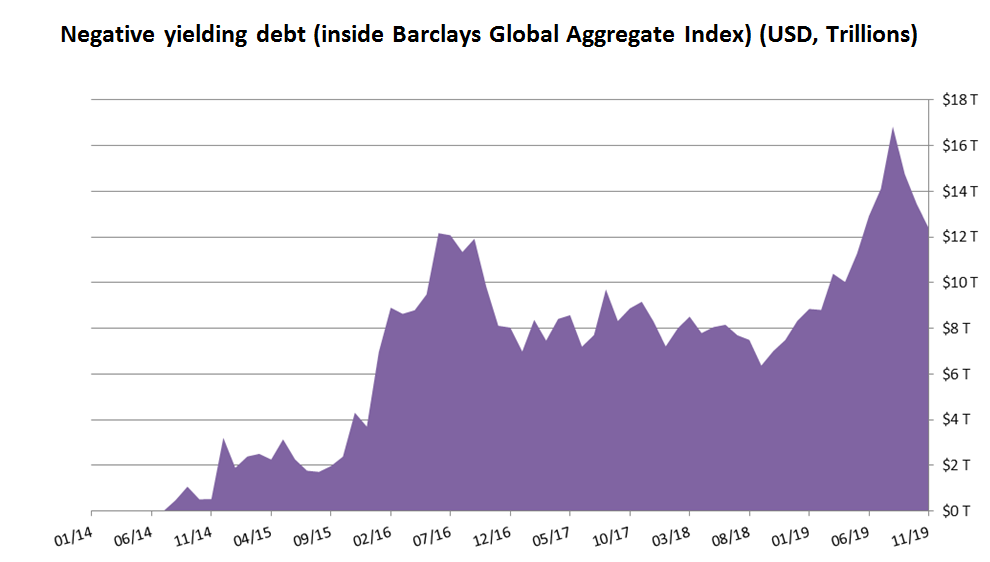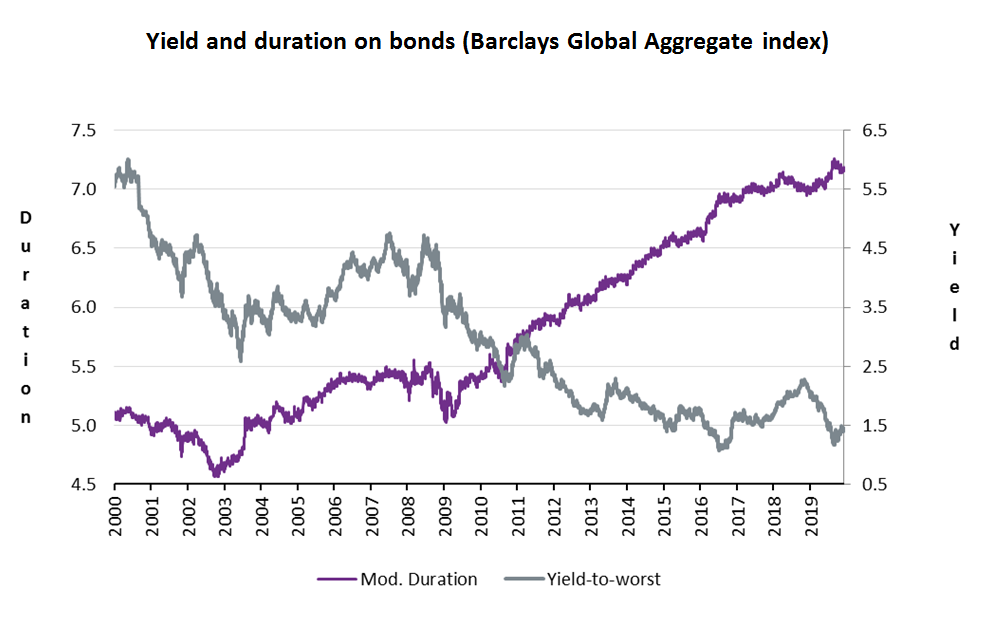 For rates to move materially higher, we would need to see something as significant as a full resolution on trade or a meaningful amount of fiscal spending. A truce or a partial resolution on trade is reasonable but a full resolution looks out of reach. It is reasonable to expect a degree of fiscal expansion in Europe, but microprudential adjustments from Germany are expected to be limited in size and therefore, the impact on rates will be limited. A fear that has lingered over financial markets for some time is a disorderly rise in bond yields causing jeopardy in risk premiums and extreme pain on most asset classes but we believe that central banks are attuned to the risks and are eager to avoid this.
Alas, the great scavenger hunt for yield continues. However, investors shouldn't be hungry for yield at any cost and selectivity will be key in 2020. In a bond-only portfolio, we would prefer to take on credit risk, rather than duration. However, in a mixed portfolio (including equities), a mix of the two is warranted.
Sovereigns
Next year, we expect a  modest convergence between European and US government bond yields. Uncertainty around the US presidential election should keep US yields range-bound, while German yields could face some pressure with improving global growth and with political risk on the continent somewhat contained.
With regard to European peripherals, there are still opportunities for carry and we expect spreads to continue narrowing against the Bund. Spain, Portugal and Italy are the most compelling and though the latter will remain volatile, the risk/reward dynamics are fairly attractive.
Ultimately, Inflation-linked bonds could be an interesting tactical play at some point in 2020 as an alternative  way to hedge risk because they are trading cheaply in the absence of inflation expectations.
Investment Grade
Investment grade (IG) corporate bonds continue to benefit from central bank support. Investors, desperate to park cash somewhere, have been vacuuming up new issues and activity on the primary market activity is, at times, borderline irrational when you look at the issue spread versus initial price talk and order book size. Concerns have grown about the expanding BBB tranche which now makes up roughly 50% of the total IG market. We are not overly concerned by this ratio, but rather about the fact that on the whole, low rates have allowed an unsound pile of debt to build up.
The low yield environment in which we operate demands a real, active strategy within the IG space and being discerning and selective is crucial. We are more comfortable moving down the capital structure (through subordinated debt) of more creditworthy issuers, rather than moving into lower-rated corporate issuers.
European investment grade corporates are still a sweet spot for investors – especially with ECB buying providing an added buffer against volatility. We are neutral on the US equivalent. Though Fed policy can be seen as credit-friendly, the fundamental picture is mixed, with gross leverage trending upwards and interest coverage falling.
High-Yield
Many traditional investment grade investors have moved into the high-yield space, where there is still some juice left in the orange. Contrastingly, we are underweight on this asset class, viewing it as expensive on both sides of the Atlantic, especially given the embedded risk. For the small exposure we do have, we prefer bonds at the higher end of the quality curve. Subordinated financials have the potential to continue performing if peripheral European economies continue to bottom out, while also having lower coupon risk: most banks are operating well above MDA (maximum distributable amount) levels, which require regulators to automatically restrict distributions if a bank's total capital falls below a predefined level.
Sector allocation will be pertinent in 2020 and investors will need a trained eye to sort the wheat from the chaff. While some sectors offer handsome yields, indeed this is often due to unsavoury fundamentals. Autos and Auto Parts may be one example of this. Real estate firms are another these are often highly leveraged and any significant increase in rates poses a double threat. In essence, investors should not be blind when looking for carry. An awareness of balance sheet vulnerabilities and business case threats should be well researched and understood.
Emerging Market Debt
Emerging market debt (namely hard currency) has offered strong risk-adjusted returns since the 2008 crisis, with the added benefit of having a low correlation to developed market assets. However, more recently, emerging markets (due to their export-oriented nature) have faced significant headwinds from a new wave of protectionist policies. Additionally, re-structuring headlines (primarily from Argentina) have served as a reminder to investors that often, emerging markets offer higher yields for a reason.
Next year, we believe emerging market debt can still offer attractive pick up for investors with a higher tolerance for volatility. For us, hard currency sovereigns are preferable due to their liquidity, breadth and depth. Market internals remain supportive given the persistent global hunt for yield. In a low interest rate environment, this segment offers quite an attractive yield, which could provide some core income in a mixed portfolio.
Faced with tame inflation and negative output gaps among other challenges, EM central banks have turned towards policy easing to stabilise activity. At the same time, tightening from the Fed seems far-off, while central banks in other developed nations don't have a lot of capacity to cut rates much further. This fosters a healthy landscape for local currency bonds. While we will monitor the opportunities here, performance is inextricably linked to that of the currency in which they are denominated, making this segment too volatile for the time being (especially without any trade agreement set in stone).


The current bull market in US equities is the longest in history and is often called the most hated of all time. Last year, the S&P 500 clocked gains of more than 20%, reaching new high after new high. Despite the red flags presented by economic data and bond markets, like a real life bull towards the red flag of the matador, it kept charging. It defied the pessimists, caught out short-sellers and those who exited the market in fear of a downturn, had to watch their would-be gains from the side-lines.
The problem for investors is that we are really in unchartered water – we are late cycle, while observing lower interest rates and tame inflation expectations. Dare we say it, but this time, it really is different. Central banks are playing an outsized role having made almost every financial asset expensive. We don't rule out a continuation of the equity bull market in 2020, if economic growth picks up. But until confirmed by data, an economic upturn could remain a mirage, especially when you consider that rebuilding trust in global supply chains may be easier said than done. For now, our equity strategy is to remain cautious until we have something more concrete to work with while 'buy the rumours and sell the news' on trade negotiations could potentially be a winning strategy. As such, we are neutral on equities, noting that the future path of the bull will be strewn with risk which will need to be actively managed and navigated.
A high earnings hurdle
Investors seem to have over-extrapolated the stabilisation in PMIs, arriving at the conclusion that growth is already rebounding, leaving us in some kind of Goldilocks scenario. This gave way to the Q4 2019 rally, allowing equities to sail to new highs, even though earnings growth has been essentially non-existent in both the US and Europe for the year. Without a tangible rebound in growth, it will be difficult for equities to meet the demanding 2020 earnings expectations set by analysts (shown in the below table).

Equity markets also seem to have baked in a trade truce and a positive outcome on Brexit. Alas, the premises on which the hope rally are built are quite shaky and at some point, attention could turn back to cold, hard fundamentals. One positive for equities is the fact that they may benefit from the wealth effect. That is, the self-fulfilling prophecy whereby rising markets catalyse increased consumer confidence, which then helps corporate America's bottom line, in turn helping equities rise further.
What drives equity markets?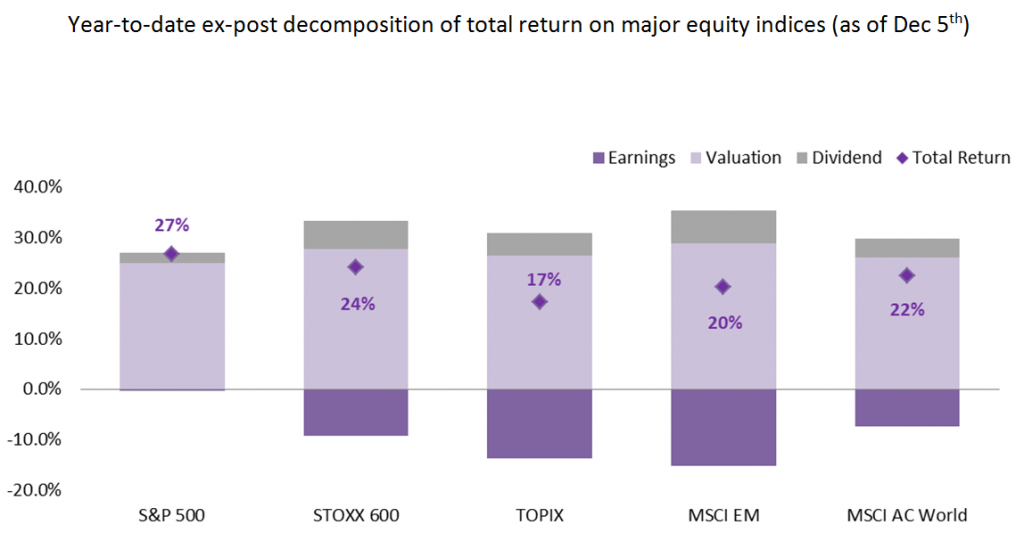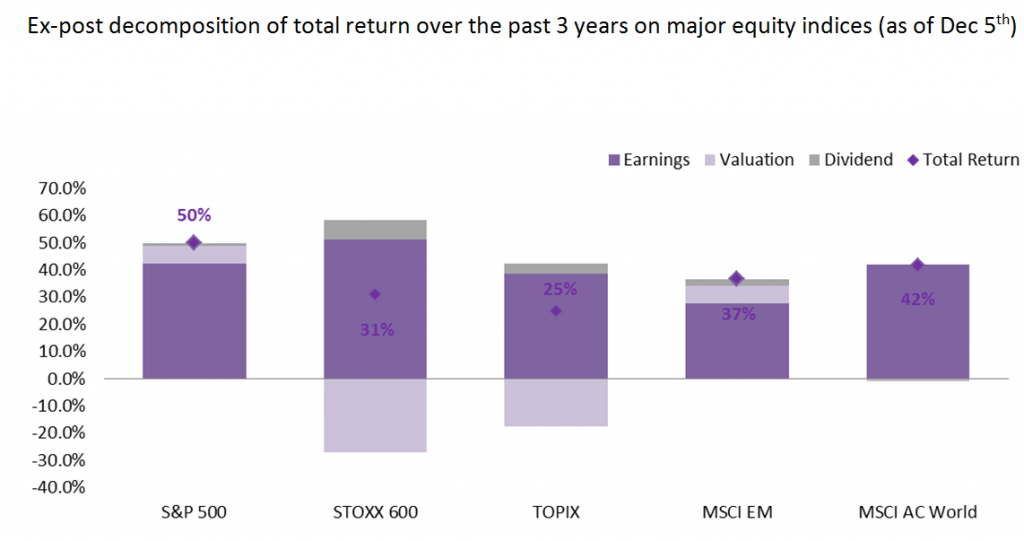 Regions
Regionally speaking, for now, we maintain our preference for US equities. While the economy may no longer be in the fast lane in terms of growth, it is still the global growth engine. It appears expensive, but actually, if you compute the sector-neutral valuation against Europe, and consider that both have similar earnings expectations for next year, it is quite easy to see why the US remains to be the apple of the eye of many investors.
We are underweight European stocks. If we were to arrive at a resolution on trade and if interest rates were start normalising, the future would look brighter, given the export oriented nature of the economy and the continent's high concentration of banks. For now, the problem is that Europe lacks growth stocks, especially those that fit into wider structural themes that are disrupting the status quo. In the US, the FAANGs and themes such as AI, big data and cloud computing are a key driver of Wall Street returns, while Europe's landscape is littered with the corpses of grandiose tech projects. Europe is still very much an old-world economy making it more of a value play. For now, value seems to be a Sleeping Beauty which will only be wakened up by the kiss of recession or inflation.
Though the upturn in PMIs originated in emerging markets, we are reluctant on this region. This is largely because analysts currently predict lofty earnings growth above 14% in 2020, which is likely to be revised downwards. The fate of emerging markets also hangs of the outcome of the trade war to some extent. Even if the US and China can see eye to eye, the US' gaze could widen (as illustrated by the US' re-instatement of tariffs on all steel and aluminium imports from Brazil and Argentina). We do see some positives, especially in China where investment opportunities are abundant and where policymakers are calibrating their support for the economy and assuring financial stability, but, we doubt that such measures will be enough to drive overall emerging market outperformance next year.
Japan is faring well and is now out of the woods in terms of the roll-out of a new consumption tax. Earnings expectations for 2020 of 5% are reasonable and should not be too hard to beat if we see some alleviation in trade tensions. On top of this, the government has announced a new fiscal stimulus package, worth some ¥13.2tn ($121bn). For this reason, we may reconsider our underweight position early in 2020.
Sector and style
Market internals paint a conflicting, picture. As is normally the case late cycle, large caps are outperforming small caps and those with strong balance sheets are outperforming those with weaker fundamentals. But simultaneously, cyclicals are outperforming defensives.
This cyclical outperformance can mostly be explained by a gust of risk-on sentiment. We, however, prefer to remain sector-neutral, bearing in mind that sentiment is capricious and can turn at any time. Furthermore, defensives look better when you drill down into the fundamentals and they top analyst expectations when it comes to Q4 earnings. On a global scale, we prefer growth stocks at a reasonable price (GARP), quality companies (with strong balance sheets) and large-caps in order to contain volatility.
With interest rates poised to rise marginally, this could take the shine off of typical dividend stocks. It could simultaneously benefit Financials. For European banks, rates would need to rise quite substantially to impact the fundamentals of bank balance sheets, but psychologically, market sentiment could drive some kind of short-term revival for the sector.
Fundamentally speaking, healthcare is attractive as a sector. It is a typical late-cycle performer that looks good in terms of both relative valuations and earnings growth. However, with healthcare being the key consideration factor for the US electorate, the sector looks set for persistent volatility in the run up the Presidential elections, preventing us from going overweight for now. We are also cautious on sectors that are most susceptible to fallout from the trade war, namely, Materials and Industrials. Though things seem to be heading in the right direction, the trade war poses lingering binary event risk, and we are reluctant to build a significant directional position. To sum-up our equity strategy at the start of this new decade, it is worth considering potential changes in leadership inside regions, styles and sectors but probably too early to implement those changes in portfolios right now. The time to overweight value stocks or European equities for instance, will come, but patience in the quest of evidence is still the preferred strategy.


As portfolio managers, we make decisions in front of irreducible uncertainty. While have a guiding base case, our role is to design an investment strategy that prepares portfolios for a range of scenarios. Resilient portfolio construction is key for investor peace of mind, while successful portfolio construction requires an understanding of where risk is taken and ensuring investors are appropriately compensated for that risk. Markets are by nature volatile, so risk management will always be fundamental to the portfolio construction process. Valuations provide some guidelines about what should be reasonable forward returns. Today's low yield environment, together with current valuations on equity indices, warrant contained expectations about future returns. It is also fair to highlight that expensiveness is not unique to listed assets – high valuations are evident across a plethora of private assets too.
Diversification will be the name of the game next year, meaning that having balancing elements inside of portfolios, to serve as a cushion during drawdowns, will be essential. As a shield, we have lined our portfolios with a layer of core government bonds. While these instruments may offer little on a standalone basis, they offer value as insurance against any potential downturn. Because we believe rates could move up slightly, interest rate risk has to be monitored closely, but despite this we still believe in the characteristics of this asset class as a hedge against volatility.
This introduces the biggest challenge facing investors today – indeed there is essentially no risk-free assets. This is problematic for many, especially considering that almost all financial theory is built on the premise that a risk-free asset, which offers at least some yield.
In the absence of this, one option is to hold a selection of lower risk assets, diversifying across these in that overall risk is lowered. There are also alternative investments, but all of these have their own unique set of considerations and risk factors attached to them.
A key consideration for portfolio construction next year will of course be the US election. For now, until it becomes more clear who will lead the Democratic race, we have not yet made any active bets. We will of course review this position as the year goes on – as early as February 3rd, after the Iowa caucus, we should have a clearer view on the Democrat's nomination, but the real litmus test will be early March with the results of so-called 'Super Tuesday'.
With regard to currencies, the dollar perspective for 2020 looks far from straightforward. Soft growth and money-printing central banks will likely keep concerned currencies relatively range-bound. A potential rotation out of USD assets could be a game changer, but as discussed in our equity and fixed income outlook, we don't see a high likelihood of this in the near future. Rather, we keep the view that the dollar should find support during phases of risk aversion. Additionally, rate differentials should provide ongoing support for the dollar, and for this to change, we would need to see unrealistic, aggressive rate cuts by the Fed which bring interest rate differentials closer to zero. With that said, the forthcoming US election could have multiple implications for the greenback: fiscal policy ambitions, regulation policy and foreign economic policy are all key swing factors for the outlook. On a longer-term timeframe, the USD is the main reserve currency in the world and has been for many decades. This status is nevertheless under increasing threat. The "militarization" of the dollar brought about by the use of sanctions by the US Administration should further challenge it's prominent position. When digging into data published by the IMF on the composition of official foreign exchange reserves, some stability is observed in recent years, with the notable exception of the  growing weight of the Chinese yuan (still remains below 2% of holdings) and Russia's significant reduction of US dollar reserves. According to IMF calculations, the USD continues to enjoy a prominent role, being used in nearly 90% of all trades around the world. The same is valid when looking at US equity market capitalisation or dollar-denominated bond issuance. We should not expect a sudden sundown on the trust and hegemony enjoy by the dollar within the financial system, but pressure and discussion should continue to mount with regard to some kind of viable alternative.


Fundamental analysis tends to be the bedrock upon which most professional investors build their investment strategy. While this is indeed a good foundation to begin with, there are other factors which play a part in influencing the directionality of markets. The rise of passive investments for example, as discussed in our latest focus piece, has impacted momentum, liquidity and price discovery. One way to gain exposure to those factors that lie beyond fundamentals, is to invest in longer-term thematics. These take advantage of key industry trends, with a forward-looking orientation, rather than adopting the backwards-looking type of analysis which quant models rely on. The key benefit here, is that the case for growth endures over the long-term, despite any short-term crests and troughs in markets. The two major thematics that we will give considerable focus to are sustainable investment and investment opportunities in China.
We believe that the theme of sustainable investment (incorporating environmental, social and governance considerations into the investment decision-making process) is here to stay and will continue to become more entrenched in global capital markets. Already, Christine Lagarde, the new Chair of the European Central Bank, plans to feature climate change as a "mission critical" priority for the bank. In November 2020, Glasgow will host the 26th session of the Conference of the Parties (COP26) to the United Nations Climate Change Conference at which a review will be conducted on the Paris Agreement pledges. Next year, we will roll-out plans to ramp up efforts in this field.
It is also our belief that China offers a wealth of investment opportunities that are too lucrative to ignore. China has the second largest stock and bond markets in the world, yet despite such scale, it is currently under-owned by investors. Furthermore, the country's growing middle-class and domestic consumption potential could well re-shape the future of global growth.

The ingredients that underpinned the 2019 rally could allow equity indices to continue rising through 2020, but we should be aware of getting caught in a sugar high. The pendulum of sentiment swings unpredictably and we should be apprehensive about expecting future gains to be as sweet as they were in 2019.
The prospect of a preliminary US-China trade deal and signs of stabilisation on the macro front will likely keep fuelling the narrative that the global economy is on the mend. In both cases, there's a risk that recent developments – while positive – have been over extrapolated. We expect the world economy to turn the corner in 2020, but the pace of growth will not be comparable to that of the recent past. Meanwhile, it's worth noting that the trade war isn't ending, it's merely shifting to a new phase, with less emphasis on tariffs, rather on issues around technology, investment and industrial strategy.
While economists debate whether low rates are a cause or a consequence of anaemic growth, our takeaway is that lower rates supported momentum buying of index funds. As such, dormant inflation, should be considered as the underlying fragility in financial markets – while it is not an imminent risk, this is like a jack-in-the-box and even though it is out of sight, it should not be out of mind.
Mixing politics with investment blurs the cause and effect of economic outcomes and it is important to try and strip political noise or preferences from investment decision-making while being informed on the implications that a range of outcomes may have for your portfolio.
Though Europe escaped a twilight zone of danger in 2019 with regard to politics, the landscape throughout next year is likely to continue to be one of fragmentation and constrained ambition, which could potentially hinder any potential fiscal expansion, the implementation of budgetary shock absorber facilities or productivity drives.
US politics will take centre stage in 2020, with the run-up to the presidential elections in November. Coverage will likely contribute to wide risk-on/ risk-off movements in markets, with investors particularly eager to know who will take the top spot on the Democrat side. One stable factor, offering some relief, is that discussions about the debt-ceiling are suspended until 2021, eliminating the prospect of an endless partisan battle and budget sequestration
More generally, political polarisation is here to stay. Recently, the tide has turned against globalization and free-trade, with large-scale dissatisfaction with the current modus operandi coming to the surface.
The sun is setting on a decade that has been defined by a slow recovery from the 2008 financial crisis. As the sun rises on a new decade, we think that the macro picture, which was starting to look a bit frayed around the ages, can  stabilise and perhaps even attempt a pick-up. This, if it holds true, should allow for an extension of the cycle, giving equities further room to run. At the same time, we see potential for rates to rise (albeit marginally) throughout the year. Lest we forget that we are quite late in the cycle  – a phase normally associated with higher volatility. The key  for investors will be to focus on quality assets as a buffer against late cycle bumps in the road. In pursuit of quality, in the equity space, we give preference to US companies, which are bolstered by the strong domestic economy. Globally, we opt for growth stocks at a reasonable price and large caps, while having balance sheet strength as a prerequisite. In the fixed income space, again quality is the leitmotif and we enter the new year overweight investment grade corporate bonds with healthy credit ratings, together with Government bonds as a shield during those episodes when volatility flares up.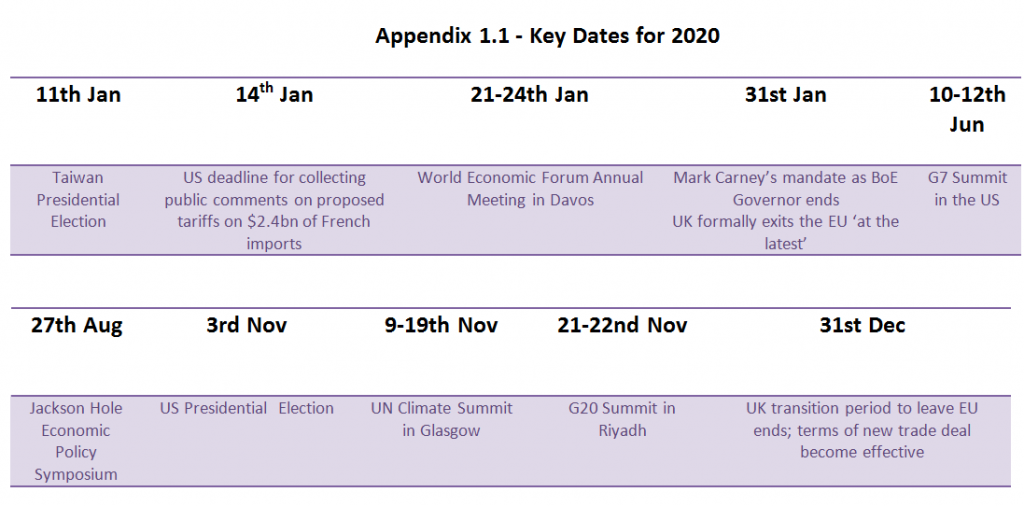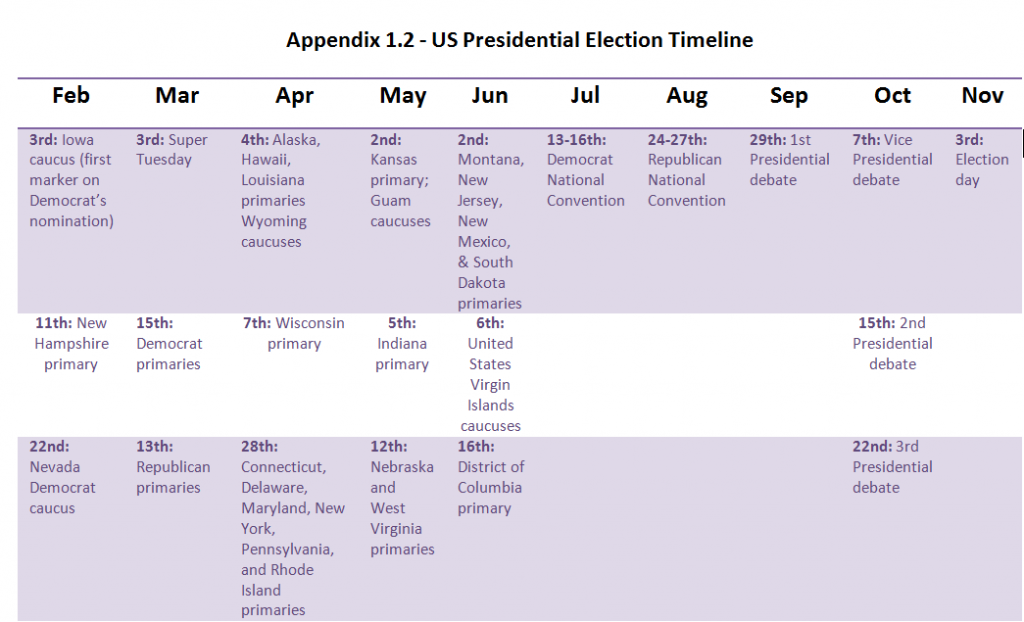 Author: Group Investment Office