August 22, 2019
2019 has been a case of Pangloss versus Cassandra on markets. Investors in the Pangloss camp – pertaining to the perpetual optimist from Voltaire's Candides – believe that the global economy is doing just fine. After all, major indices such as the S&P 500 and the NASDAQ have hit new high after new high, while the US economy soldiers on. Second quarter growth was in line with expectations, at 2.1%, driven by resilient consumer spending and a robust service sector. The Bloomberg consensus expects full-year growth of 2.5% and we believe this to be achievable, especially given the recent pick-up in investment. At the same time, in most major economies, inflation is tame and central banks are becoming increasingly dovish, with new monetary easing on the horizon. In this regard, September will be crucial, with the ECB due to provide more clarity on its plans to support the economy at its meeting on 12 September, while the Federal Reserve (Fed) is expected to announce another rate cut at its meeting on 18 September.
Those in the Cassandra camp believe that a recession is nigh. In Greek mythology, Cassandra was given the gift of prophecy by Apollo. When she deceived him, he placed a curse on her so that no one would believe her prophecies and her name is now used to describe someone who constantly forecasts disaster. Pessimism about near-term growth prospects has resulted in an inverted 2-to-10-year yield curve in both the US and the UK for the first time since the global financial crisis. The Cassandras amongst us are emboldened by declining manufacturing PMIs around the world, unexpectedly bad Chinese data (industrial output fell to a 17-year low in July) and a renewed deterioration in the eurozone's economic data. The bloc's largest economy, Germany, is now officially contracting (growth in Q2 was -0.1%) and confidence surveys do not point to a recovery any time soon. It seems that the only thing that will bring stability now is an injection of fiscal stimulus. However, Angela Merkel has so far been non-committal about such measures. Furthermore, other risks still loom large, including among others Brexit, the Argentine crisis, Italy's political saga and the protests in Hong Kong.
The key risk is, of course, trade and recent escalations (Trump's decision to place a new 10% tariff on $300bn worth of imports from China and the depreciation of the yuan beyond 7 USD) were the tipping point for many in the Panglossian camp who threw in the towel. Then Trump softened his stance and delayed certain tariffs (roughly $150bn) until 15 December, to protect US shoppers "for the Christmas season". But again, this gave the bears more arsenal – the uncertainty caused by trade has just been prolonged even further, and if there is one thing investors hate, it is uncertainty.
So what's our stance? Political factors aside, we believe that we are in a cyclical slowdown. The trade war is magnifying this and it is not going to go away any time soon – bearing in mind that trade agreements normally take around two years to finalise. However, a slowdown does not equate to the end of the world – the economy has being going through cycles of expansion and contraction since time immemorial – but it does mean that the rules of the road for investors are changing.
Portfolio changes
In response to this new terrain, we added a put option on European and US equities earlier in the month as a precautionary measure should things take a turn for the worse. Our bias in the coming days will be to further reduce our equity exposure, bringing it to underweight, by selling part of our US, European and Emerging Market (EM) exposure.
To some, it may seem strange to decrease our US equity holdings on the heels of a benign earnings season – US earnings growth was 4% in Q2, surprising by 6% on the upside. However, the Cassandras would argue that if you clean the numbers to account for the impact of buybacks, growth was close to zero. In Europe, earnings declined -1%, surprising by 1% on the upside. However, the positive earnings surprises have done nothing to make analysts more Panglossian, since revisions have worsened and expectations are negative in all regions. The earnings growth consensus is -1.8% for the US, -1.1% for Europe, -6.6% for EM and -6% for Japan. This leaves the question of what can trigger higher equity prices. With markets already expecting dovish measures from central banks, there is a limit on potentially positive surprises in September. In terms of sectors, we continue to prefer Consumer Staples as a defensive play, which is exhibiting organic growth and healthy operating margins.
With the proceeds of our equity sales, we plan to increase our government bond exposure through short-term US Treasuries and short-term money market instruments in euros. For the time being, we can see no reason why the bond yield bubble should burst (perhaps a quick resolution on trade, but that is not our base case scenario) and this asset class acts as a cushion in times of turbulence. Within Emerging Market debt, we switched out of local currency into hard currency debt to try and keep a lid on volatility: EM currencies are a pro-cyclical asset and without a pick-up in global growth, a sustainable rise in this asset class looks unlikely. The South African and Argentine episodes have already triggered strong outflows from local currency paper. Elsewhere in the fixed income universe, we continue to prefer European investment grade bonds. With the 10-year Bund yield below -0.6%, high quality IG bonds have become a viable alternative to European government bonds for many investors and flows remain strong.
As is always the case, it is worthwhile noting that the arguments of both the Pangloss and Cassandra camps contain a mixture of fact and fancy. Whilst the bond market may have gone too far, at the same time, we should not disregard its not-so-rosy message. The key for now, is to have a diversified portfolio, and to remain agile and prudent.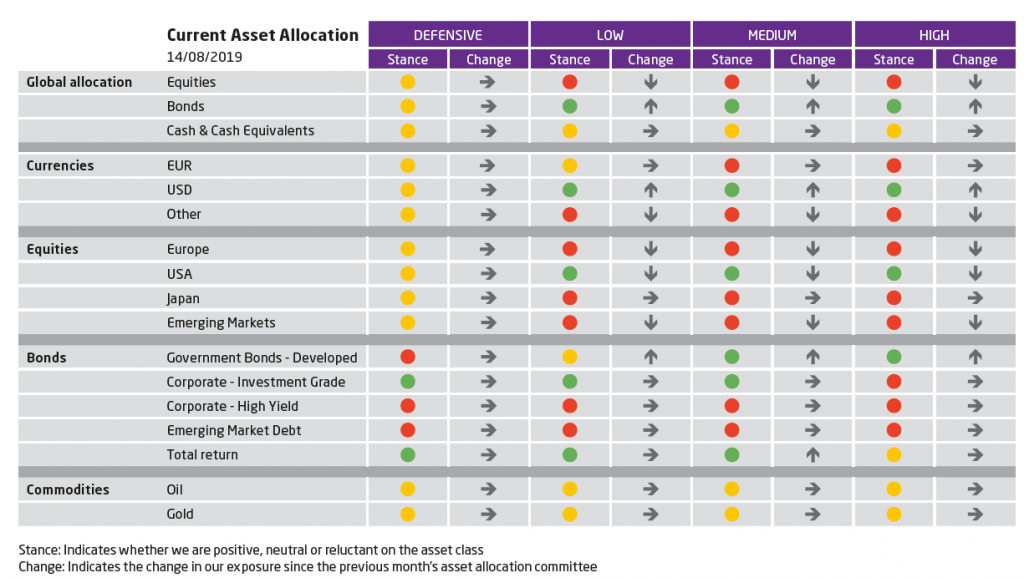 Author: Group Investment Office