January 23, 2020
The year kicked off with a touch of anxiety in markets after December's rally saw equity prices pass targets set for 2020 with flying colours – despite the fact that earnings growth for 2019 was next to nothing. Nervousness was amplified by rising tensions in the Middle East, causing a brief sell-off in risk assets, which were already ripe for correction. The good news is that the partial truce means that US-China trade no longer has markets by the throat. However, from a macroeconomic perspective, we must remember that confidence leaves on horseback and returns on foot. Corporates will not suddenly start splashing out (especially as a Phase 2 deal is unlikely until after the Presidential elections in November, according to Treasury Secretary Steve Mnuchin). Thus, the signing of a Phase 1 deal is unlikely to catalyse a grandiose renaissance in growth; at best, it should serve to prolong the cycle which had begun to slow before the trade spat began. Already, manufacturing PMIs have made attempts to turn upwards, suggesting that we could enjoy some (below-trend) growth as the cycle ages (the consensus expectation for full-year 2020 growth in the US is 1.8%, 1.0% for the Eurozone and 5.9% for China).
Improving data has allayed autumn's recessionary fears, helped also by dovish central banks. Though the Federal Reserve's latest dot-plot indicates that there will be no rate adjustments this year, the market still believes one more cut is on the way. In any case, the Fed is easing through the backdoor in its repo market operations. The ECB is easing more explicitly and will continue to buy EUR 20 billion worth of bonds, until further notice. The Peoples' Bank of China began 2020 with a 50bp cut to its Reserve Requirement Ratio, injecting some $115 billion into the financial system. Its pro-growth policies are already starting to yield economic benefits, and more fine-tuning is expected in 2020.
The imminent 'tomorrow' could therefore be a rather benign environment for investors who successfully navigate the terrain of higher volatility.
Equities – Looking to the earnings season to gauge the microeconomic spirit
Equities are expensive as a bout of economic growth is already priced in. All eyes are now on the earnings season, which will reveal more about whether companies share the equity market's enthusiasm, and the extent to which trade tensions, corporate confidence and tariffs have weighed on profitability.
Regarding the Q4 figures, analyst revision ratios have stabilised close to, but below, zero after hitting a trough in early 2019. The extent of the negative revisions that played out has lowered the hurdle for firms, and is expected to fuel earnings beat ratios.
Despite the slightly better macro outlook, we did not consider it prudent to add risk at this time, and held our equity allocation steady, witnessing stretched valuations from which stocks may need to take a breather. We will continue to re-assess this as the earnings season unfolds. In the meantime, we remain sector neutral, preferring to play at stock level.
We still give preference to US equities. While we are aware that this is no longer a consensus call, we've maintained this regional preference in order to retain exposure to quality growth areas and companies that are clearly dominating their markets. Buy-backs should also provide some ballast.
Within our European equity exposure, we have added a cyclical tinge to our portfolios by focusing on the eurozone, as opposed to wider Europe (thereby leaning away from the UK – a defensive play). Within our Emerging Markets allocation, our exposures coalesce in Asia – the region that will be the biggest beneficiary of a trade truce and where macro data has taken the biggest lurch upwards.
Our preferred style is still growth at a reasonable price.
Fixed Income – 2019's yield hunt persists
With global growth finding a floor, we are seeing some upward pressure on rates. However, any rise will be contained by central banks, who are set to keep running with their dovish policies. Mindful of the fact that the later stages of the cycle are often punctuated with bouts of volatility, we are keeping a layer of government bonds as a hedge; indeed, during the recent Iran-US episode, they played their role as safe havens nicely. Regionally speaking, we prefer US Treasuries, as we are somewhat concerned by the potential losses that European equivalents could face if inflation were to make an appearance. In this respect, we have also shifted part of our government bond exposure into inflation-linked bonds as a way to add another facet to our diversification strategy. We believe the market might be a little complacent with regard to inflation drivers in the region: potential fiscal spending and higher oil prices, coupled with upwards pressures on wages (the UK minimum wage is set to rise 6.2% and Spain is pushing its minimum wage above €1,000 per month). Central banks have already stated that they would tolerate an overshoot, and we recall the 'inflation as ketchup' analogy whereby you keep shaking the bottle to no avail, until suddenly, all the sauce comes out at once.
We like peripheral and semi-core government bonds, which are enjoying record demand with investors playing the convergence of European spreads. The asterisk is that we remain cautious on Italy – though cheap, this is a reflection of political uncertainty. Regional elections are set to take place in the country in January, Fitch will review the credit rating on 7 February, and the government may face a billion-dollar payout to private motorway operator, Atlantia.
In the investment grade space, the lemon has been squeezed quite a lot and lower returns are to be expected moving forward. Nonetheless, flows remain strong, with new issues being vacuumed up by the market, demonstrating that there is still cash out there to be readily deployed. We are overweight in this asset class overall, with the lion's share of our holdings in Europe, where the invisible hand of the ECB keeps prices supported.
In the high-yield world, with indirect ECB support, spreads are tight and could remain so, if the earnings season goes well. Given that higher quality tranches (namely BB) have become increasingly expensive due to HY tourists from the investment grade world, we will cherry-pick more bonds from niche corners of the market (e.g. subordinated financials), in our defensive and low-risk profiles.
This month, the key takeaway is that the growth narrative indeed makes more pleasant reading than it did a few months back. However, hard data is yet to catch up with ebullient equity markets, which rallied on the back of the trade truce. With central banks essentially providing the energy drink that economies need to keep pushing forward, this is not impossible. However, until we see data closing the gap between reality and expected reality, we prefer to stay on the sidelines. We therefore remain neutral on equities, with a scattering of govies as shock absorbers, should the macro numbers lose stamina.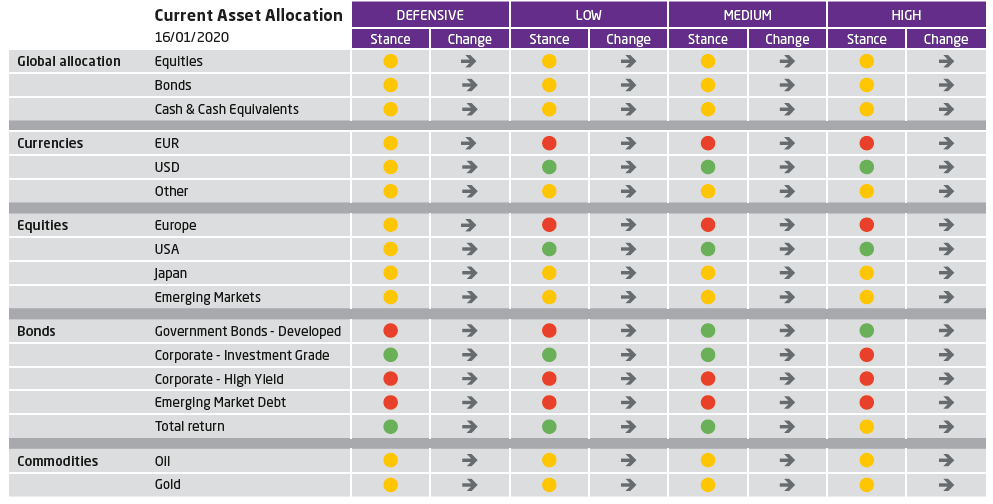 Author: Group Investment Office