June 14, 2019
This month, markets faced an alarming political turning point when President Trump threatened to impose tariffs on Mexico in order to force the country's hand in stemming the flow of cross-border migrants into the US. The move pushed investors out of risky assets and into top-rated government bonds and other safety plays.
It is quite unprecedented for a US President to brandish tariffs – often seen as a 'weapon of last resort' – to achieve objectives that are not at all related to economics or trade. To push their agenda, previous presidents typically leveraged US allies and used conventional diplomacy and negotiation. Former Secretary of State Madeleine Albright even wrote a book (Read My Pins) about how she used her collection of brooches as a weapon to send pointed messages to other world leaders – for example, a bee to indicate that the US was ready to sting. Putin even told Bill Clinton he would look at her brooches to try to figure out what the US was feeling or what message it wanted to send. This anecdote seems off tangent, but it highlights the stark contrast between the past and the present, with Trump installed in the White House armed with a smartphone and a Twitter account and with punitive economic tariffs as his weapon of choice. His most recent comments referred to tariffs a "beautiful thing" when used as a negotiating tactic. Subtleties and formalities are out the window and we are truly operating in unchartered territory where both allies and adversaries are concerned about this protectionist push from what was once the guardian of the open international trading system. Even Republicans have voiced criticism towards this latest move, with Senator Pat Toomey remarking that "Tariffs are a dangerous and risky economic tool".
So with global growth slowing and the political, economic, and social landscape undergoing big changes around the world, as an investor the question is what to do when all of these inputs could crash-land on your portfolio? Throughout 2019, we have gradually de-risked our portfolios by bringing our equity exposure to underweight while simultaneously moving up the quality curve in fixed income.
Portfolio Positioning
As much as we are content with this risk-off composition, we do note that equity markets have fallen back quite substantially over the past month and we don't rule out a short-term bounce-back. The current conditions don't compel us to increase our positioning to capture this; however, we have added 3-month call options on the S&P 500 Index. The most prominent catalysts for a rally could be: a conciliatory tweet (or other such signal) from Trump on trade; a better-than-expected earnings season in July whereby the pessimistic outlook is not confirmed in the numbers; or most importantly, further dovish communication from the Fed. Chairman Powell already talked up the market temporarily at the beginning of June with the mention of a rate cut – the added liquidity resulting from this could be the key ingredient to keep markets rising.
If a rally does indeed materialise, we will decide between two courses of action – we will participate in the upside and pocket the proceeds, or, if fundamentals point to further gains, we will sell the option and buy the underlying assets, bringing our equity exposure to neutral. If there is no bounce, the option will be left to expire and we will remain underweight on equities.
Equities
Our existing equity exposure was given a more defensive slant via our sector preferences. We brought IT down to neutral, primarily because it is expensive and because technology lies at the heart of the trade war with various big names caught in the crossfire. We increased Utilities to neutral as it is a very defensive and high-yielding sector, reliant on interest rates staying low. We brought Consumer Staples up to overweight, following a successful earnings season for the sector which still offers decent valuations. We reduce exposure to Consumer Discretionary to underweight; this is a cyclical sector and has already outperformed the broader market on both sides of the Atlantic of the market, despite the drag from autos.
In terms of regions, our preference is still for the US, which is expensive, but justifiably so given its earnings growth potential relative to other regions. Though the outlook is becoming slightly tarnished by industrial production data (which has declined for four consecutive months), the economy, at large, is still soldiering on for the time being. We are underweight on Europe, perceiving more risk than return on the horizon with Brexit, the European Commission's assertion that the Excessive Deficit Procedure is warranted against Italy, and ongoing trade tensions.
Fixed Income
In the fixed income space, we didn't adjust our allocation. Our Fixed Income team believe that the market might have got carried away, as it has priced in (with >50% probability) three rate cuts from the Fed this year, while the Fed has thus far stuck to its 'on hold' approach. Previously, we believed that the Fed would stay put this year – a view which was, until recently, shared by the Fed itself. However, worsening macroeconomic conditions, the escalating trade war and the recent decline in rates add at least one cut to our outlook. We are underweight on government bonds, though we keep some for rainy days when volatility stirs. We give preference to high-quality investment grade (IG) corporate bonds, though we avoid higher-beta segments of the market. In European IG, after a small dip early May, investors are showing a healthy appetite, perhaps attempting to 'buy the dip'.
The committee deems this the most appropriate strategy while uncertainty about the month ahead (especially in terms of trade) prevails. 28–29 June could be sink or swim for equities, depending on whether Trump decides to levy further tariffs on China at the G20 meeting in Japan, where he has said he will make his final decision. The consolation for risk assets is that central banks have vocalised their willingness to intervene should trade tensions escalate further. This is ironic, because normally the cycle is killed by central banks and excessive tightening. But today, nothing is as it was before, and it may be that if Trump looks in the mirror wondering where that amazing stock rally he used as a barometer of his own success is, his trade war will be staring back at him.
June 2019 Allocation Matrix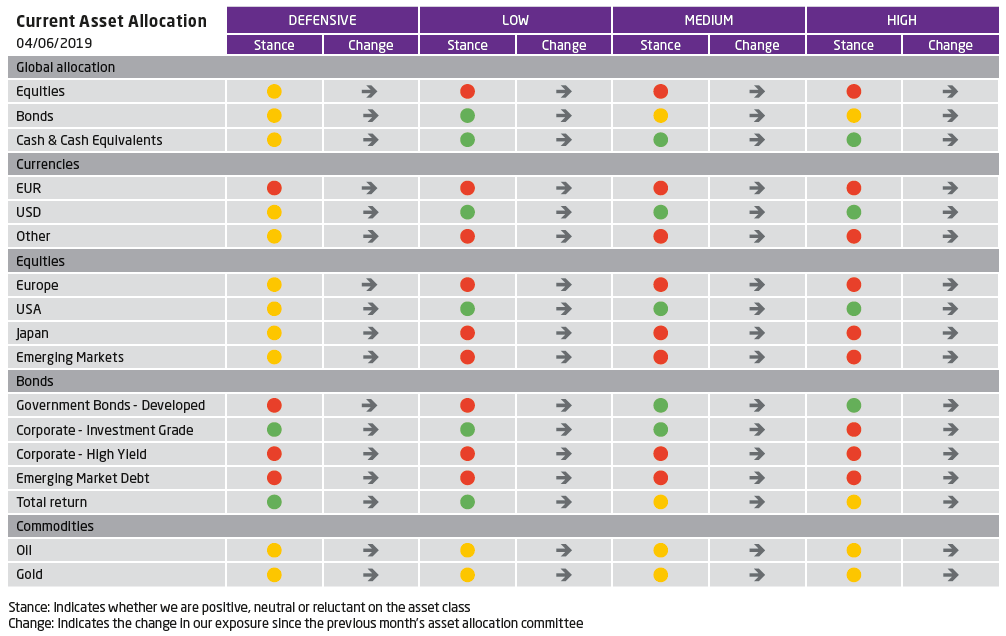 Author: Group Investment Office