June 24, 2020
Hard data is beginning to corroborate the economic stabilisation implied by soft data. Recent green shoots have surpassed expectations on the upside, giving hope that the deepest recession since the 1930s may also be the shortest. However, markets are clutching at this hope perhaps too tightly, pricing in a recovery model that is at odds with current fundamentals.
As of late, with a steady supply of government and central bank support, macroeconomic data has been trending in the right direction. In the US, businesses have embarked on re-hiring campaigns, factory cogs are turning again, and consumers are heading back to the malls; retail sales rose at a substantial, but probably unsustainable pace (+17.7% vs 8.4% expected). On the fiscal front, another stimulus package of at least USD 1 trillion looks to be in the pipeline to give the economy another shot of insulin in the short term. In Europe, surveys and high frequency data such as online traffic and footfall suggest that we are through the worst of the downturn, with a German-led recovery beginning in May. On the Continent, a fiscal package (proposedly EUR 750 bn comprising EUR 500 bn in grants and EUR 250 bn in loans) is yet to be approved by all member states.
Improvements stem from a very low starting point and, on an absolute basis, the data is still dismal. It could be the third or fourth quarter of this year before a recovery takes hold and we don't imagine that wealth lost during the Covid crisis will be fully recovered before the end of 2021 (a tick-shaped recovery (✓) as opposed to the widely-expected V-shaped bounceback to normal). Of course, there are risks to our central scenario: primarily a second wave of infections (new clusters have arisen in Beijing, Chennai and several US states), as well as geopolitical tensions. Trump recently stated that a decoupling of the Chinese and US economies could still be on the table and such rhetoric could intensify in the run-up to the Presidential elections in November. There are also upside risks: a vaccination becoming available quicker than expected or new outbreaks being swiftly snuffed out. Balancing the two sides of the equation, we remain risk-neutral for the time being.
Equities: a sickly-sweet rally
In light of our base case, we remain neutral on equities in the short term, while more sceptical on this asset class in the mid-to-long term. The recent rally can be likened to a crème brûlée: tempting, but just one tap on the surface will reveal an underneath that is soft and squidgy. Nothing firm underlies the extreme valuations, which imply global earnings growth of around 30% in 2021. Macro data will have to improve substantially to keep up with these expectations and drive such an impressive rebound in earnings. The key ingredients in the ascent of equities have been sentiment and stimulus – the former is fragile and the latter is supportive in the short term but it cannot last forever. Regionally speaking, the biggest slice of our equity exposure is allocated to US stocks, while we are neutral on Japan and underweight on Europe and emerging markets.
As of late, we have seen violent rotations in terms of sector leadership, while, within sectors, the chasm between winners and losers is substantial. It is worth noting that the rally in Value, small-cap stocks seemed to be partly attributable to (often fickle) retail investors, using free trading apps. For now, we avoid strong sector calls, preferring to cherry-pick quality names across the board (companies with low debt, high cash flow, etc.). IT and healthcare look best poised to weather any downturn while having convincing long-term growth cases.
Fixed income: dollops of stimulus
The fixed income world is benefitting from extra helpings of central bank support. At the Federal Reserve, there is very strong consensus around keeping policy rates unchanged at low levels for an extended period of time, while on the quantitative easing side, in addition to the c.USD 5.5 bn of bond ETFs it has purchased since March, individual names are now in scope for Fed buying. It will buy investment grade paper as well as fallen angels with maturities of less than five years while adhering to self-imposed caps: they cannot buy more than 10% of any firm's total bonds in issuance and no single holding can account for more than 1.5% of the facility.
In the sovereign space, investors are torn between prospects of higher issuance and large budget deficits going forward versus the capacity of central banks to absorb these bonds and keep rates low. Just to illustrate, the US Treasury has hit record issuance, triple the level seen in the 2008 crisis. Nonetheless, central bank policy is clear and committed to keeping rates low, while inflationary pressures are unlikely to put upward pressure on rates in the short term. A stronger rebound in economic activity could indeed push rates higher but it would simultaneously mitigate the need for fiscal stimulus. In Europe, net supply for the German Bund in 2020 is still expected to be negative, despite increased issuance. We are keeping a layer of government bonds in our medium and high-risk profiles, primarily to buffer against equity risk, while staying neutral on duration.
Investment grade is still in a sweet spot and we are overweight in this asset class. Spreads have retraced a part of the widening but are still relatively wide. If we see a second wave of Covid, they could widen again, but strong central bank support – on both sides of the Atlantic – provides a serious backstop. Liquidity is improving and flows are strong while a substantial amount of cash still sits on the sidelines.
High yield (HY) is benefitting from inadvertent central bank support, with IG investors once again pushed out of their comfort zone into HY in search of greater yield. HY is fairly valued in the context of policy support versus higher default expectations, but we are keeping only very scant exposure as we do not wish to add risk at this time. We prefer quality names and fallen angels in this asset class.
Emerging markets have found themselves in the eye of the Covid storm, with Latin America becoming the new epicentre and China having to reimpose lockdowns in certain areas to suppress a second wave. As such, the fundamental picture for EMD is still challenging and we remain underweight.
All in all, we remain prudent this month regarding our asset allocation, fearing that the favourable sentiment that is allowing equities to keep climbing will be seen, with hindsight, as a sugar rush. We will await more convincing economic data before we indulge and keep portfolio resilience as our top priority in the current context.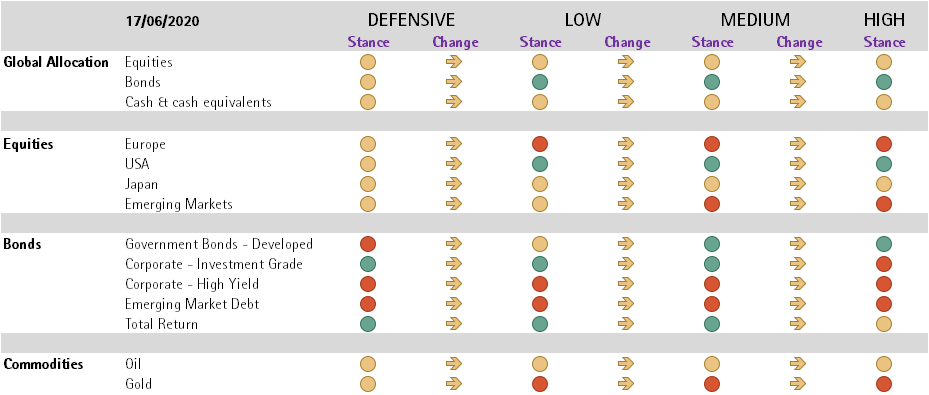 Author: Group Investment Office