September 30, 2019
The phrase 'tipping point' was coined a while back by Malcolm Gladwell in his book of the same title, in which he discusses how small things can make a big difference. The global economy seems to be on the tipping point between bottoming out (whereby it can recover on its own) and further deterioration (whereby fiscal stimulus will become essential). The next months will be crucial in defining how we view the economy moving forward, with incoming data likely to provide more clues as to which direction we are headed.
However, a few nuggets of bad data or a few rogue tweets could be the 'something small' that tips the odds to the downside: Confidence, whether it be that of businesses or consumers, is precarious and as Gladwell writes, emotion is contagious.
Currently, our base case is that we are not in a recession, rather a global slowdown ­– a phase in the cycle where risk assets have typically produced good returns. Pockets of strength remain, especially in the US, where the consensus foresees decent growth of 2.3% through 2019, fuelled primarily by private consumption (which comes part and parcel with an extremely low unemployment rate). Though the domestic situation is holding up, no economy is an island. The global slowdown and uncertainty around trade have left growth in industrial production almost at a standstill, while US corporates are becoming less committal when it comes to capex decisions.
Europe's situation is more febrile. The consensus growth estimate for 2019 stands at 1.1%, but with the malaise that has swept through the continent's manufacturing sector threatening to spread to services, the downside risk is significant. Already, September's composite PMI has galvanised these fears: it fell to 50.4, almost reaching a dangerous liaison with 50, the line between contraction and expansion. The manufacturing component is already beneath this threshold at 45.6, whilst the services equivalent sits at 52 (down from 53 in August). For the time being, southern European countries are in better form than Germany due to the latter's dependency on exports and the global industrial cycle. Whether other eurozone economies will join Germany on its grim trajectory or whether the continent will manage to pull some sort of stabilisation stunt is yet to be seen.
Central banks are doing what they can, and we still have liquidity which has put a crash mat under risk assets for the time being. At its September meeting, the ECB gave markets a whole bundle of goodies; renewed QE (at a pace of EUR 20bn per month beginning in November, with no defined end-date), sweetened TLTRO conditions (making conditional loans to banks more favourable), a tiered-interest-rate deposit system (whereby a portion of bank deposits, currently set at six times their mandatory reserves, is exempt from the negative deposit rate), and an interest rate cut bringing the deposit rate to -0.5%. The Federal Reserve followed with a widely expected 0.25% rate cut, bringing the interest rate to a range of 1.75–2.00%.
But markets can't live on liquidity alone. We need to see a breakthrough in the trade dispute, a stabilisation in manufacturing PMIs and/or a suggestion that governments are prepared to embark on fiscal stimulus.
We think markets still have some room left to run, but those with risk on the table need to consider that the road ahead could be bumpy. Political risk can flare up at any moment without warning – especially given the geopolitical risk in the Middle East. We also have the Brexit deadline on October 31st and the US ruling on whether on whether or not place tariffs of up to 25% on European cars is due on November 13th.
Equity markets
The fear of missing out on a liquidity-induced rally is encouraging some investors to keep skin in the game, but at the end of the day the real drive for equity markets is earnings. With the Q3 earnings season about to kick off, negative revisions mean that the hurdle to beat is low. There may even be too much pessimism baked into 2019 expectations – for the US, the consensus expects earnings growth of -1%, for Europe +0.8%, and for Emerging Markets -6.7%. While 2019 figures have been revised downwards quite heavily, 2020 expectations have barely budged, and for these numbers to be met we need to see a marked improvement in the macro landscape or a resolution on trade.
Last month, before we had more visibility on central bank intentions and when tensions between the US and China were high, we lined eligible portfolios with put options, giving us the option to sell part of our European and US equity exposure at a predefined price if need be. These were left to expire, and we chose to leave the underlying positions as they were. For those portfolios that were not eligible to buy derivatives, the underlying equity exposure was already sold off, and this has been bought back (as reflected in the matrix).
In terms of sectors, we have neutralised all sector bets. Through September there was a violent style rotation, whereby cyclicals and value stocks (mainly financials) outperformed growth and defensives. This rotation seems to have been driven by moves in interest rates rather than by developments on the macro front. The key question is whether the sentiment-driven trend will continue – in the long-term, fundamentals will win, but sentiment can be capricious and we prefer not to bet on its short-term direction.
Our fixed income allocation was held constant this month, except for the sale of short-term government bonds to fund the aforementioned equity purchases.
For the economy, it is too early to divine which way things are going to tip. Perhaps the clouds over the global economy will clear. If it goes the other way and a storm sets in, governments will then be compelled to unleash the fiscal stimulus packages that they have saved away for a rainy day. Until markets have a clearer forecast about future growth, it makes sense to play it safe with a small underweight to risk assets.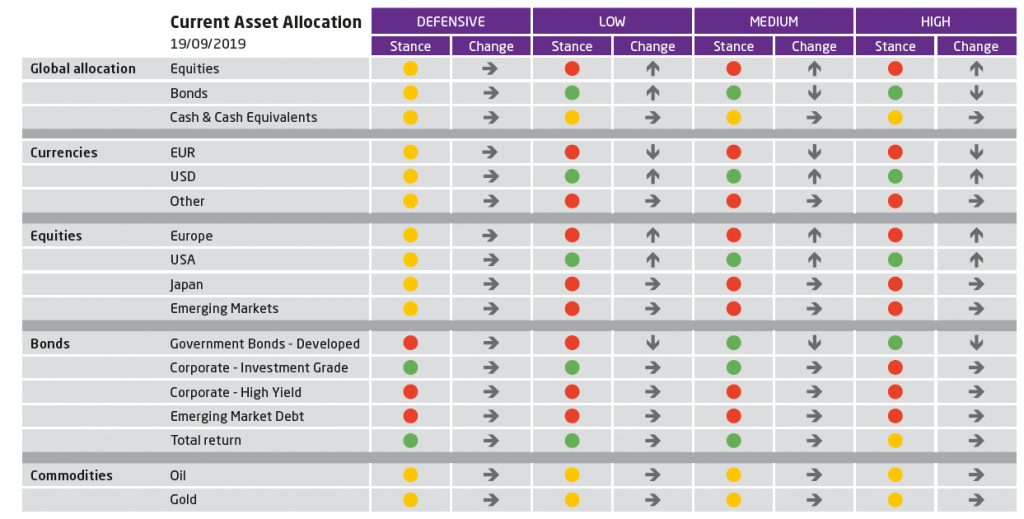 Author: Group Investment Office