January 22, 2020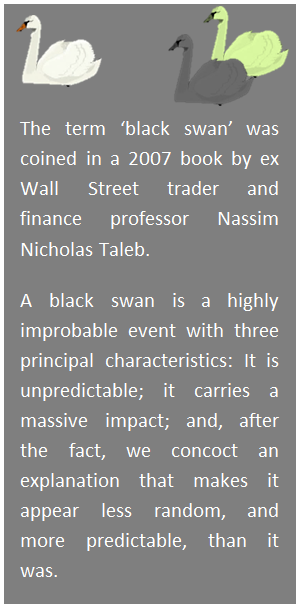 Davos, the Swiss ski town may be draped in white snow, but this year, the agenda of the World Economic Forum, which takes place there each year, is very much green, with climate change taking centre stage.
To begin talking about the climate emergency, let's talk about a black swan event that happened back in 2003: Notte Bianca. On September 27th, a severe storm knocked over a tree in Switzerland, close to the Italian border. It hit a power line, which tripped, and the electricity was automatically divided among other cables which were already almost at full capacity. The grid became overloaded and somewhere along the line, a communications system that connected various other grids failed, resulting in an unexpected cascade. The result was that Rome was plunged into darkness, where a million people were participating in a local celebration "Notte Bianca". Subways, elevators, trains and traffic lights all failed. Two networks that seemed completely separate interacted in ways that engineers couldn't predict.
This holds some parallels with the climate emergency. The industrial revolution was born in the UK, but now, the impact of burning fossil fuels is being felt primarily on the other side of the world in developing countries. According to a recent study by the Global Climate Risk Index (a German NGO), eight of the ten countries most affected by extreme weather events (from 1998 – 2017) were developing nations.
But developed nations are not immune. Already last year, the UK, France, and Germany (which have some of the world's oldest weather records) all hit new high temperatures. The WEF Global Risks report foresees that climate-related weather damage could cost the US 10% of GDP by the end of the century. Recently, the Bank of International Settlements (BIS) – the central bank for central banks – introduced the concept of "Green Swan" risks for the global economy.
It wrote that traditional backward-looking risk assessments and existing climate-economic models cannot accurately assess the form that climate-related risks will take. These include "green swan" risks: potentially extremely financially disruptive events that could be behind the next systemic financial crisis. It advocates that central banks have a role to play in avoiding such an outcome (already the Bank of England has taken strides on this and Christine Lagarde has suggested that the ECB will soon adopt more measures too). But, of course, central banks alone cannot mitigate climate change. Coordinated efforts from many players including governments, the private sector, civil society and the international community are needed.


Similarly, after the Notte Bianca, energy security rose to the top of the European Commission's agenda. The power sector's decentralized model of governance fell under scrutiny and the idea of 'transnational vulnerability', which believed that only EU-level organization could make Europe's power system sound and secure, became popular. The same is true for climate change. Without a coordinated, transnational effort, tangible results become unlikely.
That's where Davos – the annual summit of global movers, shakers, policy-makers and gold-collar workers – could hopefully play a role. For the first time in its 10-year history, all five of the top risks amongst participants this year were related to the environment.



The founder of the WEF, Klaus Schwab, is eager for the event to adopt a new stakeholder creed (following in the footsteps of the Business Roundtable in the US). He said: "People are revolting against the economic 'elites' they believe have betrayed them, and our efforts to keep global warming limited to 1.5°C are falling dangerously short… we must develop a 'Davos Manifesto 2020' to reimagine the purpose and scorecards for companies and governments.'
While some may question the efficacy of an event (to which last year at least 309 people travelled by private plane) can have, at least it highlights the sense of urgency and generates conversation. Secondly, this year, representatives from the Big Four accountancy firms will meet with Bank of America chief executive Brian Moynihan and other corporate leaders to try and decode on green audit standards.
2019 was the year that climate change became sexy. Now it seems that firms in every sector from finance to fashion, are trying to paint themselves in a more sustainable manner. But investment managers need reliable data and metrics to assess which companies are really walking the talk if they are to include ESG factors in their decision-making. The outcome of those conversations at Davos on accounting standards could therefore be just as crucial (or even more so) than an emotive speech by Greta Thunberg or 'Water Warrior' Autumn Peltier, since they could eventually help direct capital flows.
Let's hope that this year's talks at the highest city in will take flight.
Author: Group Investment Office