May 28, 2020
In response to the economic shock from the health crisis, most central banks around the world have again, been on the front line taking decisive actions. A key difference is that this time, measures have been faster and more substantial than those been seen in the past. "Whatever it takes" was Mario Draghi's[1] trademark when he first said it during the summer of 2012 when fighting the European debt crisis. It is now the most apt quote to describe central bank initiatives to support credit markets and economies. So, let's assume that the "whatever it takes" mantra is some sort of "once upon a time" magical touch to push back against the crisis.
Concerns about the eventual payback are valid, but premature. Adverse consequences of central bank largesse will come, but the jury is still out as to whether the bill will be paid through higher bond yields from a massive increase in debt supply, higher inflation from excess liquidity, spiralling government rating downgrades from snowball effects, lower productivity growth from inefficient resource allocation or currency debasement from extreme unorthodoxy. In short, nothing new. The Covid-19 crisis merely accelerated existing, chronic concerns.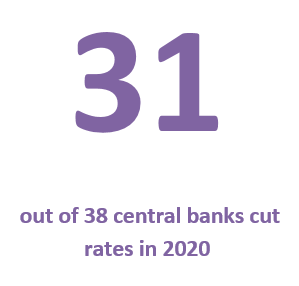 The most widely used initiative around the world was to cut policy rates. According to BIS policy rate statistics, 31 out of 38 Central Banks have cut rates since the beginning of 2020. The most notable was once again the US Fed, who cut rates in two steps by 1.5% to zero on March 15th. The BoE also chose the two-step approach. The ECB (and the BoJ) decided not to cut interest rates, given that theirs was already deep into negative territory. Let's see if history rhymes, I keep recalling the day in July 2008 when the ECB hiked rates when economic activity and financial markets were already in disarray.

The second most commonly used tool of central banks is quantitative easing (asset purchase schemes). Again, with this mechanism there are differences between the various central banks in terms of the size of purchases, the scope of purchases as well as the capacity to purchase. The last point is especially prevalent for the ECB: "Whatever it takes" could well be "whatever Germany allows", in reference to the recent ruling of the German Constitutional Court. But let's push this ambiguity out of the exercise as the good news is that the Pandemic Emergency Purchase Programme (or PEPP for the few of us that are still fans of alphabet soups), the new European temporary asset purchase programme was out of the scope of the German ruling – at least for now.
Elsewhere, the Fed is committed to unlimited purchases of US Treasuries (and agencies) without an explicit yield target or curve control. This contrasts with the BoJ which has embarked on an unlimited Japanese government bond buying programme, but with a predefined yield range of -0.2% to + 0.2%. In the real world, everyone expects the Fed to adjust its appetite in accordance to market yield levels, decreasing purchases when yields are below some threshold and the opposite when above.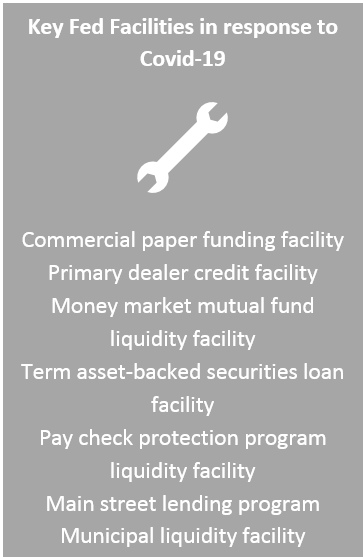 The ECB initially opted for an increase in its existing APP [2] by €120 billion until end-2020. Soon after, an additional €750 billion temporary asset purchase program (Pandemic Emergency Purchase Program) was announced, for which purchases will last until the end of 2020, in a flexible manner (without pre-commitment of monthly volumes). The new envelope includes a waiver on Greek government bond eligibility. Additional ECB QE programs are currently expected by market participants.
Other countries also implemented revamped or brand-new purchase programs. Some of them include: the UK, Australia, New Zealand, Canada, Sweden, Hungary, Poland, South Africa and India. Brazil's Congress has also ratified a proposal allowing the country's central bank to embark on bond buying.
The US Federal Reserve was also diligent in introducing new facilities (or revamping some used during the 2008 financial crisis) to support liquidity and rescue credit flows. Some of the key initiatives are listed in the box to the right. The primary market corporate facility and the secondary market credit facility have been instrumental in quelling panic on corporate bond markets by offering a liquidity backstop for corporate debt. This is because, for the first time in history, the Fed could buy corporate bonds (issued by companies that are headquartered in the US and have material operations in the US). Between those two initiatives, the Fed will purchase $750 billion in bonds, including fallen angels and high-yield ETFs. Note that March 23rd was the date when the Fed announced those backstop measures. March 23rd also marked the S&P500's bottom…
The ECB menu card also includes sides of: additional liquidity auctions at full allotment, a fixed rate temporary liquidity facility, more favourable terms on existing target long-term refinancing operations, a new liquidity facility (the PELTRO or the pandemic emergency longer-term refinancing operations) and a relaxation on collateral standards for refinancing operations. Finally, additional credit claims to include public sector guaranteed loans to SMEs, self-employed individuals and households have been granted. The list sounds like an open-bar but liquidity offerings without liquidity demand are futile.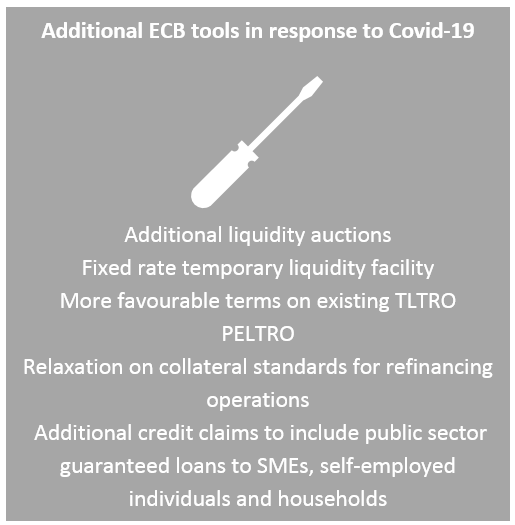 Another important dimension of central bank initiatives relates to prudential requirements for banks and collateral management. Such include: haircut reductions, adjustments to risk parameters inside collateral frameworks, temporary permission to operate below various capital buffers, flexibility on classification requirements and loss provisioning of non-performing loans. This smorgasbord of tools mean that banking organisations, under state of the art regulatory requirements and accounting practices, were given a long list of technical triggers to buffer the economic fallout. In doing so, central banks trying to fix as many holes as possible in the financial intermediation bridge.
Finally, in relation to reserve currencies, central banks were also active in reducing the cost of swap lines with other major central banks and in broadening swap line access to more central banks.
…
All in all, the liquidity injections of central banks are unprecedented. We have the conviction that record debt issuance will meet record asset purchase schemes, mostly designed to deliver low and stable yields. Alas, financial repression for savers is here to stay.
In recent years, the role of central banks has evolved and this evolution is now at full speed. Initially the lender of last resort, central banks have morphed into liquidity providers and more recently, buyers of last resort. It is no doubt that to navigate those initiatives properly and asses their impacts by building financial models, new academic curriculums are going to be in demand.
Having focused on central bank initiatives, in our next piece, we will focus on government actions to support economic activity against the pandemic. You will see that the "too big to fail" mantra of 2008 is no longer only applicable to the banking industry. Rather, it is expanding to the global corporate world, with many national behemoths suddenly too broke to sail, or to fly, etc… But just to conclude on the role of central banks, the best way to get a sense of the moving target is to look at the size of their balance sheet vs. GDP. Current numbers speak for themselves. Predictions based on current committed programs are astonishing. If the weight of stimulus inside GDP translated into employment opportunities, there should be no hesitation, CVs should already be flying into mailboxes.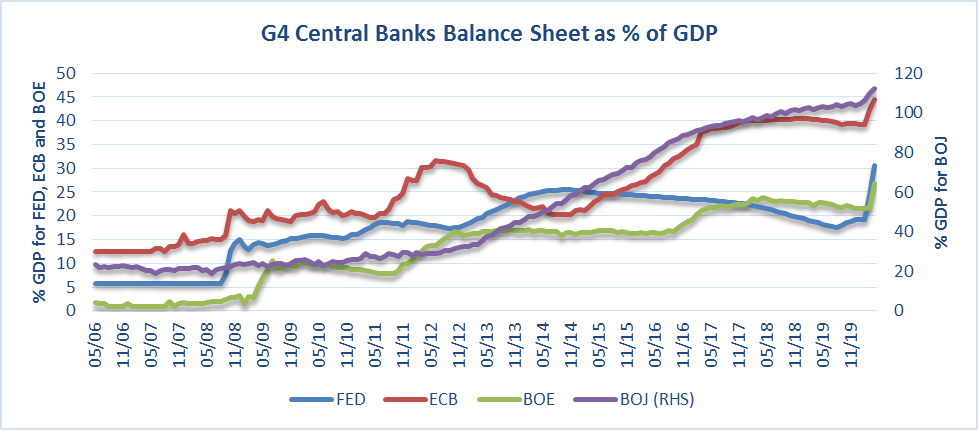 ---
"Within our mandate, the ECB is ready to do whatever it takes to preserve the euro. And believe me, it will be enough." – ECB President Mario Draghi, July 2012
Asset Purchase Programme or APP initiated in 2014 to support monetary policy transmission mechanism, consisting of the corporate sector purchase programme (CSPP), the public sector purchase programme (PSPP), the asset-backed securities purchase programme (ABSPP) and the 3rd covered bond purchase programme (CBPP3), at €20 billion monthly pace since 11/2019 and before the new addition.
Author: Group Investment Office