April 30, 2020
Having registered its millionth case, the US is now the hardest hit nation in the ongoing coronavirus crisis. Movement restrictions have threw a spanner in supply chains and wiped out demand for the majority of goods and services. While fiscal and monetary policies are not the cure for what ails the economy and financial markets, their support is critical if we are to see a rebound once quarantines are lifted.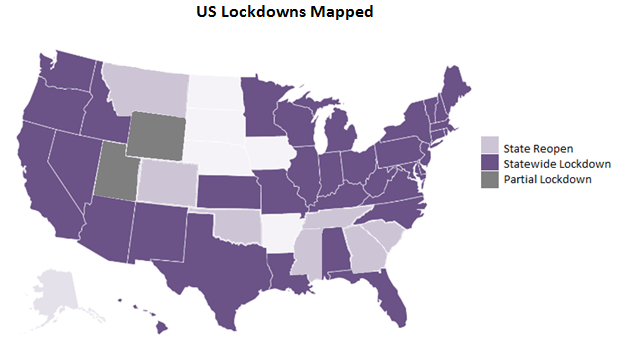 At its meeting yesterday, the Federal Reserve held rates steady at 0-0.25% and once again referred to a "kitchen sink" approach to policy i.e. using all tools at its disposal to buoy the US economy. It warned that the pandemic will "weigh heavily" on the near-term outlook and poses "considerable risks" for the medium term.  
The Fed's mandate is to achieve price stability (i.e. PCE inflation of around 2%) and maximum employment. The former is affected by the precipitous drop in oil prices, while the latter is off the table for now, with more than 26 million Americans already having filed jobless claims due the crisis. As a result, rates are likely to remain lower for longer, it said: "The Committee expects to maintain this target range until it is confident that the economy has weathered recent events and is on track to achieve its maximum employment and price stability goals."
In the market, hopes are pinned on a V-shaped rebound once people are free to go around their business again. On this front, the Chairman Jerome Powell said that while he expects reopening will boost consumption, he does not envisage that it will return to prior levels due to "scarring" that the crisis may have caused leading to a longer period of adverse conditions and that preserving credit to households and businesses is essential.
This is in line with our base case scenario which sees more of a "check mark" shaped recovery – a violent drop in activity, followed by a steady and gradual rebound that ultimately sees growth return to (or surpass) pre-COVI19 levels on the long term.
Author: Group Investment Office