October 31, 2017
As the second-longest bull market in history continues to age gracefully, equity prices are relentlessly climbing to new highs. Dovetailing factors have fuelled the rise: excessive liquidity, the global economic recovery, and most importantly, the rebound in corporate earnings. As a consequence, valuations are becoming demanding, and will become even more so if we see a rise in rates without a simultaneous pick-up in earnings growth.
However, out-of-favour value stocks still offer a degree of opportunity for investors hunting for relatively under-priced stocks. As the Financial Times states; value stocks will always by definition be cheaper than others, but at a global level they are trading at a deeper discount to other stocks, in terms of price/earnings multiples, than at any time in a decade.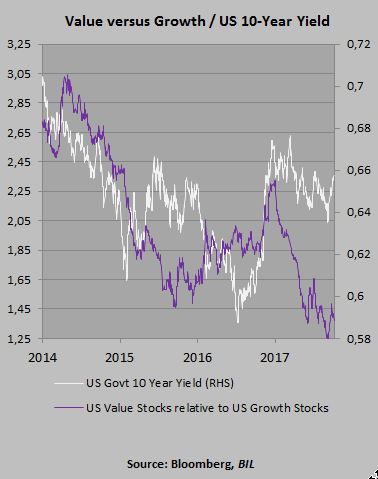 If we take the Fama French model, value stocks are seen as a 'leap of faith' and have a price-to-book ratio below the market median.
Value stocks can be found in each sector but it is true that nowadays, value shares are most commonly found in sectors such as Financials and Materials.
Investors typically buy up value stocks when the economy is in an expansionary phase and corporate profits are climbing upwards; when the expectations for long-term interest rates are elevated and a 'risk-on' mode permeates through markets. The period after the US President Trump was elected in November 2016 is a good example of such a time. The new President's stimulus plan which included a $1 trillion infrastructure spending package, de-regulation and tax cuts, ignited a wildfire of economic optimism. Expectations for inflation and long-term interest rates rose and from November until the end of 2016, value stocks rallied some 8%.
This episode which was called by many names – the Trump trade or the reflation trade was short-lived. Due to Trump's failure to garner significant support amongst the Republicans (e.g. the Obamacare debacle), bond yields retracted as hopes for a speedy fiscal stimulus package fizzled. Value stocks which are tethered to economic sentiment retreated as investors returned to the relative safety of momentum stocks and growth shares.
Textbook examples of growth stocks are technology stocks – especially FAANG companies (Facebook, Amazon, Apple, Netflix and Google) and constituents of the NASDAQ 100 index.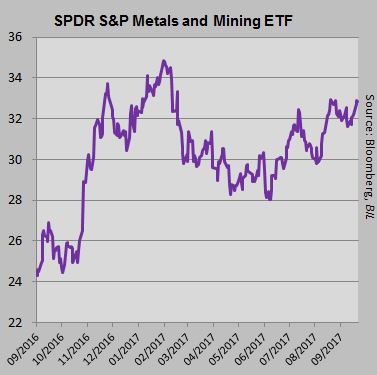 Technology (IT) is the best-performing sector in the US thus far in 2017.
However, with the announcement of Trump's tax agenda at the end of September, and a belief that he will valiantly try to deliver in advance of the mid-term elections in 2018, market optimism and faith in Trump's ability to jump-start the economy has started to form once again. The clearest signal of this is in rising bond yields. The US 10-Year Treasury year rallied from around 2.1 to 2.35 (as at October 10th). Additionally, strong macroeconomic data has continued to pour out of the world's major economies – in September the US boasted its strongest manufacturing activity level in over a decade. This, coupled with rebounding commodities and a stabilising oil market should feed into headline inflation towards the end of the year. Hawkish undertones are emanating from the Federal Reserve and the European Central Bank, and the pendulum is about to swing away from very accommodative monetary policy. In short, this all indicates that interest rates are heading north, which bodes well for value stocks.
Based on market-implied probabilities, there is a 96% chance that the Fed will enact another rate hike at its December meeting. In Europe, it is anticipated that the European Central Bank (ECB) will soon announce plans to reduce its €60 billion–per-month bond-buying scheme which has kept yields artificially low.
THE 'TRUMP TRADE' IS MAKING A COMEBACK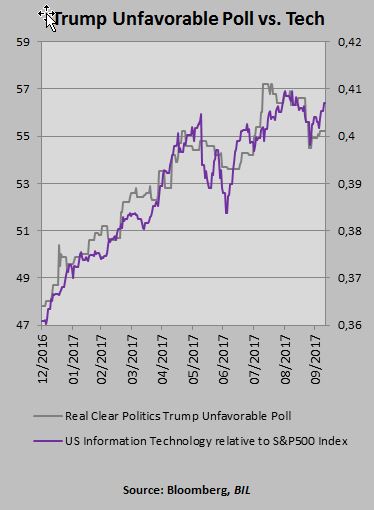 Already, the benign economic conditions which have allowed central banks to adopt a more hawkish stance, have provided earnings-per-share (EPS) ratios a positive momentum. In light of this, and the announcement of Trump's tax agenda, investors are once again starting to venture outside of their comfort zone.
Technology stocks have started to underperform. There is a clear correlation between the performance of Technology stocks and Trump's popularity rating. When his popularity falters, investors can clearly be seen jumping back into Technology (growth) stocks. At the end of September when the proposed tax cut plan was put on paper, faith in Trump rose again and Technology stocks receded.
The question now is whether this is a dress rehearsal for value stocks or the beginning of a mass style rotation. Historically, value styles have slightly outperformed growth, but the outperformance comes in long cycles which are correlated to the fixed income market. Is the 30-year bond bull on its last legs, or does it still have some room left to run? For those with bullish economic expectations which incorporate the prospect of higher inflation, higher interest rates and higher government bond yields, a value-oriented portfolio is consistent and the lull in the first half of the year has been an opportunity to reload on value.
There may be hiccups on the road to the roll-out of the tax plan, causing faith in Trump to falter and bond yields to recede once more. In the short-term, volatility could prevent a clear swivel from growth to value.
Author: Group Investment Office