A Goldilocks nonfarm payroll report for December (which showed job growth slowing but not plummeting) raised hopes that the US economy could be on its way to a "soft landing". Some might have assumed that the subsequent report for January had dashed those hopes. Job growth was through the roof, with the economy adding some 517k nonfarm payrolls, almost triple the 185k expected. That brought the unemployment rate to 3.4%, its lowest level in 53 years.
While strong job growth would be seen as something favourable in normal times, for now good news is somewhat bad news while the Fed tries to prevent the economy from overheating. The fear is that an incredibly resilient labour market will keep inflation stubbornly high, especially in the services sector. The kneejerk reaction of markets was negative following the strong data as it potentially heralded an extended period of Fed hawkishness. Indeed Fed Chair Jerome Powell has indicated he's focusing on the labour market, which he described at the most recent FOMC press conference as "out of balance."
However, we have to take January's data with a pinch of salt. Removing seasonal adjustments (intended to smooth the data given the large amount of seasonal workers that are habitually laid off every January), the change in nonfarm payrolls was actually a negative 2,505,000.
At first glance, January's seasonally adjusted payrolls data leaves the overall macro picture looking like a painting by Chagall, full of contrasts and contradictions. It portrays a vibrant, booming economy, while inflation, consumption and manufacturing data all point to a slowdown. In the months to come, I suspect that the macro picture will become more harmonised, when seasonal adjustments are less pronounced. Chagall often employed overlapping images, like double-exposure photography, suggesting there's more to life under the surface. Beneath the strong headline data, indeed cracks are already apparent in the labour market (a rising number of part-time workers, a pronounced fall in the average number of hours worked per day as companies cut shifts, new layoffs announced almost daily, notably by Disney and Zoom this week…)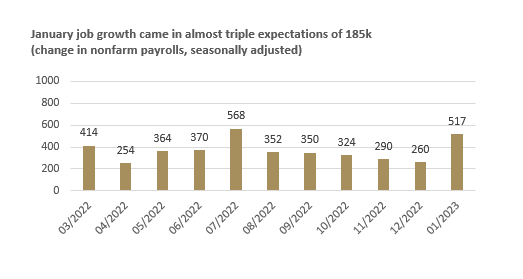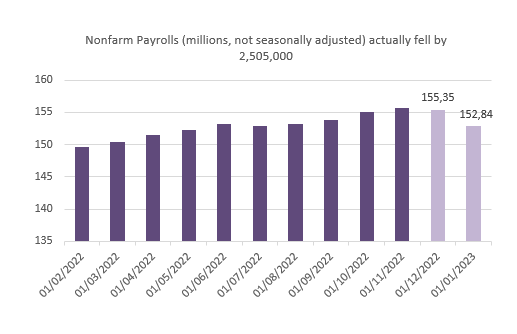 Source: Bloomberg, BIL