Covid-19 slams the breaks on the bull market
March 2nd, 2020
The contrast between last week's newsletter and this one can be likened to night and day, but the common thread is coronavirus. Last week we wrote about how major US equity indices had scaled fresh peaks. Markets were enthusiastic about new stimulus measures from Beijing and signs that China was getting the epidemic under control.
Since, markets have continued to break records, but of a different variety. Coronavirus has proliferated, spreading to places as far away as São Paolo, and to countries a lot closer to home. Italy is battling to contain a breakout in the northern regions of Lombardy and Veneto and has quarantined some 100,000 people. This has sucked the oxygen from risk assets – European and US stocks entered correction territory (defined as a fall of 10% from their recent peaks) and investors are hunkering down in safe havens. The flight to safety has been so intense that yields on the 10- and 30-year US Treasuries have hit new all-time lows.
This coming week will be an important one in that it will bring a slate of macroeconomic data which offers a clearer view on the impact of the virus. For now, it is fair to expect that Q1 data will have a dent in it following lock-downs, business closures, disrupted supply chains and travel cancellations. Whether these will be temporary stumbling blocks for global growth or whether they could de-rail it, is yet to be seen but for now, we do not believe a US recession is in sight. With that said, no one can size the growth impact of the virus with precision – even the economic commissioner in Brussels, Paolo Gentiloni, has said: "An assessment and serious forecast is not yet possible… The only certainty is that we will have an economic impact. But quantifying it is not something we are doing now."
Whatever the impact may be, markets are betting that the Federal Reserve will save the day and futures prices now discount an emergency cut in March. The People's bank of China has been active on this front with a series of rate cuts and liquidity injections which have helped the domestic economy weather the storm. In Europe, where the scope for further monetary stimulus is low, the viral outbreak could be the final catalyst for some widely called for fiscal stimulus. Already, Italy has said that it may require leniency with regard to EU budget rules as it grapples with the outbreak.
We have held regular ad hoc Asset Allocation meetings throughout the week in order to ensure that we are comfortable with our positioning. At the onslaught of the epidemic, we were already quite conservatively positioned, with a neutral exposure to equities, focusing primarily on US-based, quality firms. We have maintained this for the time being, thankful to have had Government bonds as an airbag when the break was slammed on the previously relentless bull market.
Key focus for next week:
Monday
China Caixin Manufacturing PMI (Feb)
Eurozone Markit Manufacturing PMI (Final, Feb)
Italy Full Year GDP Growth for 2019, Government Budget 2019
US ISM PMI Final (Feb
Tuesday
Japan Consumer Confidence (Feb)
France Budget Balance
Eurozone Unemployment (Jan) and Inflation (Flash, Feb)
Wednesday
US, Eurozone and Japan Composite PMI (Final, Feb)
China Caixin Composite PMI (Feb)
Eurozone Retail Sales (Jan)
US ISM non-Manufacturing and Fed Beige Book
Thursday
US, Eurozone and Japan Composite PMI (Final, Feb)
China Caixin Composite PMI (Feb)
Eurozone Retail Sales (Jan)
US ISM non-Manufacturing and Fed Beige Book
Friday
Germany Factory Orders (Jan)
France Balance of Trade (Jan)
Italy Retail Sales (Jan)
US Non-Farm Payrolls (Feb), Balance of Trade (Jan), Unemployment Rate (Feb)
Latest publications:
Coronavirus – Asset Allocation Change – The latest updates to our investment strategy in light of the market sell-off.
Could meat be replaced as our primary source of protein? An insightful focus piece produced by BIL Switzerland takes a look at the rise of artificial meat and the technological disruptions that are likely to create huge disruptions in the meat industry over the next decade.
Covid-19 impact still unpredictable – An in-depth look at some of the potential impacts of coronavirus.
BILBoard February 2020: Epidemic eclipses earnings season and eco data – We discuss our latest investment strategy in light of the coronavirus. FR DE
2020 Investment Outlook – As the year draws to a close, we hereby present our 2020 Outlook. While detailing our macro scenario and investment strategy, this extensive document also takes a granular look at the key asset classes, conveying valuable insights from our in-house specialists.
Macro
The week was dominated by the outbreak of the coronavirus outside of China, raising concerns that the industrial recovery in European economies will be, at best, delayed, at worst, derailed. In Italy, the chances of a growth rebound are dimming, adding to the risk of a technical recession. This will most likely depend on how long emergency measures to stop spread of the virus will last, which will in turn depend on the unforeseeable evolution of the epidemic. While the economic impact of the virus was believed to be mostly contained up to mid-last week, a negative feedback loop is currently at work with plunging stock prices impacting tighter financial conditions, exacerbating the economic shock.
In such a context, the light macroeconomic agenda during the week was a minor consideration for market participants and was mostly uneventful.
The German Ifo Business Climate index edged up marginally to 96.1, adding to the encouraging signs sent last week by the European PMI surveys. The increase was driven by improved manufacturing expectations, while the current situation was assessed as a little worse. The relative resilience of these activities are nevertheless to be taken with some precaution as they might not yet reflect the negative impact of the coronavirus on the economy
In line with the flash estimate, the second reading of the German Q4 GDP confirmed that the economy stagnated. Weak domestic demand raised concerns about the state of the German economy, but in front of the low unemployment level and rising wages, most economists still expect consumer demand to hold well.
The Eurozone economic sentiment indicator published on Thursday by the European Commission surprised positively, rising to 103.5 from 102.6 in January. The rise was spread fairly evenly across the different subcomponents (industrial, consumer and services sentiment), however, it is fair to note that responses were collected between February 3rd and February 20th, before the outbreak in Italy.
The second revision of US Q4 2019 GDP growth was published unrevised at 2.1% annualized. A further slowing of growth is currently priced in by the consensus with average forecasts for Q1 2020 hovering around 1.5%. US advance durable goods orders for January came in at -0.2% month on month, while December was revised to +2.9% month on month from 2.4%. In essence, orders fell within the transportation component. Orders ex-transportation and core capex rose solidly.
China: The economic shock is far from contained
While the spread of virus seems to be moderating in China, the negative shock to the economy is far from contained. At the latest central government meeting, President Xi highlighted that fiscal policy should be "more proactive" and monetary policy should be "more flexible". The meeting also emphasized efforts to shore up demand by accelerating the implementation of new projects and supporting the new economy in areas such as healthcare, 5G and industrial internet. On the fiscal policy front, the central government will roll out measures on targeted fee/tax cuts for SMEs, more subsidies for less developed regions and higher quotas for special bond issuance. On the monetary front, the PBoC provided liquidity by raising the 'COVID-19 prevention' refinancing quota by 500bn yuan (in addition to the current 300bn yuan), which will mainly be directed towards the farming, livestock, exports, travel/leisure and transportation sectors. In the meantime, refinancing rates for agriculture and SMEs were lowered by 25bps to 2.5%. Targeted RRR cuts are also expected.
Hong Kong: Helicopter Money
In its FY20/21 budget, the government of Hong Kong announced a significant counter-cyclical fiscal package, amounting to almost HK$120 billion (about 4% of GDP). The most prominent measure is a cash payout to individuals (HKD 10,000 to each permanent resident of the city above the age of 18), in order to boost domestic consumption and relieve the financial burden on individuals amid a series of negative shocks to the economy. Other measures include individual and corporate tax reductions and low interest loans to support SMEs with government guarantees. While the package is projected to result in a notable fiscal deficit of HKD 139.1 billion (the highest deficit on record) for the fiscal year, the government views it as necessary to help counteract the headwinds facing the economy.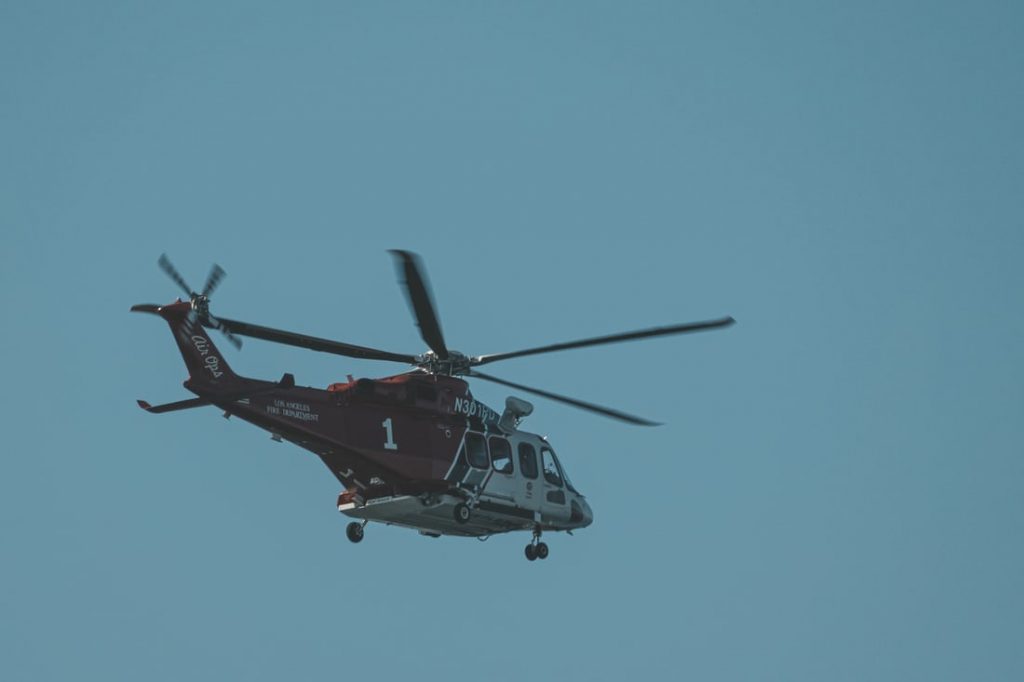 Equities
Markets corrected sharply last week and companies are warning about the effects of the coronavirus. In the background, economic numbers and the current earnings season have been decent enough, at least for the time being. The problem is that both of these are backwards looking, and therefore do not garner a lot of market attention. Markets are forward looking and currently, they fear the effects of the coronavirus, whether it will be long lasting and how severely it will affect Q1 numbers – and maybe even beyond. For now, this is the million-dollar question no one can answer. Uncertainty is something equity markets do not like, hence, they have sold off.
But is the sell-off really because of the virus or is it an excuse to sell? We believe it is the latter. The outbreak just came at a very bad time. We have been arguing for a while that markets were being driven by sentiment and that they were ignoring fundamentals. This was the central reason preventing us from going overweight this year. Valuations were at the highest level since the tech bubble in 2002, despite the fact that there was no earnings growth last year, economic growth was slowing and earnings estimates for 2020 were too high and in the process of being revised down. Still, markets kept going up until last week when the virus spread West, triggering the sell-off. We believe the outbreak was just the final straw that broke the camel's back, or said in another way, it became a scapegoat for profit-taking in an overvalued equity market.
The strong sentiment before the sell-off was driven by signs that a mini growth cycle lay ahead: PMIs had began bottoming out and we were seeing a wave of positive economic surprises, especially in emerging markets. Investors high on sentiment ignored the fact that a mini growth cycle was already priced into equity markets. The positive factors underpinning this are now being called to question, with investors fearing that the virus could derail the high hopes. With factories and cities closing down disrupting the global supply chain, an impact on economic and company numbers is inevitable – but no one knows the magnitude.
Although investors don´t like corrections, this is actually a healthy thing for equity markets, bringing about more reasonable valuations and expectations.
So what's to be done? The easy answer would be to just sell and wait. But at this point in time, we cannot size the impact on economic growth or company earnings: It might be short-lived or it might last several quarters. The sell-off could last longer or it could turn tomorrow. That is probably not the answer investors are looking for but the reality is that no one knows which way it will go. What we can do, is look to history. Though not every correction is the same, there are some patterns they have in common. First of all, we must ascertain whether we believe this will trigger a recession or whether is it "just" a correction (as we have experienced several times during the 10-year bull market). At this point, we do not believe it will trigger a recession – maybe a technical recession in Q1 – but not a real recession. If this is a correction, normally it should result in a fall of around 12-16%, based on history, with selling intensifying at the end of the correction before the markets turn. So far, the current correction has been by around 10% with the selling intensifying late last week. We are not saying that we cannot go further down, but this could indeed indicate that we are not far from the bottom. In this kind of environment, we prefer to look past the coronavirus and look at the long-term story of each investment case and whether it is still intact.
Equity Returns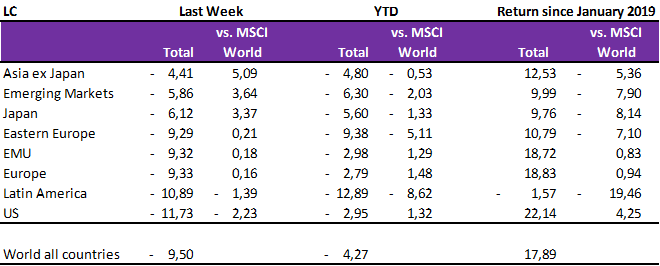 Fixed Income
Fixed income markets, like the rest of the world, are under the spell of coronavirus, with the chaos causing the credit machine to grind to a halt. Europe, which was enjoying the strongest ever start to the year with almost EUR 240bn worth of bonds being sold in January alone, has seen virtually no deals at all last week. Such an evaporation in new issues is common during public holiday periods such as Christmas, but extremely rare at other times of the year. New deal announcements for the weeks to come have also dried up. To see a rebound in new issuance, the market would need a sign that the epidemic is stabilizing since stability tends to attract new issuance.
If the virus outbreak transforms into a real economic crisis in Europe, the ECB has limited means of coming to the rescue. Interest rates are already well below zero and the asset purchase program is still running. So, support will probably have to come in the form of fiscal spending – from those countries who can afford it, mainly Germany. Germany's finance minister, Olaf Scholz, has proposed a temporary suspension of the country's Schwarze Null (black zero) budget policy and this could be seen as a first step in this direction. This fiscal softening does not mean however, that the country will run a negative budget immediately, but it shows common economic sense. The country enjoyed a budget surplus of almost 2% last year, so it has plenty of room to manoeuvre before reaching a balanced or even negative budget.
Based on Fed fund futures, we can derive that investors are counting on central banks to step in. The most influential central bank which still has ample firepower left is the Fed and the number of cuts priced for 2020 has now increased to close to 4 with the implied probability of an emergency cut for the March meeting at 100%. With US treasuries seen as the ultimate safe haven and investor expectations increasing for the Fed to act, it is no surprise to see the yield on US treasuries quickly fall to a record low of 1,17% (for the 10 year tenor). So,  Trump might be getting what he has been asking for a long time… lower interest rates of the US economy. Not sure he had this scenario in mind however.
So far, credit investors shrugged off everything from global trade tensions, geopolitical tensions and Brexit as short term issues that could be fixed by stimulus from central banks. Now investors are starting to fear that things could be different and this is visible in widening corporate bond spreads. The more risky segments of the bond markets such as high-yield and subordinated credit have seen the biggest move, but plain vanilla investment grade bonds are also feeling the pain. Despite ECB support, spreads for European Investment Grade have widened by around 15bp and the biggest US High Yield ETF has seen record outflows.