Tech's big spenders
Written as at 21st January,
Last week, focus was on the early days of the US earnings season, inflation and the uptick in sovereign yields with the 10-year Bund turning positive for the first time since May 2019.
We also had big spending announcements from high-profile Tech companies. Microsoft announced plans to buy Activision Blizzard, the publisher of mega franchises including Call of Duty, World of Warcraft and Candy Crush, for $68.7 billion. Microsoft said that the all-cash deal, which dwarfs its previous biggest, the $26bn acquisition of LinkedIn in 2016, will "provide the building blocks for the metaverse". It is the biggest deal in tech history, eclipsing the $67bn paid by Dell to buy the digital storage giant EMC in 2015. After the takeover, the Xbox maker will become the world's third-largest gaming company by revenue behind China's Tencent and Japan's Sony, maker of PlayStation games consoles. In a move that could also be motivated by metaverse ambitions, Take-Two Interactive, the company behind the Grand Theft Auto game series, agreed a $12.7bn deal to buy mobile gaming specialist Zynga, the maker of FarmVille (an agriculture-simulation social network game that has been running since 2009). Lastly, on Friday, Intel announced plans to invest at least $20 billion in a new chip making facility in Ohio. This reinforces its chip production ambitions against a backdrop of growing demand for digital products and a global chip shortage which have ramped up the need for more manufacturing.
The above news reflects the fact that digitalisation is set to continue relentlessly as a defining theme of the next decade. The growing significance of ESG considerations will be another – especially when it comes to curbing climate change. This sentiment was reiterated by the WEF which, in its yearly risk assessment, has highlighted that failure to act on climate change is the most likely and most severe risk we collectively face.
Economic calendar for the week ahead
Monday – UK, US, Japan, Eurozone Composite PMI (Flash, January). EU Bond Auction.
Tuesday – Germany IFO Business Climate (January). UK CBI Business Optimism Index (Q1). US S&P/Case-Shiller Home Price YoY (November), Conference Board Consumer Confidence (January). Bank of Japan summary of opinions.
Wednesday – US Federal Reserve FOMC. France Unemployment Claims (December). US Inventories (Adv., December), New Home Sales (December). Bank of Canada Monetary Policy Committee.
Thursday – China Industrial Profits (December). Germany GfK Consumer Confidence (February). Spain Unemployment (Q4). Italy Industrial Sales (November). US GDP Growth and PCE Prices (Adv., Q4), Durable Goods Orders and Pending Home Sales (December), Weekly Jobless Claims.
Friday – France GDP Growth (Preliminary, Q4) and Household Consumption (December). Spain GDP (Flash, Q4). Italy Business and Consumer Confidence (January). Eurozone Economic and Industrial Sentiment (January), Consumer Confidence (Final, January) and Consumer Inflation Expectations (January). US Personal Income and Spending (December), PCE Price Index (December), Michigan Consumer Sentiment Index (Final, January).
Sunday – China NBS PMI (January).
Recent Publications
Macro
The US
We did not have much macro data last week, but the releases we had, especially in the US, gives interesting information on the residential market.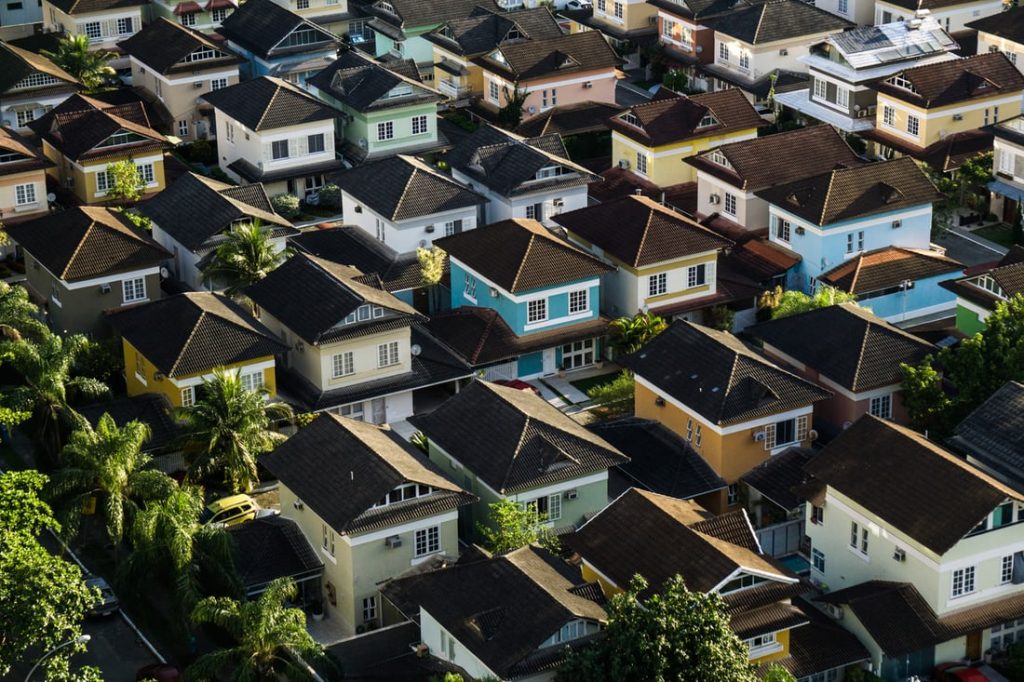 First we had Housing starts and Building permits for the month of December, and both beat the consensus by a comfortable margin, returning to the historical peak reached in March 2021. Starts rose 1.4%mom to 1702k (1650k expected), leading the number of houses started for the whole of 2021 to 1.6 million homes, which is the highest since 2006. The increase in December was led by multi-family homes, suggesting that builders are coping better with the shortage of raw materials. When it comes to single family starts, they eased last month but from a high level : the number of single family houses under construction, at 1.519mn, reached the highest in 15 years. The number of houses authorized but not started yet, keeps going up, to reach 270k in December. And the pipeline for these is still filling up as permits jumped by more than 160k to 1873k, vs 1703k expected. It is probable that the perspective to see mortgage rates go higher (while they are high already) is pushing households to secure loans before that happens.
The US administration also released Existing home sales for the month of December. They surprisingly fell to 6.18mn, when the consensus expected stability at 6.42mn houses sold. The main reason behind the fall is the limited inventory: the number of houses for sale stood at 910k homes in December, which is 14.2% lower than in December 2020; this represents 1.8 months of transactions which is a record low. At the same time, the median selling price is up 15.8%yoy in December to a near-record 358k. This very tight market for existing homes is also another factor behind the dynamism of applications to build new houses as, doing so, households can manage better the cost of their home.
Europe
In Germany, the ZEW expectations index (a confidence survey where respondents are mostly CFOs or assimilated functions) jumped more than 20 points in January to 51.7 when the consensus expected a slight increase from 29.9 to 32.0. It is interesting to note that at the same time, the current situation is still perceived to be in deterioration. The view expressed is in line with that of the Bundesbank, the experts of which expect the economy to start improving around spring-time, to post a GDP growth of 4.2% this year.
The final figure for December CPI was also published; no significant revision, prices rose 0.3% mom to stand at a level 5.7% higher than last year. The other interesting news though was the PPI inflation reading for December, which was significantly higher than expectations: producer prices rose 5.0%mom (markets expected stability at 0.8%mom), leading the producer price level to a level 24.2% higher than last year, continuing the sharp upward trend engaged early in 2021. Energy accounts for most of the increase: excluding energy, PPI accelerated only slightly from 9.9%yoy to 10.4%yoy. Still, this is historically quite high, and the higher costs for energy and the rest will feed into the system, fueling more pressure on CPI, and increasing the incentives for the ECB to act.
In France, the national statistics administration (INSEE) published the business confidence index for January, showing a small retreat from 109 to 107. However the level remains relatively quite high. Besides, manufacturing confidence remained on an upward trend to 112 (near the peak 113.8 reached in January 2018). The production outlook deteriorated to 13 from 21, but mainly for larger companies. Own-corporates production outlook fell only slightly to 23 from 26. Inventories are perceived to be in improvement, same as order books. Price expectations on the other hand are deteriorating and weighing on sentiment.
China
China's economy posted stable growth in 2021 despite challenges including small-scale flare ups in Coronavirus, official data showed Monday. The economy grew 8.1% last year – its best expansion since 2011 – and faster than the 8.0% expected. The pace was well above the self-imposed target of "above 6%" and above 2020's revised growth of 2.2%. After recording 4.9% growth in Q3, GDP expanded 4.0% in Q4, faster than expected but still its weakest pace since the second quarter of 2020 with momentum coming under pressure from epidemiological factors, weakening consumption and a slowdown in the property market.
The key growth driver was exports. The monthly trade surplus for December beat estimates at $94.5bn, with exports reaching $340.5bn (bringing the annual figure to $3.36tn) and imports rising to $246bn. The country's full-year trade surplus was $676.4bn, the highest on record.
Retail sales were a drag, adding only 1.7% in December year on year, the slowest rate in 14 months; zero Covid policy means that many large cities have implemented lockdowns in recent weeks, exacerbating the slowdown in spending.
Looking ahead, it seems that more policy support is required in order to support consumption and the property sector. Indeed, at the Central Economic Work Conference in December — at which top Chinese leaders gather to determine the direction of policy in the year ahead — Beijing indicated that it would be proactive about policy, and that it expected to prioritize infrastructure investment and support for commercial housing markets. On Monday, the PBoC added to a sequence of gradual easing by lowering the interest rate on 700 billion yuan ($110.2 billion) worth of one-year medium-term lending facility (MLF) loans to some financial institutions by 10 basis points to 2.85%. It also cut the 7-day reverse repo rate to 2.1%.
Equities
Markets bet it is different this time. Is that true?
Year-to-date, value stocks are suddenly enjoying massive outperformance over growth stocks. Value stocks refer to shares of a company that appears to trade at a low price relative to its fundamentals, such as dividends, earnings, or sales, making it appealing to value investors. On the contrary, growth stocks refer to shares in a company that is anticipated to grow at a rate significantly above the average growth for the market, for example internet or semiconductor companies.
The chart below shows the performance of S&P 500 growth stocks, value stocks and of the broad index.
S&P 500: Growth and Value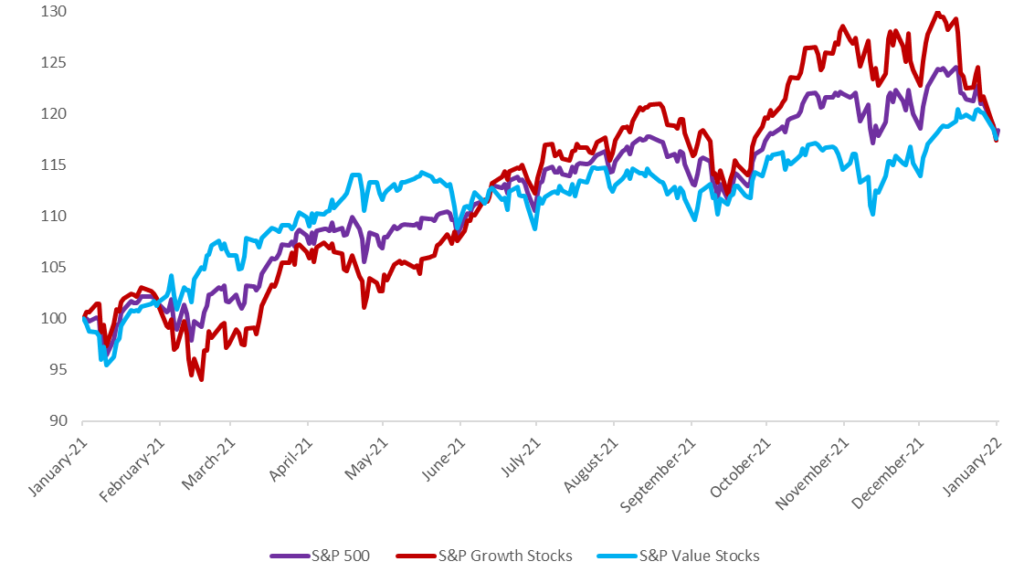 Source: Bloomberg, BIL
The rotation at work since the beginning of the year implies that growth is going to be widely available, so it's no longer necessary to pay such a high premium for stocks with superior growth. The valuation premium for growth over value has been at a record high through the past years.
However, it makes sense to start focusing on the stocks of quality companies as well like large capitalization defensive quality companies that are able to maintain and even grow their revenues despite headwinds thanks to the nature of their business model and strong pricing power. Headwinds are becoming more obvious. Tightening monetary policy and decelerating growth favour large capitalization defensive quality stocks. In addition, peaking leading indicators, like PMIs, also support a quality defensive growth bias. Yet the market has already started to anticipate these headwinds as the NASDAQ started to underperform the S&P 500 since the end of November last year with the trend becoming even more pronounced this year.
Another issue is valuations. Valuations are broadly extended across the markets and historically elevated (above 20x forward P/E in the US and about 18x P/E in Europe). As the earnings season kicks off, focus will be on earnings revisions and how cost inflation is affecting margins. Earnings are expected to rise 22% during for the S&P 500 for Q4 2021.
Fixed Income
With the Fed silent in the wake of its next FOMC meeting planned for 26th January, investors had plenty of time to read through the minutes of the December ECB meeting which were released on Thursday. In the end, there were no real surprises: heading into its December meeting, the ECB acknowledged a strong recovery in the labour market and expressed that inflation that could stay higher for longer and that it is premature to declare an end to the health emergency.
Furthermore, Lagarde sounded relatively dovish in a radio interview that same day. Faithful to her past statements, she believes the ECB has every reason not to respond as forcefully as the Fed to rising inflation. Still according to Lagarde, Europe is in a very different situation with weaker inflation and an economic recovery that is not as advanced as in the US.
ECB officials have already agreed on winding down pandemic stimulus (PEPP ending in March) but still see a first interest rate hike this year as highly unlikely. Market participants however see the ECB deposit rate higher by 20bp by year-end, so the ECB is clearly under pressure.
Last week also saw the German 10y yield back in positive territory for a brief instance but Lagarde did not seem concerned when asked about this development.
The inflation spike is a global phenomenon and a focus point for most central bankers. Bank of England governor Bailey has warned that the inflation outlook is likely to worsen noting darkening pictures on wages and natural gas prices. He acknowledged that mounting wage pressures posed the risk that the UK drifts into a wage-price spiral where wages and prices keep chasing each other higher. The BoE is expected to raise interest rates to 0.5% (from 0.25% today) at its next policy meeting on 3rd February to fight inflation.
One major economy that so far seems spared from the surge in inflation is Japan. In its policy update announced on Monday they announced to keep the policy rate unchanged at -0.1% and keep the 10y yield target at 0%. They indicate that inflation risk is balanced and forecast inflation to be at 1.1% for the next two years so there was no debate on possible rate hikes. The dovish stance of the BoJ continues to push Japanese investors overseas to search for yield (mainly Treasuries). Hence, a possible change in policy could trigger a meaningful impact on the USD curve.