Can the cheer in markets last?
Written 25 November,
Markets have been enjoying what seems like a premature Santa rally on hopes that inflation might be peaking and on the prospect of a less hawkish Fed. Just before the Thanksgiving holiday on Thursday, the minutes from the Federal Reserve's November meeting indeed gave investors a little something extra to give thanks for: The sentence, "a substantial majority of participants judged that a slowing in the pace of increase would likely soon be appropriate", seemed to indicate that the pain of rapidly rising rates might be nearing an end. However, beneath the optimism lies thin ice that could quite easily be shattered by a higher-than-expected CPI print, very strong labour market data or hawkish Fed comments.
Next week brings ample opportunity for the latter… Fed Chair Powell will speak on Wednesday on the economic outlook. In an appearance at a Brookings Institute event, with a Q&A session included, Powell will likely set the tone for the last FOMC of the year on December 13-14. We think that the Fed is cautious about letting the market get ahead of itself in terms of expected dovishness before the Fed's job is done, and Powell will probably try to avert the focus away from a downshift in December and towards the Fed's broader tightening campaign, perhaps mentioning a higher terminal rate. 
Beyond that, the New York Fed President Williams (thought of as more of a dove) will speak to the Economic Club of New York on Monday, we will have the Fed's Beige Book on Wednesday, Dallas Fed President Logan will speak on Thursday, and lastly, on Friday just before the blackout period (when officials stop talking publicly to prepare for their mid-month policy meeting), Chicago Fed President Evans will speak. Friday also brings the all-important US jobs report.
Here in Europe, on Wednesday, we will have the flash inflation print for November, which will of course be of upmost importance for markets, eager to believe that inflation will start to retreat here on the continent, as we have started to see in the US.

Economic calendar for the week ahead
Monday – Eurozone M3 Money Supply (October)
Tuesday – Japan Unemployment and Retail Sales (October). Spain and Germany Inflation (Prel. November). Eurozone Economic Sentiment, Consumer Confidence and Consumer Inflation Expectations (November). US House Price Index (November), Conference Board Consumer Confidence (November).
Wednesday – Japan Industrial Production (Prel. October). China NBS PMI (November). Germany Unemployment Rate. Eurozone CPI (Flash, November). US ADP Employment Change (November), GDP (2nd Est., Q3), Pending Home Sales (October), JOLTs Job Openings and Quits (October). Fed Beige Book.
Thursday – China Caixin Manufacturing PMI (November). Germany Retail Sales (October). Eurozone, UK, US Final Manufacturing PMIs (November). Eurozone Unemployment (October). US Personal Income and Spending (October), ISM PMI (November), Weekly Jobless Claims.
Friday – Germany Balance of Trade (October), Eurozone PPI (October). US Unemployment Rate, Average Hourly Earnings and Non-Farm Payrolls (November).
Macro
It was a busy week on the macro front, with several important sentiment indicators.
The week kicked off with the European Commission's flash consumer confidence indicator which picked up – slightly. It rose by 3.6 points to -23.9 in November, above market expectations of -26 but still well-below the long-term average. It seems sentiment has received a slight boost from government efforts to protect households from an energy price spike. Amongst the largest economies, Spain's energy price cap will last through May 2023, the French government will cap rises in gas and electricity at 15% for 2023 as part of a €45bn scheme to support households and businesses, while Germany plans a €54bn package to contain the surge in energy prices, effective March 1st (subsidies will be paid retroactively for January and February, and gas consumers will also receive a one-time state subsidy for December according to officials quoted by Bloomberg).
Wednesday brought a slate of preliminary PMI readings from the US and the Euro Area.


Source: S&P, Bloomberg, BIL
Here on the continent, manufacturing edged up from 46.4 to 47.3 and services stabilized at 48.6. The composite rose from 47.3 to 47.8. While this shows improvement, the reading remains below the 50-level, considered as the line of demarcation between expansion and contraction, and we still think that the Eurozone will contract in Q4. Evidence clearly suggests that demand is weakening amid an ongoing cost-of-living crisis and tightening financial conditions. New orders are thinning and consequently, firms have cleared backlogs at the fastest pace in two years. In good news for the ECB, ameliorating supply chain issues meant input price inflation softened with that index falling to its lowest level since September 2021.
In the US, where the Fed is further ahead in its tightening campaign, November saw a solid contraction in private sector business activity. According to the flash PMIs, the manufacturing sector joined the service sector in contractionary territory, falling from 50.4 to 47.6. Services fell from 47.8 to 46.1. New orders fell at the fastest pace since May 2020 and total new sales declined at the fastest pace since 2009 (excluding pandemic lockdowns), with many firms stating that the impact of inflation and interest rates had led to greater hesitancy and postponements by customers in placing orders. The silver lining? Inflationary pressures eased further with private sector input cost inflation falling the sixth month in a row, rising at the slowest pace since December 2020 (but remaining above the series average). Reflecting the slower growth of input costs, firms raised their selling prices at the slowest rate for just over two years, with some offering discounts to entice customers to place orders. In all, the Fed's campaign appears to be working.
On Wednesday, the University of Michigan consumer sentiment for the US was revised higher to 56.8 for November from a preliminary of 54.7 and higher than market expectations of 55 (current conditions: 58.8, expectations: 55.6). In another sign of progress for the Fed, inflation expectations for the year ahead eased to 4.9% from 5.1% while the 5-year outlook was unchanged at 3%. The details noted that on top of the ongoing impact of inflation, consumer attitudes have also been weighed down by rising borrowing costs, declining asset values, and weakening labour market expectations.
Towards the end of the week, the IFO survey, Germany's most prominent leading indicator, gave hope that the economy may have found a floor amid government stimulus packages, full national gas reserves, efforts of businesses and households to reduce gas consumption, and hopes that consumers will continue spending. The index rose to 86.3 in November, from 84.5 in October and while encouraging, there is still a lot of risk on the horizon: new orders have been in decline since February and inventories have started to increase again, an ominous sign for future industrial production, and high energy prices are gradually being passed through to consumers, therefore gradually eroding disposable income.
To round off the week, on Friday, the German GfK Consumer Climate Indicator rose to -40.2 from -41.9 in November, versus an expected fall to -39.6. This represents a further stabilization in sentiment (albeit at very low levels) amid aforementioned government energy measures. The economic conditions component rose to -17.9 vs -22.2 and the income expectations to -54.3 vs -60.5. Nonetheless, the willingness to buy was marginally lower (-18.6 vs -17.5), as consumers are still putting cash aside, fearful of high utility bills.
Fixed Income
The positive trend on fixed income markets managed to continue into this week. When the week started all investors were looking forward to the US PMI numbers and the minutes of latest meetings of the major central banks (Fed and ECB).
All the elements were perceived as positive for investors in fixed income instruments. The PMI numbers came out worse than expected but "bad news is good news" for now. The numbers indicated that the US economy should slow more than initially expected. Adding this to the fact that the latest US inflation number was lower than expected, all lights turned to green for investors to rush back into duration.
Traditionally, rising recession risk (as expressed via the PMI numbers), inflation softening (as seen recently) and policy rates reaching terminal levels, create a bullish environment for buying bonds.
Regarding the terminal level of rates, investors got more insight on this in the minutes of the latest central bank meetings which were published on Wednesday evening. Investors got what they were hoping for and the FOMC minutes showed that "a substantial majority" judged that slowing the pace of hikes "would soon be appropriate". Although various Fed officials underscored the case of a higher terminal rate, relief was the predominant reaction and it looks like the series of jumbo hikes (4 times 75bps) is about to end and that rates will only be raised by 50bps in December.
The ECB also published the minutes of it meeting and the positive take away here was that 3 members of the Council were calling for a smaller hike. Furthermore and more important, the lack of discussion on quantitative tightening (QT), aka reduction of the balance sheet, helped spark a fixed income rally.
Probably, the Fed, nor the ECB are happy with this rapid easing of financial conditions and one might expect some verbal push back against all this. The US employment data expected end of November could temper bond enthusiasts. A too strong number will give the Fed all the reasons to keep a hawkish tone.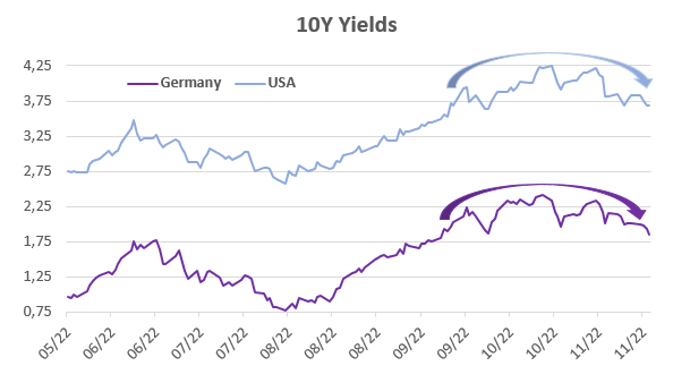 Source: Bloomberg, BIL
Still on central banks, the Swedish national bank (Riksbank) raised its deposit rate by 75bps on Thursday. The move was expected by investors but the aggression shown by the Riskbank contrasts with other central banks that are starting to sound less hawkish. The year-on-year inflation reading for October was 9.3% — lower than the 9.8% forecast by the Riksbank. Yet, this provides little comfort to the central bank as the core indicator, which excludes energy, accelerated to a new three decade high of 7.9% — indicative of broad-based inflationary pressures.
While the recent buoyant bond market has attracted some investors back into bonds with a longer duration, the large negative performance of these bonds until recently has led to bond issuers coming to the market with shorter maturities. Bonds sold this month had an average maturity of 6.3 years, the lowest since December 2018. This compares to 7.8 years for bonds sold during the first 10 months in 2022. This might also indicate that issuers are hesitant to lock in yields for 10 or 15 years, expecting we are close to peak.
Equities
The equity market rally was still well entrenched last week with a global performance of 1.7% in the last 5 days for the MSCI World All countries. Equities performed well despite disappointing PMI prints in the US (manufacturing: 47.6 against 50 expected / services: 46.1 against 48 expected). As mentioned by Lieven above, it seems that bad news is good news for this market since a PMI that is both lower than expected and below 50 is an omen for a less hawkish federal reserve.
By the same token, the Fed minutes added weight to expectations that the central bank will raise rates by 50 basis points next month, rather than by 75. Still, we are not yet on the "Fed pivot" that equity markets are looking for to continue this rally with more strength. This is still a remote reality.
China was the only area where equity performance was negative as daily Covid infections climbed to a record high, exceeding the previous peak in April, as the country battles an outbreak that has grown since a more targeted approach to containing the virus was adopted.
In term of sectors, in Europe, Travel & Leisure and Retail went up strongly after a very poor performance since the beginning of the year. In the US, consumer staples (beverages) and materials outperformed largely.
The FTX debacle remains confined to the crypto sector with only a few companies involved for the time being.
The earnings season is coming to an end with globally better results than feared for Q3; which also  helped spark a rally in equities. But we should keep in mind that the forward looking expectations for 2023 in general were strongly revised to the downside. More specifically, of 44 sectors, 37 had 2023 earnings growth downgrades in the past 2 months.
Contributors
Intro, Macro – Jade Bajai, Investment Strategy Communication Manager
Fixed Income – Lieven De Witte – Head of Research
Equities – Pascal Lebois – Senior Equity Strategist