• ECB raises its three key interest rates by 75bp, the largest hike in the history of the single currency
• Eurozone inflation is uncomfortably high and rising
• New ECB forecasts show higher inflation, lower growth
• More rate hikes are expected
With inflation in the Eurozone exceedingly high and rising (HICP and PPI both hit new all-time highs at 9.1% and 37.9%, respectively in August), the ECB today decided to frontload its transition away from accommodative policy by hiking its three main rates by 75 basis points (bp). Accordingly, as of September 14th, the new rates will be:
• Main refinancing operations: 1.25%
• Marginal lending facility: 1.50%
• Deposit facility: 0.75% (the highest level since 2011)
Lagarde noted that future policy rate decisions will be data-dependent but the ECB is clearly on the same hawkish trail as the US Federal Reserve and expects to raise interest rates further to dampen demand and to try and prevent higher inflation expectations from becoming entrenched – something Jerome Powell warned against explicitly in his Jackson Hole speech. With the Fed much further ahead in its tightening campaign, the euro has come under intense pressure vis-à-vis the greenback with the exchange rate dropping to a 20-year low.
While US inflation is now showing signs of peaking, in Europe, soaring energy and food prices coupled with lingering supply chain issues are still driving prices higher. Looking ahead, ECB staff have significantly revised up their inflation projections. It is expected to average 8.1% in 2022 (from 6.8%), 5.5% in 2023 (from 3.5%) and 2.3% in 2024 (from 2.1%).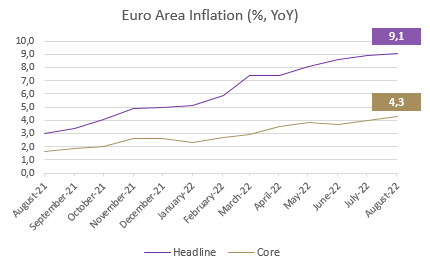 Source: Bloomberg, BIL
On the other hand, growth is expected to slow down substantially as inflation erodes households' disposable incomes and as the conflict in Ukraine continues to weigh on business and consumer confidence. ECB staff now expect the economy to grow by 3.1% in 2022 (from 2.8%), 0.9% in 2023 (from 2.1%) and 1.9% in 2024 (from 2.1%).
The Eurozone unemployment rate remains at an all-time low of 6.6% but Lagarde noted that wage growth is still contained.
With regard to its bond buying programs, the ECB will continue applying flexibility in reinvesting redemptions coming due in the PEPP portfolio, with a view to countering risks to the smooth transition of monetary policy across the bloc. There was no new news on the Transmission Protection Instrument: It's still there in the background to "counter unwarranted, disorderly market dynamics" if needed.
The initial market reaction was muted given that a 75bp hike was widely anticipated but during the press conference, the 10y German Bund yield rose 10bps to 1.69%. The shorter end of the curve, which is more sensitive to the policy rates, came under more pressure and the 2y German Bund yield increased by 16bps to 1.24%
While Draghi once famously stated "whatever it takes", Lael Brainard of the US Fed coined a new phrase this week that seems to be at play on both sides of the Atlantic: "as long as it takes". To elaborate, central banks seem willing to keep policy restrictive until inflation retreats back to their 2% targets in a convincing manner, even if that means lower growth.