October 30, 2017
A 'Minsky moment' is a sudden major collapse of asset values which is part of the credit or business cycle. The American economist, Hyman Minsky, postulated that long periods of prosperity and increasing investment lead to increasing speculation using borrowed money, eventually leading to a crash. Across the US Retail sector, stores have been built excessively, to capitalise on the strength of US consumers. Now, with the proliferation of online retailing, mall owners, developers and investors who hold equities and bonds in American household retail names are in uncomfortable territory as the realisation begins to hit home that the entire retail ecosystem has been permanently altered.
At least ten well-known US retail chains filed for bankruptcy protection in 2017 and several other prominent names such as Macy's, Michael Kors and JCPenney closed hundreds of stores. Some insiders believe that retail is the next 'Big Short'. According to Bespoke Investment Group – an investment research firm based in New York -short interest ratio (the number of shares being sold short compared with the total number of shares outstanding) has reached a post-financial crisis peak of 15.6% in the retail sector.
Online retailers – with Amazon as the leader of the pack – have re-written the traditional roles of consumers and retailers. Provided with a universe of choice, the ability to shop via smartphones and previously unimagined realms of convenience (such as a 2-hour delivery option offered via Amazon Prime), consumers are now in the position of power. To survive in the new ecosystem, retailers must battle it out head-to-head on dimensions of choice, value and convenience.
The Amazon Effect
1. AMAZON'S DOMINANCE IN ONE CHART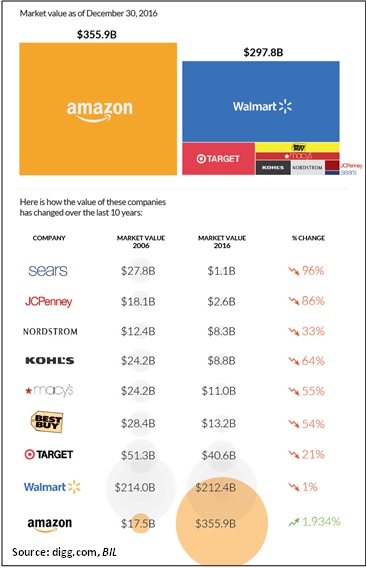 As it is often best-positioned to deliver on these dimensions, Amazon is a behemoth, swallowing market share in every segment it chooses to enter. Even rumours that Amazon could enter a sector or geographic market can send the shares of would-be competitors tumbling. For example, in November, shares of MercadoLibre (Latin America's most popular e-commerce site by number of visitors) dropped some 9% after it was rumoured that Amazon may begin selling electronics in Brazil. On October 13th, shares of sportswear companies Lululemon and Under Armour both dropped by approximately 3% when Amazon's plans to foray into private-label sportswear were revealed.
There are few areas of retail which seem to be immune from the 'Amazon Effect'. The consultancy firm PriceWaterhouseCoopers (PwC) found in 2017, that 28% of people in a global sample were likely to shop less often due to Amazon. This is evident in Chart 1 which shows that the entire retail industry is dwarfed next to Amazon. The casualties can be seen across America in the form of shuttered shopping malls and struggling department stores.
However, some predict that this is just the beginning of the end for traditional retailers, with every corner of commerce about to experience a painful torrent of creative destruction as shoppers go online. Already in Chart 2, we can see Amazon is diversifying its services way beyond its original business model. The company's sustained growth over the past twenty years is driving its current proliferation, having built up a network of procurement centres which allow it to have both scale and proximity to the consumer. This makes it difficult for traditional brick-and-mortar stores, who are only now realising the extent of the exodus into online retail to compete.
Retail's Retaliation
2. Amazon's Offerings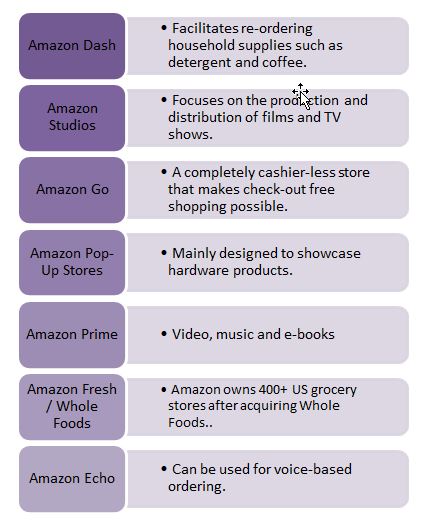 Nonetheless, the biggest US retailers are refusing to go down without a fight. Despite that fact that profit margins on online orders are narrower, Walmart has invested heavily in its online retail operations, planning to add 1,000 online-grocery locations. Expenditures and food deflation meant that in Q2 2017, the firm's profit margin receded for the first time in two years. However, the company expects that its e-commerce sales will grow 40% in the next fiscal year and its recent stock rally supports the view that the firm may be taking short-term pain for long-term gain. The company expects to reach US online revenue of $11.5 billion this year, using its unmatched supply chain and store network to support is digital drive. The firm also plans to collaborate with Google to create a voice-based ordering system to compete with Amazon Echo.
Other brick-and-mortar stores are striving to create unrivalled in-store experiences to retain foot traffic. Apple draws consumers to its 'gathering places' by offering in-store classes on things such as coding and photography. Lululemon the sportswear brand attracts consumers by offering free yoga classes and running clubs.
Others have adopted a 'if you can't beat them, join them' approach. Kohl's, for example, has recently entered into a partnership deal with Amazon. The suffering retail chain, will sell Amazon devices such as Echo tablets whilst accepting returns on behalf of Amazon, at select US stores. This allows the two firms to leverage each other's key strengths – Kohl's "omnichannel capabilities" and "Amazon's reach and loyal customer base", said Richard Schepp, Kohl's chief administrative officer speaking to Bloomberg.
Whilst traditional retailers are fighting back, it seems that this will be a case of 'survival of the fittest' and that many brick-and-mortar firms are destined to become Amazon road-kill. David Silverman, the senior director of US Corporates at Fitch ratings (one of the main three credit rating agencies) states, "The dividing line between best-in-class retailers and market share donors is increasingly going to be determined by which retailers can cater to the evolving landscape."
The 'Amazonification of Main Street' is already underway on European shores. Amazon is already dictating the new service landscape offering one-hour delivery times in London and Paris as well as restaurant delivery in London. Are Europe's retailers ready for the onslaught? PwC suggest several investments that Europe's retailers may wish to make imminently in order to remain relevant. These include: investing in a user-friendly mobile site, recruiting talent who can drive the firm's online strategy forward, using big data insights to track customer preferences, developing an Amazon strategy, and investing in security around digital payments.
Those who ignore the tectonic shifts in consumer behaviour will not survive what may be the next big 'Minsky moment' in Europe's retail history.
Author: Group Investment Office