July 10, 2019
Since our June edition of BILBoard, 'Tariffs as a trump card', concerns regarding global trade have cooled.
President Trump and Chinese leader Xi Jingping had a side-line meeting at the G20 summit in Osaka, and the result was a temporary truce on trade. Trump postponed tariffs on a further $300 billion of Chinese goods 'at least for the time being' and adopted a softer stance towards Huawei (calling to mind the prior case of ZTE technologies). In return, China agreed to increase its purchases of US goods to reduce the trade deficit. This amplified the positive sentiment that was already reverberating through risk assets after the Federal Reserve (Fed) and the European Central Bank (ECB) opened the door to monetary easing at their June meetings.
In the US, markets are now pricing in a July interest rate cut with almost 100% probability, despite a Fed dot plot that implies this won't happen until 2020. However, we are inclined to believe the market might be right on this one. Only one Fed policymaker needs to adjust their thinking in order for the majority to favour a 2019 cut, and though the US economy still looks to be in decent shape (2.5% GDP growth is expected this year), weak spots are starting to appear in areas such as job creation. Jerome Powell has said that 'an ounce of prevention is worth a pound of cure'; in other words, it is better to act before things turn pear-shaped. The Fed may justify a 'pre-emptive cut' with the fact that inflation remains below its 2% target, the not-so-pretty picture painted by global manufacturing PMIs, and the fact that nothing is set in stone with regard to trade. Look at last November, when it seemed the US and China were on the brink of a trade deal and suddenly the dialogue disintegrated.
In Europe, manufacturing PMIs remain below 50 (the dividing line between contraction and expansion), but services are showing resilience to the trade war, allowing composite PMIs to stabilise somewhat. The key news is that Christine Lagarde has been appointed to succeed Mario Draghi as head of the ECB when his tenure ends in October. Bond investors welcomed the appointment, as it is assumed that she will increase stimulus through rate cuts and a new round of bond purchases. Mario Draghi already hinted at this at the last meeting in Sintra and we expect more clarity to come out of the next policy meeting scheduled for 25 July. Markets are pricing in a 10 basis point cut (from -0.4% to -0.5%) in the deposit facility rate before September. However, if the key question in the US is whether the Fed will give Wall Street what it wants and cut rates in July, the key question in Europe is whether the ECB has adequate tools at its disposal.
Equities
Ahead of the G20 meeting, which we viewed as a binary event that could have gone either way, we exercised prudence and closed the call options that were opened at our June allocation, booking the profits.
Subsequently, in light of central bank dovishness and the temporary trade truce (which put a floor under risk assets in the short term), we upsized our equity positioning from underweight to neutral at the July committee, making purchases in Europe and Emerging Markets (EM) (with a preference for Emerging Asia). Both regions will benefit from a more positive trade narrative.
As we approach the next earnings season, Europe (with a forward P/E of 14.2) is beginning to look mildly attractive against the already-expensive US market (forward P/E of 18.1) and the consensus expects positive earnings growth of 4.3% in Europe. EM are sensitive to the global cycle, and now, with central banks stepping in to prolong the expansion, they appear to be less at risk. Valuations are fair (forward P/E of 13.0) and earnings revisions are trending up. Furthermore, an easier Fed may put downward pressure on the strong dollar, which has been a headwind for EM.
We are holding our sector weights steady ahead of earnings season, favouring consumer staples. We are underweight consumer discretionary.
Fixed Income
The picture in fixed income markets is a little bit different, with bond investors reluctant to share in the optimism on display in equity markets: treasury markets barely registered the positive G20 outcome and the once-exclusive club of countries with negative long-term yields has seen membership increasing, with Denmark, the Netherlands, Austria, France, Sweden and Finland all joining.
We give preference to European Investment Grade (IG) bonds which will benefit from a more accommodative ECB. Demand for this asset class remains strong, as indicated by fund flows, and by the fact that new deals are being easily absorbed. We are slightly overweight duration in this segment, as we do not see any obvious drivers for higher yields. Across our other fixed income holdings, we are neutral on duration.
We are neutral US IG. Positive drivers for this market include the fact that hedging costs for international investors looking to the US have fallen, while the universe of negative yielding debt has grown, making US IG relatively attractive. In addition, with more and more US firms financing themselves in euros, we could see reduced supply in the dollar market. Lastly, while the S&P 500 shot to an all-time high, spreads have barely budged and we may see some catch up in the credit market. On the other hand, corporate debt levels are a risk.
We remain underweight government bonds, gearing the small exposure we do have towards periphery countries for carry purposes.
Currencies
The committee took this opportunity to neutralise the dollar exposure within portfolios via hedging. If the Fed cuts rates in July, it will put downward pressure on the greenback and we felt it prudent to have a more balanced currency mix.
Overall, we do not yet see signs of either an economic or an earnings recession and central banks seem determined to keep the cycle ageing gracefully. The cycle broke records this month, entering its 121st month of uninterrupted expansion – that's longer than the Beatles stayed together!
Now, with the US and China stepping away from the precipice of a trade war, we felt a more neutral equity exposure was warranted for the time being. Of course, this will be regularly reassessed and if risks intensify, we will go back to underweight.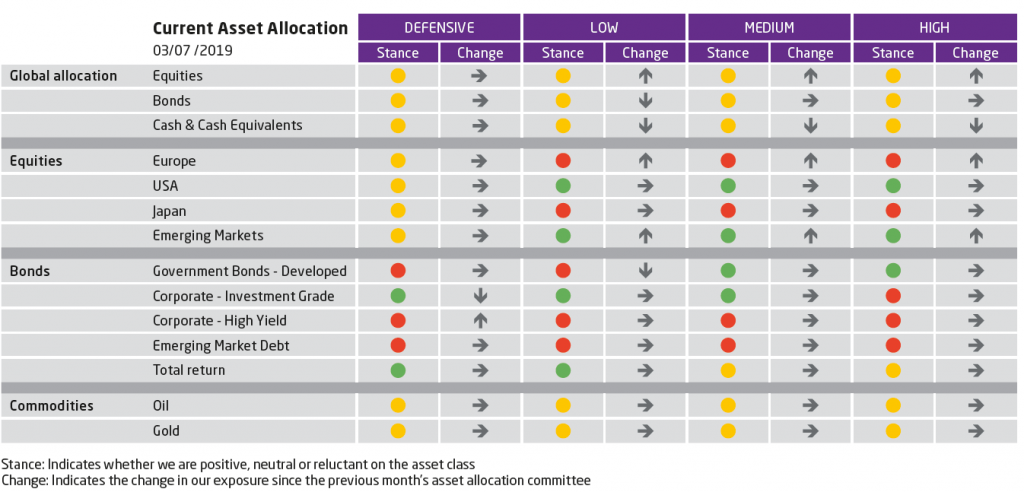 Author: Group Investment Office