May 27, 2020
It seems we've reached the point of maximum economic compression, with May most likely marking the end of the deepest recession since the 1930s. However, we can't simply press pause on the global economy, then play, and expect everything to resume as normal after a brief commercial break. Recovery will be a protracted process without extensive vaccination – contrary to what rallying equity markets might suggest. We believe it is more realistic to expect a stabilisation across the second and third quarters of the year, and a gradual recovery beginning in Q4. Wealth lost as a result of the crisis is unlikely to be recovered before late 2021.
However, there are many moving parts to the picture and our base case is subject to a high level of uncertainty. The most pressing risk is a second wave of infections, with lockdowns now being gradually lifted. This would be akin to taking one step forward and three steps back. Other risks are more behavioural in nature – will consumers start spending again, and will business investment pick up?
In front of one of the most serious economic dislocations ever faced, it's hard to say. Entire countries have had their assets transformed into liabilities, whether it be booming tourist industries, or agricultural sectors that have seen fruit decay on the trees, due to a lack of workers to pick it. The saving grace has been unprecedented fiscal and monetary support.
Central bank largesse in response to the crisis means they have become lenders of last resort to a large portion of the corporate world. The US Federal Reserve (Fed) has brought rates within the vicinity of zero, has committed to purchasing US Treasuries without qualms and, for the first time in history, it has also begun buying corporate debt, starting with ETFs with the intention to move into individual names in the "near future". In Europe, the ECB has set aside €750 billion for buying government and corporate debt (including those at the riskier end of the spectrum), while introducing a new wave of tools to ensure liquidity.
On the fiscal front, the US has so far dished out $3 trillion worth of stimulus. Commentators, as well as the Fed Chair Powell, said further measures will be required to jumpstart the economy. In Europe, there was a collective sigh of relief after Macron and Merkel agreed on a €500 billion recovery package, based on grants rather than loans – a genuine lean towards a joint fiscal response.
With such a safety net, consumer, investor and business sentiment seems to be picking up, as reflected in PMI indicators and business surveys. However, sentiment is capricious, and for the time being, our global asset allocation maintains a cautious tilt with a neutral exposure to equities.
Fixed Income
We are underweight government bonds but keep a layer to buffer against equity risk. The US yield curve has steepened as investors brace themselves for ramped up issuance, especially at the longer end of the curve. Faced with the pandemic and supported by central bank buying, the US Treasury revised its estimate for net issuance in the second quarter upward by a staggering $3.055 trillion. Looking ahead to the July-September quarter, the Treasury expects to borrow $677bn. In Europe, the recent challenge by a German court to ECB bond-buying (excluding the Pandemic Emergency Purchase Programme), is not currently considered a game changer, allowing the ECB to keep yields capped.
We switched a proportion of our Government bond holdings into gold in low, medium and high risk profiles, to have an added layer of diversification and alternative hedging. Currency exposure was not hedged, meaning our US dollar exposure increased.
We remain overweight on Investment Grade bonds in profiles with little to no equity exposure. Spreads have been unusually calm over the last month at historically elevated levels as investors weigh attractive valuations against an uncertain economic outlook and a wave of fallen angels: S&P estimates that close to $400bn worth of bonds are at risk of falling from IG to HY. The silver lining is that the Fed has stated it will buy recently downgraded companies, and the ECB will accept them as collateral. This has placed a crash mat under the fallen angels.
In any case, we are still underweight the high yield segment. In Europe, spread prices suggest a 7% default rate for next year, in line with figures recorded during the 2008 crisis. Emerging market debt is also considered too risky in the current climate.
Equities: Crisis? What crisis?
The inertia preventing a V-shaped recovery in the economy is not present in equity markets, and prices have recovered to levels seen before the pandemic was declared. However, analysts lacking company guidance are erring on the side of caution and we continue to see downgrades in 2020 earnings expectations (roughly -30% YTD). As a result of the "P" climbing upwards, and the "E" being pushed down, on the basis of P/E ratios, equities are now at the most expensive levels seen since 2002.
Because of this decoupling, equity markets could be personified as the character from the cover of the 1975 Supertramp album "Crisis? What crisis?". He is depicted sunbathing under a parasol, aloof amid chaos, as rain falls and pollution billows from smokestacks into grey skies in the distance. Despite the worst macro data in decades and looming uncertainties, equity markets keep rising. They seem to have tunnel vision, looking past today's reality to a fruitful post-pandemic future. Earnings expectations for 2021 are 5% higher than those achieved in 2019 – meaning that next year, companies are expected to go above and beyond simply recuperating 2020 losses; they'll enjoy some kind of heyday. This unsubstantiated optimism compels us to remain neutral on equities for the time being.
We also remain neutral in terms of sectors, given the wide gap between winners and losers within each sector. Moreover, today's winners may lose their footing after lockdowns are lifted: When the recovery really kicks in, we would expect cyclical plays (Financials, Industrials, Energy and Materials) to gain traction, but we're not there yet. For the time being, we favour large cap, growth and quality names, which tend to be companies active in digitalization. This further supports our overweight position in the US versus Europe, with the latter having a distinct lack of FAANG equivalents.
To summarise, we're beginning to see light at the end of the tunnel, but should not lull ourselves into a false sense of security. The economic damage inflicted by COVID-19 is real and severe, and recovery will be a case of trial and error. To reference Supertramp once again, we have to be sensible, logical, responsible, practical. We are monitoring our base case on a daily basis and will react accordingly should things begin taking a different shape to what is currently expected.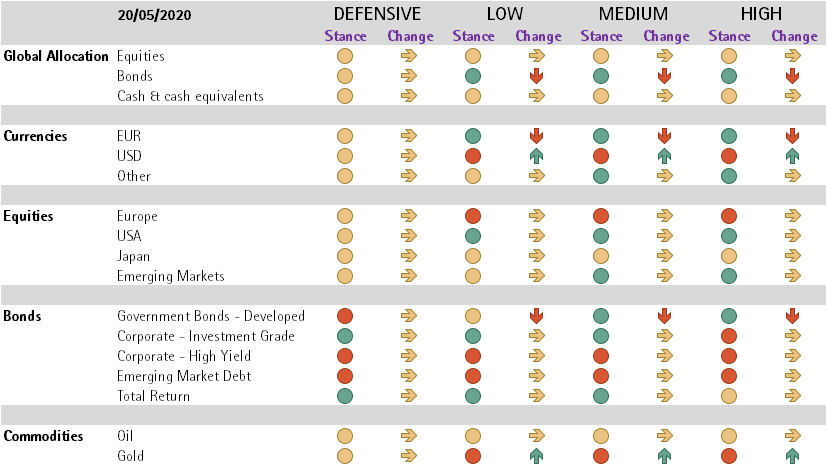 Author: Group Investment Office