February 15, 2019
Global central banks have adopted a more dovish disposition. With disjointed global growth set to define 2019, policymakers are no longer waltzing toward policy normalisation. Rather, they are locked in a delicate slow dance with the incoming macro data.
In our 2019 outlook entitled "Out of sync", we put forward our base case for disjointed growth amongst the world's major economies, with the US humming along, but with Europe failing to live up to expectations. One month later, the consensus view is starting to resemble something a lot more similar to ours, as incoming data confirms that what began as a slowdown in Germany's auto sector is something broader and more pronounced. The European Commission (EC) cut its forecast for Eurozone GDP growth this year from 1.9% to 1.3%. Spanish, French and Italian data demonstrates that the problems are broad-based: Italy, for example, had its 2019 GDP forecast cut to 0.2% from a previous projection of 1.2% by the EC. From a sentiment perspective alone, this is problematic. Italy already closed 2018 in a technical recession (2 consecutive quarters of negative real GDP growth), and its hotly debated budget of 2.04% was based on the premise of economic growth of 1%. Even if the continent does not consummate its flirtation with recession, there is the distinct danger that it could fall victim to headline-induced sentiment that could exacerbate the negative feedback loop that is forming in domestic demand.
China recorded GDP growth of 6.6% for 2018 (the slowest pace since 1991), and fears about the slowdown have begun to take root. However, we believe that the Chinese economy remains calibrated and controlled by the authorities, which have a plentiful monetary and fiscal arsenal. Supported by Beijing's policy efforts, we see a floor of 6% on GDP growth, and also believe that growth moderation is quite a normal phenomenon and also necessary in order to prevent the formation of bubbles.
Central bank posturing
In January, the Fed cited "weakening momentum" and "considerable and rising" risks to the global outlook to support its case for a pause in hiking. However, whilst markets have ruled out the prospect of a rate hike in 2019, we don't believe that one more hike late in the year is completely off the table. A separate statement revealed that the Fed was also prepared to alter the size and composition of its balance sheet if future economic conditions warranted. We still expect the 10-year Treasury yield to rise over the coming 12 months, but to somewhere in the range of 2.75% and 3%, not as high as previous estimates of around 3.5%.
Other central banks are singing from the same hymn book as they adapt to the reality of a macro slowdown. The ECB remains on the frontline, asserting that "significant monetary policy stimulus remains essential to support the further build-up of domestic price pressures". Draghi has said that the bank stands ready to "adjust all instruments, as appropriate". EURIBOR futures imply that the hike originally intended for 2019 won't materialise until 2020. In order to prop up banks – the cornerstone of the economy – we expect the ECB to announce a new TLTRO programme or another policy twist at its March meeting.
Elsewhere, India's central bank has cut its repo rate, Australia's central bank has warned that a cut is now as likely as a hike, and the Bank of England has shelved plans for further rate hikes (obviously with Brexit as the most influential driver).
Portfolio positioning
Stocks in the US had a stellar January, particularly cyclical sectors, which shot past defensives, riding the tailwinds from global growth and higher commodity prices. However, when earnings season ends, investors will refocus their attention – potentially on headlines such as the trade war and Brexit. Those policy obstacles could again magnify market risk, meaning a short-term correction is plausible. We are therefore reducing the cyclicality of our portfolios, bringing our overweight in the Energy and Materials sectors down to neutral.
In doing so, we lock in the fairly handsome profits these sectors have turned over the month. Simultaneously, we are increasing our underweight positions in defensive sectors – namely Healthcare and Consumer Staples – bringing them to neutral. These sectoral shifts push the risk balance in our portfolios closer to a neutral level, without reducing overall equity exposure. Over the longer term, we remain constructive on equities, as the later stages of the cycle normally deliver nice multiple expansion.
We remain overweight on Technology. This sector still offers sturdy EPS growth, at a stronger pace than the market. It also boasts compelling valuations and should be supported by a wave of buybacks in 2019.
For reasons outlined in our macro outlook, we are reluctant with regard to European equities. We are keeping a slight overweight in Emerging Market (EM) equities, especially in light of a more dovish Fed.
On the fixed income side, we reduced exposure to EM debt, selling predominantly hard currency (HC) paper. HC spreads have tightened of late, but this was a technical compression (due to increased demand and lower issuance than usual in January) rather than being the result of improving fundamentals. Where we do maintain exposure to EMD, we prefer local currency paper. After last year's declines, EM currencies entered 2019 looking less vulnerable. With surges in inflation appearing less likely and slower growth expected, LCs are poised to receive a boost from the central banks' newfound dovishness.
With the proceeds, we added investment grade (IG) bonds, primarily in Europe. Whilst US IG spreads have retraced their December widening, those in Europe still remain wide relative to historical averages, leaving the door open for tightening. However, quality has been a crucial factor in our selection, and we have only considered instruments with a sturdy credit rating. The change in the Fed's tone also makes us prefer fixed rate notes as opposed to floating.
High yield spreads remain at average levels relative to history and are neither cheap nor expensive. Adding these to a portfolio that already has equity exposure would mean a double dose of risk, and we are steering clear for now.
All in all, as central banks become apprehensive about tightening, we find ourselves operating in an ecosystem in which economic cycles have become smoother and less forward-looking. This leaves sentiment as a key driver of market volatility – meriting a more balanced portfolio in terms of risk. As the writer Morgan Housel once said, "Outcomes are determined by performance within the context of expectations, with importance heavily weighted toward the latter. And if predicting future performance is hard, calibrating them against expectations is close to sorcery".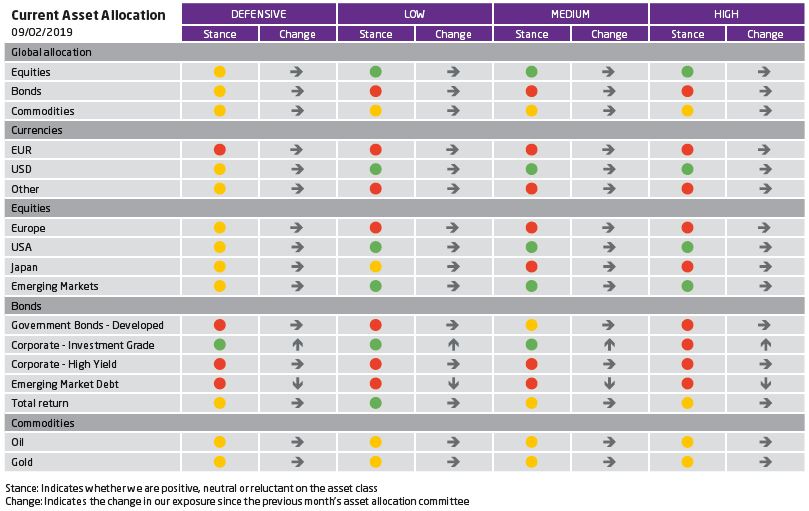 As economic conditions are subject to change, the information and opinions presented in this outlook are current only as of January 9th 2019.
Author: Group Investment Office