March 18, 2020
Covid-19 has spread like wildfire and the virus is now present in 169 countries and territories, with over 200,000 cases confirmed. It is becoming apparent that the only way to stop it is through government enforced quarantines – but of course, the price of this is in terms of the economic impact, is astronomical.
In a bid to curtail the spread of the coronavirus, Western governments have resorted to social distancing and certain countries such as Italy, Spain, France and Luxembourg, have put public life on hold until further notice. The purpose of this is primarily to slow the spread of the virus, i.e. to 'flatten the curve'.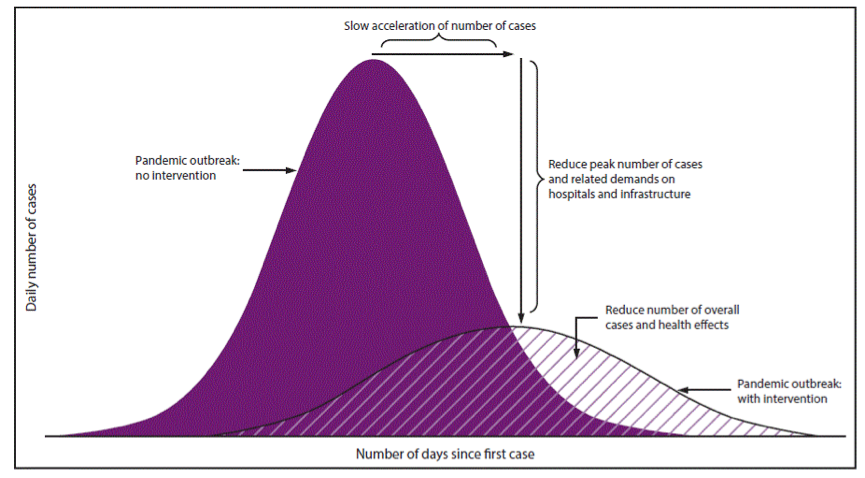 Given the statistics about the rate of infection, economist David McWilliams makes a fair assertion: everyone should act as if they are already infected. With most of the cases, more than 80%, the symptoms are mild, like those of a cold or a flu. In some cases, they may be so mild that carriers do not even know that they have it.
The primary objective of government imposed quarantines is not to stop us getting infected, rather, it is to stop us all getting infected at the same time, in a bid to prevent the healthcare system becoming overloaded. Data scientists have built a mathematical model to help hospitals forecast what they could expect in terms of volumes. It is built on the assumption that 5% of people who contract the virus will be hospitalised and 2% will need to be treated in an intensive care unit (ICU). In most countries, even if only 30% of the population gets infected, hospitals are not equipped to cope with such volumes. So, staying home from an individual point of view, may seem draconian, but from the lens of systemic risk, it is necessary.
Let's do some back-of-an-envelope calculations using Germany as an example to highlight the need to prevent the masses contracting the virus all at once. German Chancellor Angela Merkel has warned that up to 70% of the country's population – some 58 million people – could contract coronavirus. Let's assume that is the worst case scenario and 35% of Germans catch it – so 29 million. A hospitalisation rate of 5% equates to around 1.5 million people. An ICU rate of 2% means around 580,000 beds. According to the government, Germany (the best equipped country in Europe in this sense) has around 28,000 intensive care beds, of which 25,000 have ventilators. In Italy, where the health care system is already stretched, the armed forces have been deployed to assist the country's only ventilator manufacturer to meet the new orders, requiring it to quadruple monthly production. The Financial Times provides country-by-country critical care capacity here. These statistics make a valid case for slowing the spread.
China has proven that shuttering the population works. With over 80,000 confirmed cases, it has dealt with more than double the amount of cases than the second worst affected country, Italy, which has just over 30,000 cases. Yet, China has managed to bring the daily 'new cases' rate under wraps: It has fallen from the thousands to double digits. Around 70,000 people there have now recovered, leaving 8,000 active cases. On March 12th, Mi Feng, a spokesperson for the National Health Commission that in China, the epidemic had 'broadly peaked', and now, the government, together with the Peoples' Bank of China is working to set the economy back in motion.
When the nest is upset, no egg is left intact…
We are only starting to see the economic impact of China's quarantine of some 50 million citizens. The latest slate of data showed that fixed asset investment for January and February dropped 24.5% from the same period last year. Industrial production was down 13.5%. Retail sales fell 20.5% while exports contracted 15.9%. Some five million jobs have been lost, with unemployment rising from 5.3% to 6.2%. Because of the suspension in activity, many businesses are flirting with bankruptcy, but as the quarantine measures have been loosened, many are now preparing for a rebound in production. To help its economy rise from the ashes, the PBOC has pumped billions of dollars worth of liquidity into its financial system through a variety of measures, for example cutting reserve requirements for banks and by slashing several key interest rates. It has also delayed debt and interest rate payments due by SMEs in the first half of the year. These efforts have been galvanised by fiscal measures such as the provision of funds to fight the virus, tax waivers, cuts in social insurance fees and subsidies for firms.
Though a total lock down brought short-term (and acute) economic pain, it has probably avoided the long drawn out pain of a more serious public health crisis and complete societal disorder. As S&P, the global rating agency has said, 'We now have China as a model for how the virus' spread could stabilize and society could begin to return to normal.'
Pick your poison­
It seems that to avert a systemic health crisis, governments have to accept that the economy will temporarily grind to a halt. With cases rocketing in Europe and the US, it seems both will follow the same economic trajectory as China. S&P Global's Chief Economist Paul Gruenwald said about these two regions: "…as increasing restrictions on person-to-person contacts presage a demand collapse that will take activity sharply lower in the second quarter before a recovery begins later in the year."
As we noted in our 2020 outlook, consumers have been the metaphorical Atlas holding up the world economy. Data will likely show that retail sales in the US and Europe have plummeted, with what was originally a supply-side shock (from factory closures and supply chain disruptions) having metamorphosed into a demand-side shock.
With the key actor in the economy hunkering down at home, the anticipated economic slowdown is not easily swallowed by markets and now we have entered the quickest bear market of all time. Only this Monday, the Dow Jones industrial average suffered a nearly 3,000 point decline, the worst point decline in history. On Wednesday, even government bonds buckled – a sign that even assets typically seen as havens are falling susceptible to forced selling with market participants making a beeline to cash.
To try and stabilise financial markets, central banks have come to the front line with a host of emergency measures. The US Federal Reserve has cut the short-term policy rate to almost zero and it is preparing to buy some $700bn in Treasury debt and mortgage-backed securities. Likewise the European Central Bank will conduct a new targeted longer-term refinancing operation (TLTRO) aimed at banks lending to small- and medium-sized businesses. These TLTROs will be conducted under even more favourable conditions than previous ones, penalising banks who fail to expand their lending to SMEs. It also announced an additional "envelope" of €120bn of asset purchases until the end of the year, expanding its quantitative easing programme.
However, this needs to be complemented by sweeping fiscal stimulus packages from national governments which are scaled to sustain everyone's income through the downturn in order that demand is only temporarily disrupted by quarantine measures. China is demonstrating this strategy, wishing to stay prudent with monetary accommodation while focusing on more targeted fiscal measures.
Elsewhere, serious fiscal stimulus is now being brought to the table.
According to the European Commission, the total fiscal support to the economy given so far in Europe is around €120 billion. On top of this, the Commission has promised to reallocate unspent structural funds amounting to €37 billion to support health systems, SMEs and most affected sectors and workers. The EU executive is also seeking to make a further €28 billion of structural funds fully eligible for meeting these expenditures. In the US, the White House is pushing a titanic $1 trillion economic aid package. Treasury Secretary, Steve Mnuchin warned senators that if they didn't reach a deal quickly, unemployment could be as high as 20%. Of course it will take some time for these measures, if they materialise, to filter down into the real economy.
If governments and central banks can get the right calibration of monetary and fiscal stimulus, the economic recession may still be deep, but at least it will have been short. Albeit, the issue is that nobody is taking a long-term view in markets and there is a risk that the situation becomes self-fulfilling.
Author: Group Investment Office