January 28, 2020
Risk assets suffered as the coronavirus spread. The respiratory illness can be passed from person to person and in severe cases, it can lead to pneumonia, especially for people with weakened immune systems. Regrettably, the death toll already stands above 100, and more than 4,500 people are reported as being infected. The issue is that any figures are fast moving and could be higher given that the virus struck just ahead of the Chinese Lunar New Year when hundreds of millions of people travel to visit friends and family. Unlike the SARS virus of 2002-03 which killed 774 people globally, coronavirus is infectious during its incubation period (lasting roughly 1 to 14 days) in which people show mostly no symptoms and could potentially spread the disease unknowingly. SARS was not infectious in this period.
To try and prevent contagion, the Chinese government has extended the Lunar new year holiday period by 3 days (to February 2nd) and has locked down more than 10 cities. Hong Kong has announced plans to halt cross-border travel between the city and mainland China. While massive steps have been taken to prevent the virus spreading, already various cases have been reported outside of China as is depicted below:

SARS, the sequel?
Many are drawing comparisons with the SARS outbreak of the early 2000s, however, we have to remember that today's world is very different to what it was back then. Medical technology has advanced; after grappling with SARS, swine flu, and avian flu, disease control and prevention practices vastly improved. Furthermore, the communication flow today is much more fluid than it was c.20 years ago.
However, the nature of virus could be tricky to contain in any case. In the New York Times, a scientist, Zheng-Li Shi, of the Wuhan Institute of Virology who studied coronavirus in bats said "so far, not only do we not know how dangerous it is, we can't know. Outbreaks of new viral diseases are like the steel balls in a pinball machine: You can slap your flippers at them, rock the machine on its legs and bonk the balls to the jittery rings, but where they end up dropping depends on 11 levels of chance as well as on anything you do. This is true with coronaviruses in particular: They mutate often while they replicate, and can evolve as quickly as a nightmare ghoul…" The scientist who works in Wuhan where the virus broke said that this nCoV-2019 coronavirus is novel — and possibly even more dangerous to humans than the other coronaviruses, including the one that causes SARS.
Risk asset reaction
Around the globe, risk-assets have sold off with some benign economic data releases failing to quell the panic. This is in part because the outbreak threatens the economic revival which markets had [prematurely] priced in. Analysts note that the virus could weigh heavily on consumer spending and the already-fragile manufacturing sector. Back in 2003, SARS hit consumer spending hard. However, we take this with a dash of salt, noting that nowadays, a lot more people shop online, which could lessen the impact.
The worries about the coronavirus are also being felt in the most risky parts of the fixed income market. US high yield (HY) bonds have seen spreads widen some 65 basis points in only a few days, while EUR HY spreads have widened by 20 basis points. Thus far, investment grade corporate spreads have been largely unaffected.
Simultaneously, government bond yields have been driven lower in the textbook flight to safe havens.
In the equity space, obviously some sectors are more affected than others. Here are some that could be the most impacted in the short-term: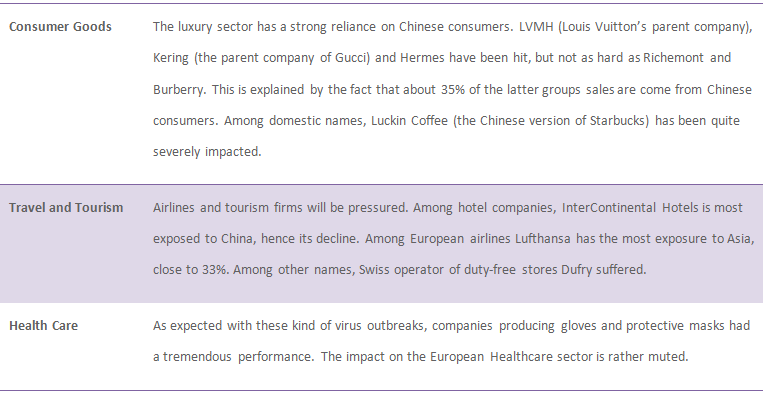 The economic and financial ramifications are difficult to asses at this stage, though it is reasonable to expect that China's Q1 growth will take a hit as the virus curbs consumer spending and travel during the new year holiday. The extent of the slowdown is hard to pin down, because its useless to compare today's environment with that of 2002-03 before Facebook, Twitter and Weibo. Social media could spread and exacerbate fears, causing a greater impact on consumer spending.
Our positioning
After the speedy de-escalation between the US and Iran allayed concerns about faltering growth, we sensed some complacency in markets (leaving them wide open for a sell-off should something irk the market). Volatility was almost non-existent in FX markets and the VIX Volatility Index was at 12 — well below its 10-year average of 17. Equities continued skipping from new high to new high, believing that the global economy was on the verge of an upturn. We became a bit concerned about the fact that equity prices already seemed to have baked in a rebound in growth (rather than a bottoming out which is what the numbers currently seem to suggest). To increase our exposure to risk assets, we have been waiting (and continue to wait) for the macro numbers to play catch up. This meant we were not overweight on such assets when coronavirus broke.
For now, we await further World Health Organisation (WHO) data to assess how the situation is playing out – as of now, it has not declared a global health emergency. While we don't increase our positioning, we also don't reduce it, noting that by the time the WHO announced that the SARS outbreak had peaked in 2003, the market had already rebounded 23%. As at today, nobody can predict the macro impact, nor the earnings impact and patience is warranted.
Author: Group Investment Office